We asked our audience who the best doctors are for women and children on the Mississippi Gulf Coast. Out of hundreds of submissions, these five doctors/nurse practitioners were voted Top Doctors in the categories of OB-GYN, pediatrics, dermatology, primary care, and pediatric dentistry.
OB-GYN

Ashley Dean-Reaves, MSN, FNP
Gulfport OBGYN Clinic
CREDENTIALS
Bachelor's degree in nursing science at William Carey University. Master of nursing science degree through Walden University. Board certified through the American Academy of Nurse Practitioners.
WHAT I LOVE MOST ABOUT MY PROFESSION:
Women's health is a great passion of my medical career. I am a woman, for one, and I was raised by a family of strong women. I am with my patients every step of the way. From young ladies learning about menstruation and first-time parents experiencing the joy of pregnancy, to patients struggling with the signs and symptoms of menopause, I am by their side. Patients thank me periodically and express how I have touched their lives in several ways; little do they know how their lives touch mine.
MY MOTTO:
It is important to empower women to take charge of and advocate for their personal healthcare.
WHAT SETS OUR PRACTICE APART:
Our practice is set apart by providing comprehensive women's healthcare for all stages of life. We put forth the extra effort to provide each patient with an individualized plan of care or the most natural birth experience. Furthermore, we take pride in being the first private practice on the Mississippi Gulf Coast to offer 3D mammogram technology.
---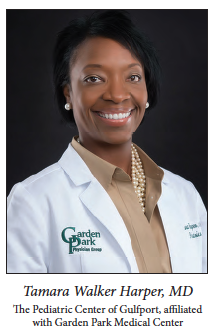 PEDIATRICIAN
Tamara Walker Harper, MD 
The Pediatric Center of Gulfport, affiliated with Garden Park Medical Center
CREDENTIALS
Bachelor of science degree in chemistry from Xavier University of Louisiana. Doctorate of medicine degree from the University of South Alabama College of Medicine. Board certified by the American Board of Pediatrics. Fellow of the American Academy of Pediatrics. Over 17 years of experience.
WHAT I LOVE MOST ABOUT MY PROFESSION:
Simply stated, kids are just fun! I love their innocence, honesty and resilience which remains a daily motivation for me to serve in my best capacity, to advocate for their well being and health. I consider it an honor and a privilege to be able to share in the lives of my families, to give reassurance, support and healing as my patients grow from infancy into adulthood.
MY MOTTOS:
"I can do all this through Him who gives me strength." – Philippians 4:13. "They may forget your name, but they'll never forget how you made them feel." – Maya Angelou
WHAT SETS OUR PRACTICE APART:
The exceptional relationships developed with the families and patients that we serve. As we are a small practice, I am certain we are making a difference in our small setting. We do more than treat the child; we practice family-centered care as the cornerstone of compassion.
---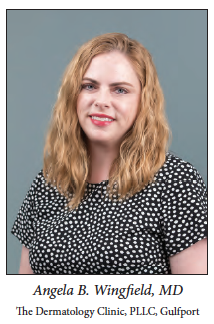 DERMATOLOGIST
Angela B. Wingfield, MD
The Dermatology Clinic, PLLC, Gulfport
CREDENTIALS
LSU Health Sciences Center New Orleans, medical school (MD) and dermatology residency. Fellow of the American Board of Dermatology 2003 and recertified 2013. Fifteen years in private practice.
WHAT I LOVE MOST ABOUT MY PROFESSION:
Restoring someone's confidence by solving their skin problems.
MY MOTTO:
The Golden Rule: I treat patients the way I would want to be treated.
WHAT SETS OUR PRACTICE APART:
We offer the full range of dermatology care from mole checks, skin cancer, acne and rashes to cosmetic treatments such as lasers, wrinkle treatments, facials and peels. We take care of every age group.
---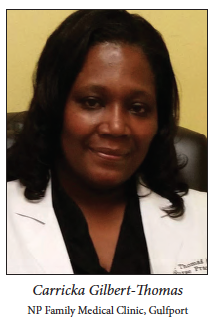 PRIMARY CARE
Carricka Gilbert-Thomas
NP Family Medical Clinic, Gulfport
CREDENTIALS
Nurse practitioner from Frontier Nursing University. Board certified through ANCC. Practicing for eight and a half years.
WHAT I LOVE MOST ABOUT MY PROFESSION:
I love being able to help my patients achieve their health care goals. Our nation is in need of experienced practitioners who will focus on health maintenance and disease prevention, so I am trying to be a part of the solution.
MY MOTTO:
Everyone should have access to affordable healthcare.
WHAT SETS MY PRACTICE APART:
We strive to become a part of our patient's families, not just their provider, and encourage healthy lifestyle changes while having fun.
---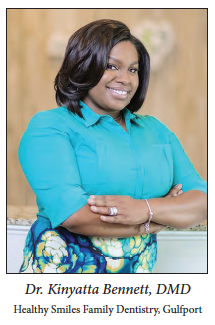 DENTIST FOR CHILDREN
Dr. Kinyatta Bennett, DMD
Healthy Smiles Family Dentistry, Gulfport
CREDENTIALS
Doctor of Dental Medicine from The University of Mississippi School of Dentistry. Practicing dentistry for eight years.
WHAT I LOVE MOST ABOUT MY PROFESSION:
I have the opportunity to help give people a reason to smile. There is so much power in a smile. You can communicate so much just by smiling. A smile is contagious. The patients gain confidence when they are able to smile. Seeing them smile brings me joy.
MY MOTTO:
"The Will of God will not take you where the Grace of God will not protect you."
WHAT SETS OUR PRACTICE APART:
Our late evening hours and community involvement are a few things that set our practice apart from others. I was raised in this community, and my community has supported me. Therefore, I believe that it is important for me to be involved in the community.