Warmer weather means spending more time outdoors, including dining. Whether you're planning your next patio soirée or spending leisure time with the family, be sure to add these delicious dishes to your grilling menu.
SHRIMP SCAMPI SKEWERS
Ingredients (serves four)
1 pound raw large or jumbo shrimp, peeled and deveined (tails left on or off)
3 lemons, sliced into thin halfmoons (or wedges)
1/2 teaspoon kosher salt
1/2 teaspoon freshly-ground black pepper
1/8 teaspoon crushed red pepper flakes (or more to taste)
garlic parsley butter
Garlic parsley butter ingredients
3 tablespoons butter
2 cloves garlic, minced
1/4 cup dry white wine
1/4 cup finely chopped fresh parsley, loosely packed
INSTRUCTIONS
To prepare the garlic butter, melt butter in a saute pan over medium-high heat. Add the minced garlic and saute for two minutes. Stir in the white wine. Remove from heat and add in the parsley; stir to combine. Garlic butter must be used within 15 minutes. Otherwise, re-melt the butter.
Heat your grill to medium heat.
Skewer the shrimp and lemons. Sprinkle both sides with the salt, black pepper and red pepper flakes. Cook for three to four minutes per side, until the shrimp are pink. Remove skewers from the grill and generously brush with the garlic butter. Drizzle fresh lemon juice over the shrimp. Serve immediately.
Source: gimmesomeoven.com
SWEET HEAT BBQ CHICKEN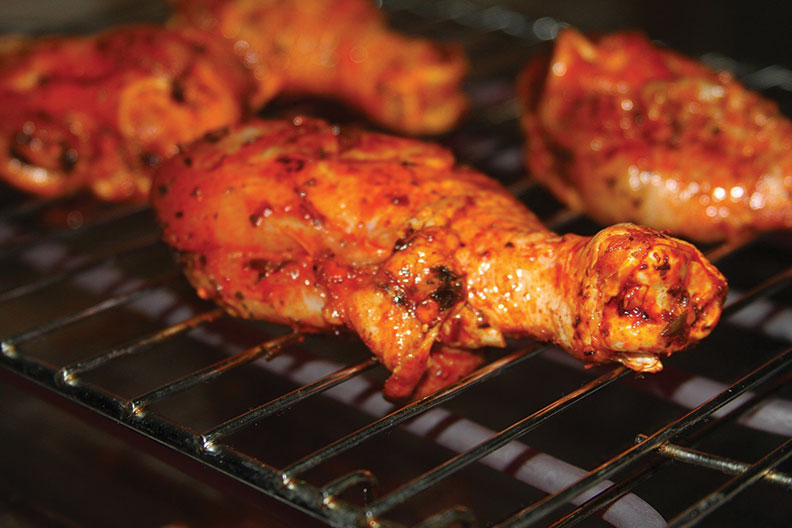 Ingredients (serves six)
3/4 cup BBQ sauce – choose your favorite brand
1 cup Italian salad dressing
2 tablespoons honey
1/2 teaspoon red pepper flakes
1/4 teaspoon salt
INSTRUCTIONS
To create your marinade, mix together the BBQ sauce, salad dressing, honey, red pepper and salt in a medium-sized bowl.
Put chicken in a Ziploc® bag and pour in marinade. Marinate chicken in the refrigerator for two hours or overnight.
Remove chicken from bag and transfer to grill. Grill chicken for 15-18 minutes, turning until cooked on both sides. Thermometer will read 165 to 180 when done.
Set chicken aside to rest for five minutes. Sprinkle with red pepper flakes and squeeze fresh lemon juice over the chicken if desired.
Source: asouthernsoul.com
GARLIC PARMESAN GRILLED CORN
Ingredients (serves four)
4 ears corn
2 tablespoons olive oil
Salt, to taste
Pepper, to taste
4 tablespoons butter
1 tablespoon garlic, minced
½ cup grated parmesan cheese
INSTRUCTIONS
Preheat your grill to medium heat.
In a mixing bowl, drizzle olive oil over the corn. Then, sprinkle them with salt and pepper. Toss corn until all ears are evenly coated.
Transfer the corn to the grill and close the lid. Grill on medium heat for about 15 minutes per side, or until all sides are lightly browned.
Remove the corn from the grill and plate.
Microwave the butter and garlic in a bowl for one minute, or until melted.
Brush the garlic butter mixture on each ear of corn. Top with shredded parmesan cheese.
Source: Tasty.co