Meaghan Hopper is a south Mississippi native and Army wife who lives in the Diamondhead area with her husband and rescue pug, Felix. She's been working in the physical therapy field for 11 years and also is an online health and wellness coach. She's active in the Instagram community (@armywifefitness), where she shares updates about her fitness journey and everyday life and strives to help other women achieve their fitness goals. Here, she tells us which products make her must-have list.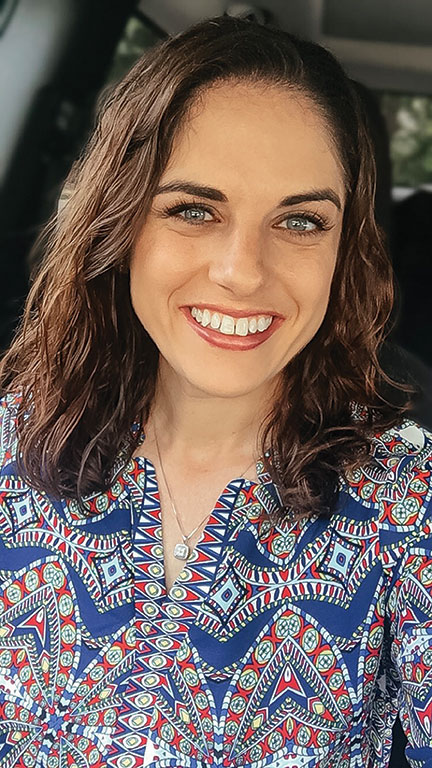 1. SCUNCHI ACTIVE HEAD WRAP FROM TARGET I love headbands, especially when I'm working out. These are stylish and comfy, so not only do they get the job done of keeping my hair out of my face while I'm working out, but I'll wear them when I'm running errands and want to give my updo extra flair.
2. FOREVER 21 SPORTS BRA I love Forever 21's athletic line because they have the cutest patterns and styles. I have tried so many different brands of athletic clothing, and Forever 21 is definitely one of my favorites. Plus, the prices can't be beat!
3. OLAY COMPLETE ALL-DAY MOISTURIZER I don't break the bank when it comes to facial moisturizers. I've used the same one for years, and I like it because it's lightweight, doesn't make my skin break out and contains sunscreen, which is super important — especially for your face.
4. ESTÉE LAUDER DOUBLE WEAR One thing I will splurge on is a good foundation. Down here in the South, it gets so hot, and it's hard to find a foundation that will stay put in this heat and humidity. Not only does this foundation last all day, but it takes very little (about a dime-size amount) to get full coverage for your face.
5. URBAN DECAY EYE SHADOW PALETTE I have a few Urban Decay palettes, but this one is definitely my favorite. There's so many shades, and the palette will last you for a long time. Plus, I use the Urban Decay eye shadow primer, and the shadow stays in place all day.
6. RAY-BAN SUNGLASSES These are necessary because we're in the South with its sunshine and beaches. This is my favorite pair of sunglasses because they're a simple classic that goes with almost every outfit.
7. BROOKS RUNNING SHOES As a runner and fitness enthusiast, I love a good, comfy pair of shoes. This pair is my favorite because of the breathable material and the tons of cushioning and support they offer for my workouts. They're the perfect pair of athletic shoes for when I want style and comfort.