In both life and real estate, Tiffany Dymond counts her mother as a role model.
"She set an example and embedded in me that with anything I did, I would get out of it what I put in it," Tiffany says of her mother, Sherry Owen. "She has put her heart and soul into the business, and I have grown up watching it grow and continue to be successful."
Sherry, broker/owner at Owen and Co. Real Estate, has established a stellar reputation during her three decades in the industry. Starting as a Realtor in 1985, she stayed with Alfonso Realty for 18 years, which became part of the Coldwell Banker franchise. She was a multi-million-dollar producer for the company, headed by Tommie and Carl Alfonso.
"(Carl) would always say. 'Sherry listings are like having money in the bank!'" she recalls. "In my opinion, they were the matriarch and patriarch of the real estate profession on the Mississippi Gulf Coast in the 1980s."
Her husband's family has long been a trusted name in the industry, and she proved to be a natural fit for the business.
"My decision to join the real estate profession has (led to) a very rewarding career," Owen says, "and I have no doubt God directed my path."
A MENTOR
Now with her wealth of experience and accomplishments, Sherry has assumed the role of mentor to both her daughter and daughter-in-law, Danielle Owen, with whom she works at Owen and Co.
"She has a way of making her clients feel at ease about anything and everything," says Danielle, a broker associate with the company. "She has also taught me that you can never stop learning."
Sherry says being the best means never stagnating. When she entered the business, she didn't have the advantage of a smartphone, and computer technology was just catching up with the multiple listing service, or MLS.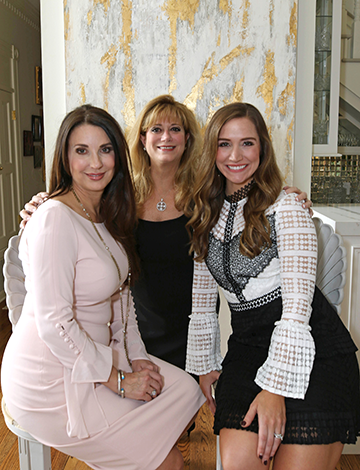 SUCCESS
"The way to succeed in this market is to constantly remain abreast of changes, and with the advent of social media, marketing techniques are unlimited," Sherry explains. "Similarly, it is essential to remain informed of the general real estate activities on the Gulf Coast — including but not limited to changes in financing, insurance, real estate rules, legal issues and the latest trends in marketing."
When she first became licensed, Danielle says she would pick her mother-in-law's brain often, wanting to glean all the knowledge she could. She also would ride around with Sherry to observe how she interacted with clients and peers.
"The part I loved most was going to showings, listing appointments and closings with her," Danielle recalls. "I was in awe; she did it all so effortlessly."
Tiffany, a dual-licensed Realtor and certified real estate appraiser, had the benefit of being raised in the family business, watching her mother negotiate deals and counsel clients. As an adult, her admiration has only increased.
FAMILY FOCUSED
"From a family standpoint, she is selfless and graceful with her husband, mother, siblings, five children and 16 grandchildren," Tiffany says. "From a business standpoint, she works endlessly and diligently to ensure everyone is receiving the best possible outcome."
MUTUAL ADMIRATION
The respect is mutual, Sherry says, noting that Tiffany and Danielle are award-winning sellers in their own rights. Tiffany, who is raising five children as a single mother, is working on her broker's license and, as an appraiser, has an advantage staying abreast of the market, Sherry says.
"Tiffany is very reliable and can do it all," her mother raves, noting that she also holds a nursing degree. "She's a very organized, hard worker."
Danielle, who earned her broker's license last year, has a master's degree in business.
"Danielle has successfully covered the real estate spectrum by sales involving commercial land (and) homes, (and) leased commercial property," Sherry says. "(She) is married to my son, Mitch, and I know he is very supportive as she builds her clientele and business."
Most importantly, the proud matriarch says of her protégés, "Their character, dedication and honesty are virtues that I am deeply proud of. They both enjoy an impeccable character."
All three women share a passion for helping others find their dream home, and they remain close inside and outside of the office. They have dinner together, gather for family events and, of course, talk shop.
AGENT-CLIENT RELATIONSHIP
Sherry emphasizes that the Golden Rule for life applies in real estate: Treat clients as you would like to be treated.
"It is essential that a Realtor remains in touch with clients — past and present," she says. "The needed tools for success include the very important virtue of listening to your clients and participating in seminars and other current events geared toward educating yourself so that you can assist and educate your clients."
WHAT'S NEXT
Going forward, Tiffany says she plans to excel in real estate herself by working hard, expanding her client base and following in Sherry's footsteps as a broker.
"Whether it be something new from my mother, a real estate convention in San Francisco, continuing education hours, a difficult appraisal order or the state-wide broker course," she says, "I am always learning."
Danielle says she intends to continue growing the Owen and Co. name, building on the legacy that her mother-in-law helped establish.
"She remains so loyal and dedicated to all of her clients all while being a great wife, mother, grandmother, and mentor," Danielle says. "I would love not only to emulate Sherry's immense success, but also garner the same respect that she has."