by Chris Dearman
We took the dining tour at Scarlet Pearl — see what we loved.
Mixing non-stop fun and the endless thrills of 24-hour gaming with welcoming Southern hospitality, the Scarlet Pearl Casino Resort offers the ultimate in luxurious hotel amenities, breathtaking design, and a variety of excellent dining options from award-winning chefs.
The Scarlet Pearl Casino Resort, located in D'Iberville, is the Mississippi Gulf Coast's newest casino. After working up your appetite playing their numerous slot machines, table games, and poker options, you can enjoy dining in the elegant atmosphere of Scarlet's Steaks & Seafood, or casual dining at the Under The Oak Cafe, Chopstx Noodle Bar, and the Waterfront Buffet.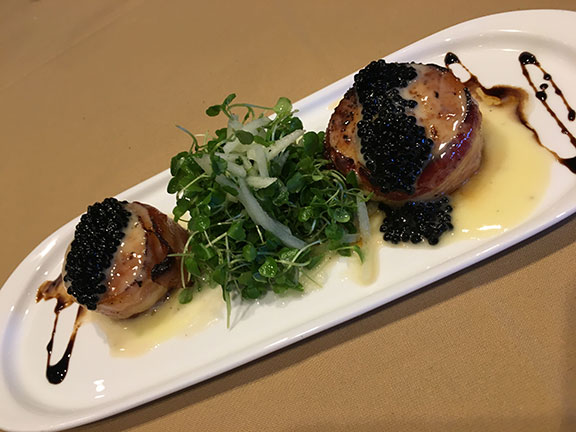 UNDER THE OAK CAFÉ
The Under the Oak Café offers more than 100 menu options, bringing you classic All-American casual dining in the shade of an old oak tree preserved within the Scarlet Pearl. Offering delightful breakfast options 24 hours a day, seven days a week, you can also get soups, salads, sandwiches, burgers, pizza, po' boys, seafood and steaks. Their desserts and frozen dairy bar are also not to be missed.
CHOPSTX NOODLE BAR
If you are looking for something with an Asian flair, the Chopstx Noodle Bar is where you can enjoy some of the finest Vietnamese sandwiches, pho, and appetizers on the Coast. With dine-in or carry out available, the chefs at the Chopstx Noodle Bar serve fresh and hot noodles, soups, and other Asian cuisine that will have you coming back for more.
WATERFRONT BUFFET
The Scarlet Pearl's Waterfront Buffet will satisfy any craving as you take your taste buds on a journey with a variety of choices including soups & salads, fresh seafood, Southern comfort food, and Asian and Italian cuisines. Featuring live cooking, on-site carving stations, and a wood burning pizza oven, the breakfast, lunch, and dinner buffet has something for everyone. Be sure to come on Friday and Saturday nights where they feature delicious all-you-can eat dungeness crab legs.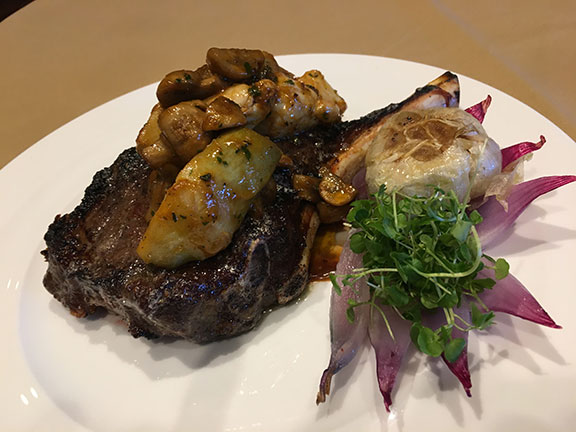 SCARLET'S STEAKS & SEAFOOD
Scarlet's Steaks & Seafood is the place where you can enjoy steaks, seafood, and one-of-a-kind house specialties created by the award-winning Chef Anthony Rametta. Featuring a sultry decor, with dark woods and luxe leather accents, it's the perfect atmosphere to spend an intimate evening with someone special or celebrate with a gathering of friends.
You will want to start with an appetizer or two, and with choices such as Beef Tartare, Cherry Foie Gras, Crab Cakes, Escargot, and a variety of oysters, you can't go wrong with any of them. On my visit, I had the Jumbo Scallops wrapped in Applewood bacon, topped with Mujjol Caviar and a Beurre Blanc Sauce. Seared to perfection, each bite you take melts in your mouth.
Scarlet's Steak & Seafood also has a fine selection of soups and salads. The Arugula, Grape and Almond Salad is large enough to be shared, and the red grape, shaved onions, topped with roasted, spiced almonds and Manchego cheese is a sophisticated offering that is quite refreshing.
You will see Chef Rametta's 29 years of experience on full display when choosing one of Scarlet's perfectly cooked steaks. Depending on your appetite, you can choose from an 8 oz. filet mignon, a 16 oz. Delmonico, prime rib in either 18- or 25-ounce varieties, an 18 oz. bone-in rib-eye, or the 24 oz. porterhouse. I went with the popular ribeye, topped with the accompaniment Scarlet Topping that consists of artichokes, button mushrooms, and colossal crabmeat. Served with roasted garlic and a fanned out, grilled roasted red onion, this mouth-watering dish is absolutely to die for.
If you are looking for seafood, Scarlet's has you covered with live Maine lobster, Alaskan king crab, and a variety of grilled, blackened, and pan seared or fried fish such as Chilean seabass, redfish, snapper, and speckled trout. On my visit, I had the blackened striped bass with their Gulf Coast topping. With colossal crab, sautéed jumbo shrimp, and a beurre blanc sauce with herb oil, the dish looked almost as wonderful as it tasted.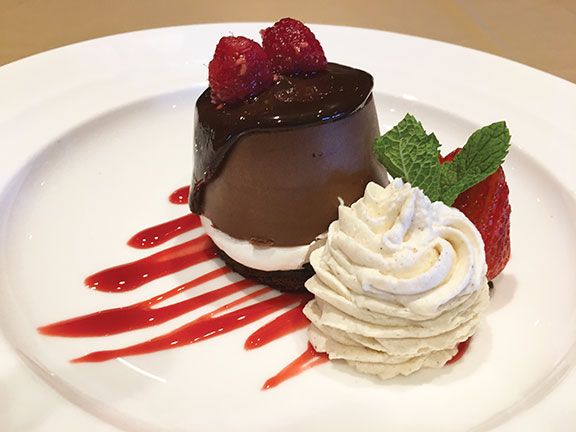 While it will be hard to do so after being served such large portions, try to save room for one of Scarlet's Steak & Seafood's signature desserts. The Chocolate Mousse was absolutely amazing. Sitting upon a brownie wafer, the homemade whipped crème and macerated raspberries combined to create one of the best desserts I've had in a long time.
Scarlet's Seafood & Steak is open for dinner Wednesday through Saturday, and on Sunday it offers an à la carte Jazz Brunch featuring bottomless mimosas, bellinis, and a bloody mary bar serving the classic to the extravagant.
If you are feeling adventurous, try The Ultimate Bloody Mary, which is garnished with skewered filet mignon, candied bacon, royal red shrimp, caviar, and a succulent lobster tail.