By Sheila Gray
Sheila Gray of Vancleave has been creating the ornate costumes for the Gulf Coast Carnival Association court since 1980. She shared with us the process of creating a perfect carnival gown.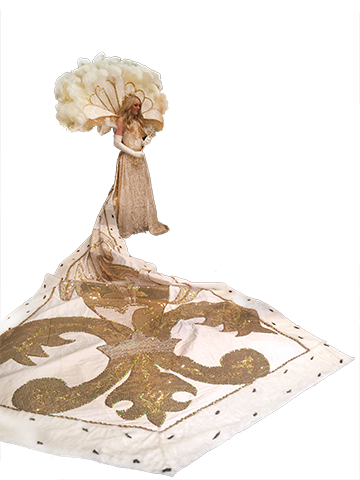 FIRST STOP: NEW YORK
We try to go to New York to look for fabrics because there is such a variety of colors and styles of fabrics to choose from. We try to choose several pieces to present to the queen just so she can find that perfect one.
TRAINS & MANTELS
I start with the trains and mantels. My husband, Jerry, and I build the wire work for the base of the mantels. I then cover them with the chosen fabrics and bling them with stones, plumes and beaded fringe."
LONG AND HEAVY
The trains are an average of 18 feet long and can get pretty heavy once all the applique designs are added. The trains take hundreds of yards of sequins and several gross of rhinestones. I have two to three fittings with the queen and king before the finishing touches are done.
DEADLINE CRUSH
The costumes must be completed three weeks prior to Mardi Gras so formal pictures can be taken. In the end, we have made new friends that are lifelong and do work that we truly enjoy.