story by Chris Dearman | photography by Julian Brunt
With upscale, eclectic dishes created by an award-winning chef, C&C Italian Bistro has quickly become one of the Coast's premiere dining spots for true Italian fare.
Opening in July in Old Town Bay St. Louis, C&C Italian Bistro is the brainchild of the D&P Restaurant Group, whose partners Jim Parrish, Lee Parrish, David Dickensauge Sr, and Chef David Dickensauge Jr, set out to bring real, homemade Italian food to tourists and locals alike.
After finding success with his Gulfport restaurant Corks & Cleaver by serving "foodiestyle" food, Chef Dickensauge moved to Bay St. Louis to explore a different flavor profile while keeping the same high-quality standards people have come to love.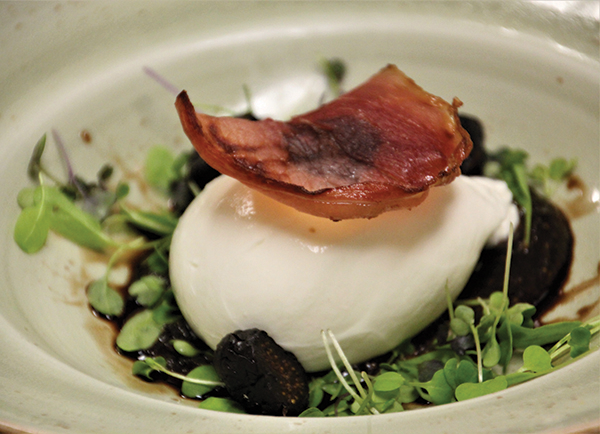 "It's a very lively, fun restaurant like you would find in New Orleans, Chicago, Atlanta, and all over Italy," says Chef Dickensauge about creating an authentic Italian food restaurant. "When most people think Italian restaurants, they think baked spaghetti and meatballs, lasagna and eggplant parmesan. Those are not real Italian dishes at all. It's Americanized Italian. Those types of dishes are good, I grew up on them, but what we want to do here is celebrate the Italian heritage and the cuisine."
Chef Dickensauge was recognized in 2015 as the Best New Chef in Louisiana, and the Gulfport native was recently crowned the 2017 Mississippi Seafood King. He has spent more than 20 years in the culinary field with extensive experience in Italian cuisine by having interned in Italy, as well as worked in the kitchens of some of Chicago's top Italian restaurants.
The decor features large coastal photographs throughout the restaurant by popular photographer Alex North, which provides "windows" to a building that only actually has windows in the front. The restaurant opened with 2,800 square feet of space, and has already expanded to open additional space for private dining and receptions, and an outdoor beer garden in the back.
Although the menu of dishes is written in Italian, the ingredients are listed in English to help educate the patrons. David Woodward, certified master chef of Italian food and longtime executive chef at the New Orleans Hilton, also joined the C&C team to help train the restaurant cooks and ensure everything is authentic.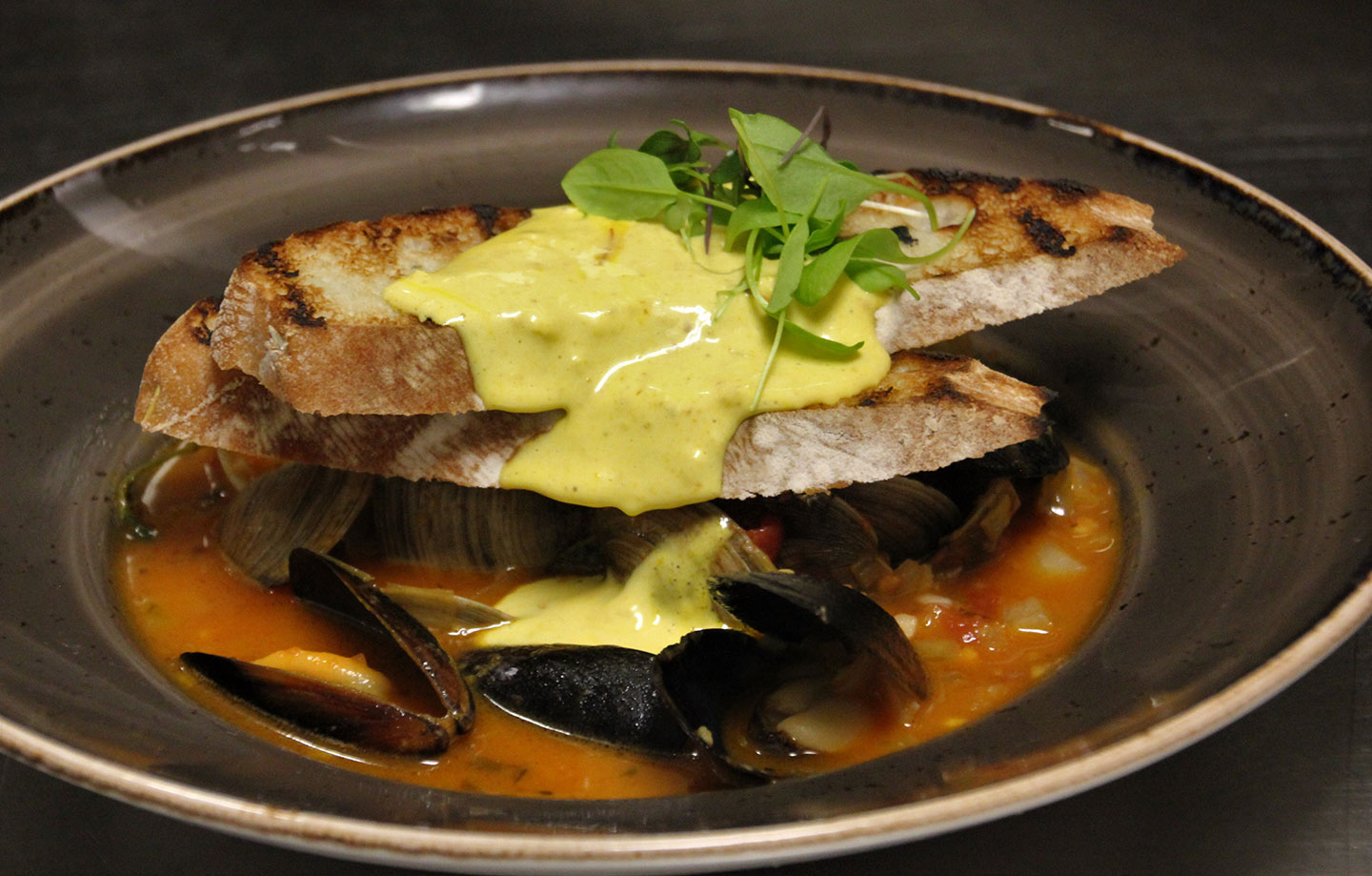 You will want to start with an appetizer or two. The Carciofi is a simple, yet delicious dish of braised artichoke hearts fried in Semolina flour that comes with a refreshing lemon crema dipping sauce. The Fritto Misto, a dish consisting of lightly fried shrimp, calamari and white fish, is served over a spicy Pomodoro sauce made from Cento San Marzano tomatoes. Both of these appetizers were excellent! Chef Dickensauge says these tomatoes are the only kind the restaurant uses because it's the best in the world due to the sweetness from being grown in volcanic soil.
If you are in the mood for pasta, C&C Italian Bistro has you covered with their in-house pasta extractor that can hand-crank up to 260 different shapes. Everything is made daily and hung over old broom handles for about five hours to let it dry before boiling.
"We are going to change the pastas up at least every two weeks," Chef Dickensauge says. "We won't serve any pasta we're not making."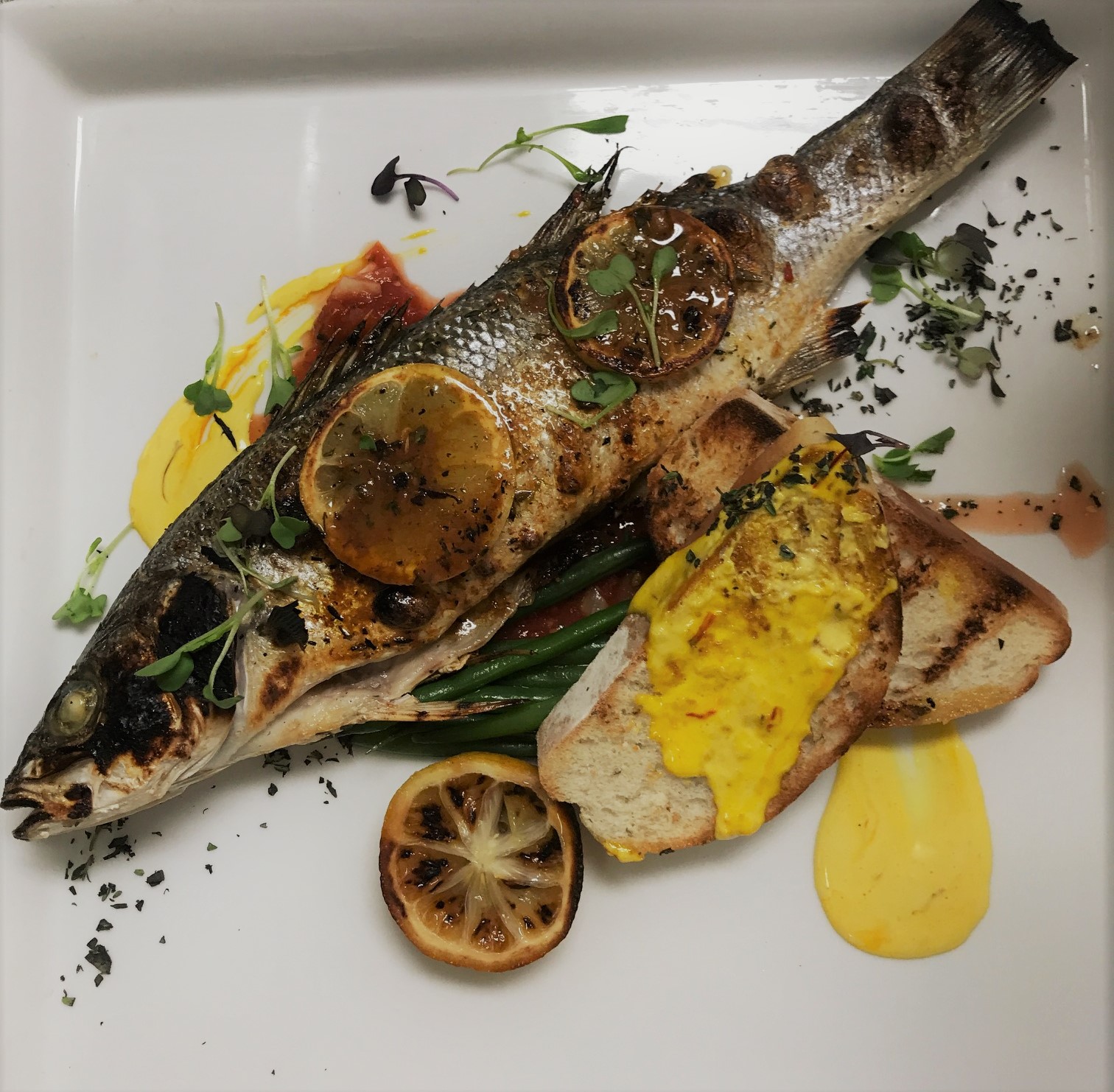 Most dishes are made with local, sustainable produce from Mississippi, Louisiana and Alabama, but the bistro also offers unique-to-the-area items like the grilled Branzino. This stuffed Mediterranean sea bass is sure to please, and according to Chef Dickensauge, the only other place that serves it regionally is at the famous Domenica restaurant in New Orleans.
The centerpiece of C&C Italian Bistro is a brick Marra Forni wood fired pizza oven, which is one of only a few in the South. Running at about 950 degrees, it bakes made-from-scratch artisan pizzas in a little over a minute. I tried the Chicken Fontina pizza — a Neapolitan-style thin crust with a light, smoked tomato sauce, topped with Spring Mountain chicken, Fontina and Gruyère cheese, a tomato raisin chutney and spicy arugula. It was perfectly fired in the large red oven and made me anxious to come back and try all the other varieties.
The restaurant is open seven days a week for lunch and dinner. Mondays are Family Italian Nights where you are encouraged to bring the kids to enjoy build-your-own pizzas and more Americanized Italian fare.
Also, be sure to ask your server or look on the chalkboard for daily specials, and don't forgot to save room for specialty desserts such as tiramisu, ricotta cheesecake and the Taste of Gelato that features three different homemade varieties.
---
IF YOU GO
C&C Italian Bistro
111 Main St., Bay St. Louis
(228) 209-7440
ccitalianbistro.com
facebook.com/CCItalianBistro