Photography by Brandi Stage Portraiture
Dr. Shahira Hanna
Caring for women through all life's phases

Dr. Shahira Hanna marvels at how far medical technology has advanced since the 1970s and 80s.
In its infancy, explains the OB-GYN, laparoscopy involved placing a sharp, metal object into a patient's abdomen, allowing doctors to look inside the human body using a tube and a lens.
"Now, robotic surgery allows us to do remarkable things while sitting at a console across the room!" Dr. Hanna exclaims. "It has lent itself especially well to gynecological surgery like hysterectomy. This surgery is my favorite part of being an OB-GYN."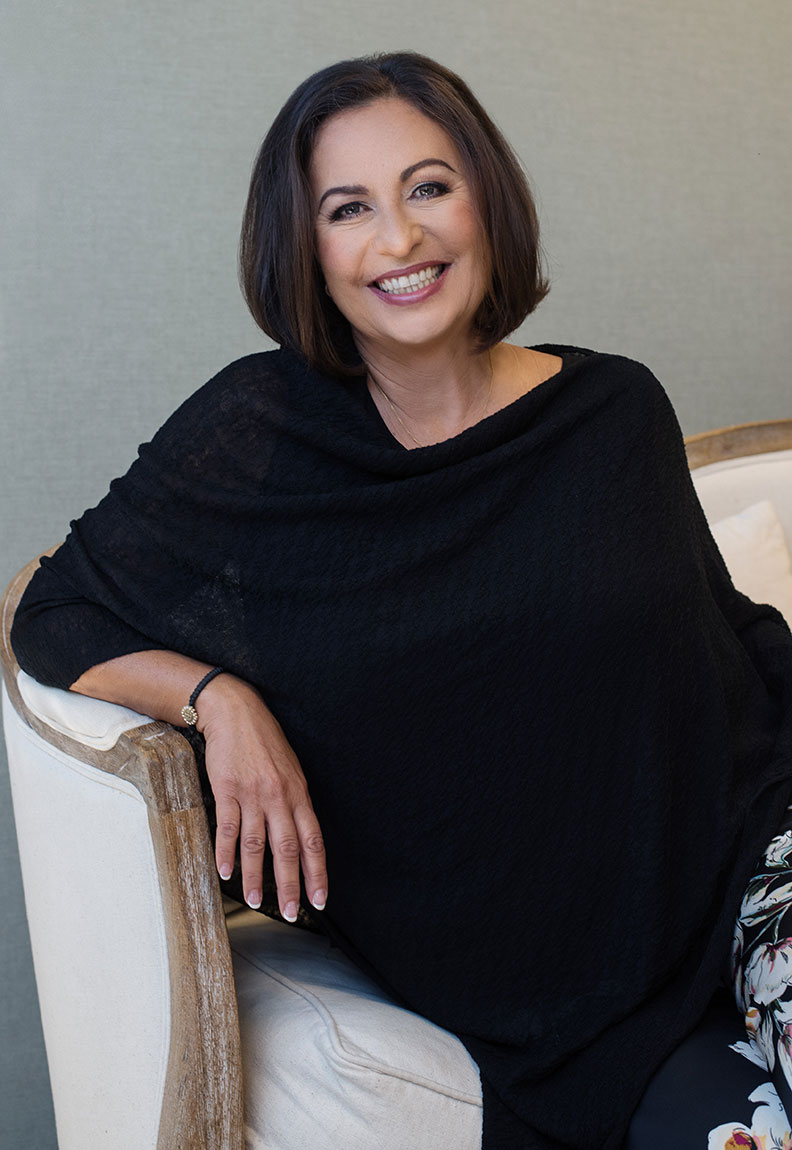 Dr. Hanna, who is on staff at Memorial Hospital at Gulfport and Garden Park Medical Center, is originally from upstate New York. An avid science student, she earned a chemistry degree from Colgate University.
Afterward, she says, "I decided to go to medical school and apply my science to a profession where I could be around people all the time as opposed to a laboratory." She graduated from the University of Pennsylvania School of Medicine and completed her residency at Hahnemann University Hospital in Philadelphia.
In the early 90s, weary of the Northern weather and the worsening climate in health care, Dr. Hanna relocated to the Gulf Coast. At the time, she says, small hospitals that didn't previously offer obstetrical care were starting to provide it — so the timing was right to open the first labor unit at Gulf Coast Medical Center.
Dr. Hanna says she picked the OB-GYN path because it involves both surgery and medicine, plus the unique aspect of obstetrics — and the specialty has been an ideal fit.
"I love the acuity of care, the 'action,' if you will," she says.
Having been in private practice since 1989, the doctor values the continuity she can give patients through every phase of life — each with its unique needs and challenges.
"The thing I love most at this point in my career is the fact I've been here long enough to take care of people from the time they were teenagers through their childbearing years, their post-childbearing years, to now seeing their own daughters become my patients," she says. "You just feel like you are part of a big family."
Dr. Hanna's own family includes her husband, Mark Sedgwick, whom she met on a blind date arranged by the marketing staff at Gulf Coast Medical Center, and her son, Matthew, who is a student at Loyola Marymount University. As a doctor and the parent of a college student, Dr. Hanna says she's concerned for future generations of physicians — and worries how much more their hands will be tied by intrusive oversight and red tape.
Loss of autonomy and increasing bureaucracy bother Dr. Hanna, who says she used to pride herself on never looking at a patient's insurance. Now, she adds, she must check with a woman's provider before completing the most basic tests, or even asking, "How are you?" Patients were once able to make a doctor's appointment with a quick phone call, she adds; now, even if a referral isn't needed, someone must pass through several layers of approval and scheduling to be seen.
"My biggest concerns about modern American healthcare are access to care and the ability of doctors to provide care without the overwhelming interference of gatekeepers and regulators," Dr. Hanna says.
Nonetheless, she adds, "I believe we have the best health care system in the world."
"Get preventive care," Dr. Hanna advises. "Take care of your body, and ask for help when you need it."
Dr. Hanna says fortunately, she's in a specialty where outcomes are generally positive. Still, no doctor can avoid dealing with loss and trauma.
"You can't fix everybody, and you can't help everybody," Dr. Hanna says. "But you can help people through the bad times as well as the good times."
Dr. Hanna remains amazed by the human body — its capacity to heal and adapt. She's drawn to surgery especially, she says, "(because) I like being able to fix things — instant gratification, I guess you could say."
---
Dr. Tamara Harper
Pediatrician puts kids' health, well-being at forefront

Pediatricians are an extension of the family, says Dr. Tamara Harper — present in their patients' lives from birth through the critical years of childhood and adolescence.
"As such, choose your pediatrician wisely," one who relates well to you and your child with a caring and listening heart, with dignity and respect," says Dr. Harper, who grew up in Moss Point and has been practicing in Gulfport since 2006.
Her passion for her work comes from her love for children. Dr. Harper's learned the kids who scream at the sight of a stethoscope, or refuse to open wide for a tongue depressor, are the same ones who will be hollering for her or clinging to her leg later.
"Pediatrics is my ministry," says the doctor, who is affiliated with The Pediatric Center of Gulfport and Garden Park Physician Services. "There is contentment that comes from knowing that you're doing what you were placed on earth to do."
Becoming a McDonald's cashier appeared at the top of Dr. Harper's childhood goal list. But at age 6, after being hospitalized for a septic knee joint, she aspired to become a doctor.
"My interest continued to grow throughout my childhood with the desire to serve and help others," she says, "reaching a peak after attending a Summer Science Academy at Xavier University of Louisiana as an adolescent."
While she grew up in a working-class community, where no physicians looked like her, Dr. Harper's parents were college graduates who stressed the value of education and believed in her abilities.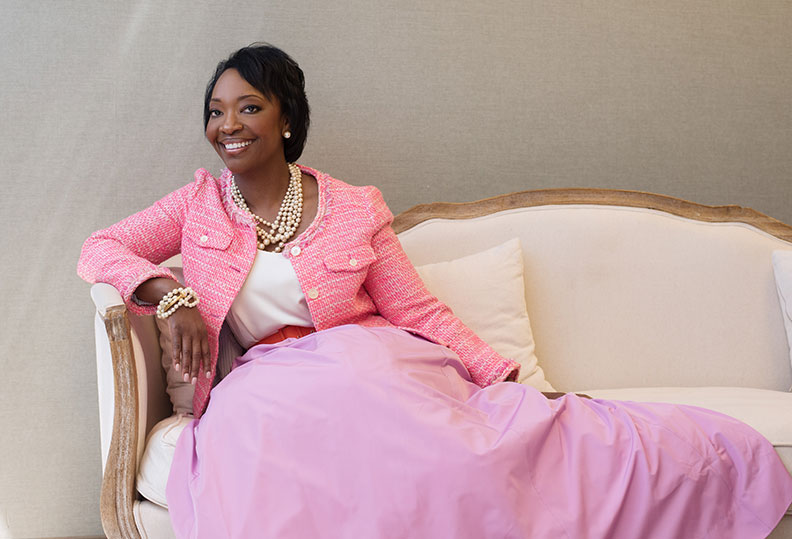 "They rooted for me and helped pave the way when I could barely recognize the path that God had chosen for me," she says, "and I am forever grateful."
Dr. Harper graduated summa cum laude from Xavier University, then went on to earn her medical doctorate from the University of South Alabama College of Medicine in 1998 and complete her pediatrics residency in 2001. Before relocating to south Mississippi in 2006, Dr. Harper spent five years as an ER attending physician for the University of South Alabama Children's and Women's Hospital Evaluation Center.
"Little did I know that in this position, God was preparing me to practice in a private setting," she says, "where there is often limited access to pediatric specialty services, especially in emergency-type situations."
While doctors often witness the incredible and unexpected, Dr. Harper says pediatrics is a "miracle specialty in and of itself." When she sees a patient bound for college — who was born prematurely and likely wouldn't have survived 30 years ago — she is reminded of God's power and compassion.
Her deep faith, along with self-care and support from her loved ones — including her husband, Dr. Oswago Harper — get the doctor through difficult times. Contrary to what some believe, she says, pediatricians don't get to "play" with happy, healthy babies all day. Her young patients do keep her smiling, she explains, but even healthy children demand vigilance.
" … The slightest symptom may have ominous consequences if not recognized and acted on before growing into a disease that can ravage not just the child, but the entire family," Harper warns.
Thanks to immunization, she adds, most pediatricians have seen few, if any, cases of polio, small pox, measles, mumps or rubella. Controversy continues to surround the subject of vaccines, but Dr. Harper maintains they are "perhaps the single greatest advance of modern medicine."
"The world at large has benefited immensely from the power of immunizations," she says, "and pediatricians have the privilege to stand on the front line in protecting children and the public at large."
To stay on the cutting edge of her field, Dr. Harper is an active fellow of the American Academy of Pediatrics at the national and state level, and she frequently attends AAP conferences to maintain and increase her knowledge. She has received Vitals Compassionate Doctor recognition, as well as the Vitals Patients Choice award, for several years, and she has been a People's Choice award finalist for best pediatrician on the Gulf Coast.
Parents report that Dr. Harper remembers details about their children while making families feel informed and at ease. Praise aside, Harper says she pursued pediatrics for a simple reason: "Kids are fun!"
"Their innocence, honesty and resilience remains as a daily motivation for me to serve in my best capacity as a pediatrician, to advocate for their well-being and health," the doctor says. "I consider it an honor and a privilege to be able to share in the lives of families, to give reassurance, support and healing as patients grow from infancy into adulthood."