She's by all accounts a very good girl — and in several instances, a lifesaver.
Tiger, a three-year old shepherd mix, had been awaiting a forever home for months when she was adopted through the Humane Society of South Mississippi. When Karla Patterson-Bryant and her daughters took Tiger into their Biloxi home in March of 2018, they discovered she had a gift for detecting — and responding to — medical emergencies.
"Tiger one day felt something was seriously wrong with my daughter, Bre'Yauna, (who) happens to be her best friend," Patterson-Bryant recalls. "Tiger was sleeping with me when all of a sudden she jumped up, ran out of my room and jolted into Bre'Yauna's room and jumped on her chest. I was startled and ran to see what was wrong."
Bre'Yauna was suffering from a grand maul seizure, shaking profusely on the floor. The pup protected her and licked her face until the episode had passed.
"Tiger sat there, never moving away from her side — not even letting me get to her …," Patterson-Bryant says. "We just were so grateful for Tiger at that moment because everyone else was asleep."
Both the dog and Bre'Yauna were injured during her second seizure, when she fell down 18 steps.
"Tiger hurt her hip and still sat on Bre'Yauna until EMS came," Patterson-Bryant says. "Tiger was so protective that the emergency technicians had a hard time evaluating Bre'Yauna; Tiger would not move away from her best friend's side at all."
Bre'Yauna and her sister have autism, and Patterson-Bryant and her youngest daughter, Evangelina, also have diabetes. She says Tiger could tell when their blood sugar was low — alerting them by licking them and following them around. One day, Patterson-Bryant's sugar level was so low that she collapsed to the floor. Tiger sprang into action, jumping on her chest and barking to alert her children.
At 76 pounds, Tiger is a "lap baby" who is unaware of her size, Patterson-Bryant says, and "her presence kept me from going unconscious."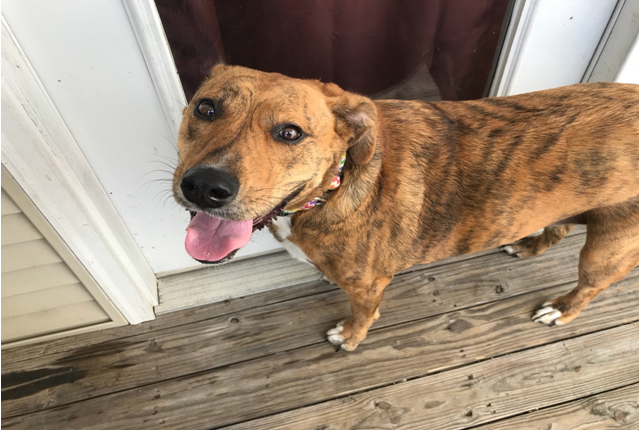 The family has since moved to northeast Ohio, and a diagnosis of stage-four liver failure forced Patterson-Bryant to accept she'd have to relinquish their beloved pet. The hard decision broke their hearts, she says, but ultimately had a happy ending.
After breaking free during a walk, Patterson-Bryant says Tiger ran off and was gone for two days. After the dog was recovered via microchip, the family found that she had run to the rescue of a disabled elderly woman.
"She was out in her yard when she almost fell over. Guess who came to her aid?" Patterson-Bryant says. "I like to think that Tiger felt this woman (needed her), and that's why she ran off from me."
Although she has a new home with the woman, who was lonely after the death of her husband, Tiger is not far away, Patterson-Bryant says — and her family always will be grateful to the loyal companion she calls "God's angel." She urges those wanting a pet to adopt their "furbaby" from a shelter.
"They are in need of love and second chances; please grant them this chance and welcome them," she says. "Dogs and cats are designed to love and be our companions, as we are to be theirs."
Some may assume shelter pets are "broken," says Katie King, development manager for the
Humane Society of South Mississippi, but nothing could be further from the truth.
"When adopting from a shelter, you're not only a hero to that pet in need, but you never know what they are going to bring to your life as well," she says.