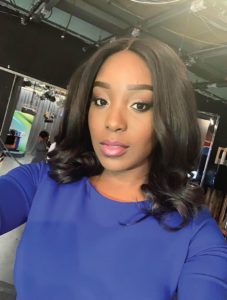 Joyce Philippe is a journalist with a passion for telling stories that inform and inspire others. During her time as a reporter with WLOX, she's dived into her geeky side as she developed a love for technology and business developments on the Coast. To stay sharp and camera ready, Philippe relies on a combination of beauty essentials, up-to-date gadgets and a strong sense of faith. Here are her recommendations:
POWERBEATS PRO TOTALLY WIRELESS EARPHONES
These wireless buds fuel my weekly workouts with sensational sound quality. The hook design keeps them sturdy during my most intense sweat sessions.
URBAN DECAY ALL NIGHTER SETTING SPRAY
Whether I'm in rain, hail, sleet or that Mississippi heat, this setting spray keeps my foundation in place for hours. It also works to remove harsh lines and give my makeup a softened, natural finish.
PAULA'S CHOICE VITAMIN C SERUM
The C15 Super Booster is the secret to achieving a year-round summertime glow. One small drop is full of nutrients that brighten my skin and correct hyperpigmentation.
NEUTROGENA HYDRO BOOST SHEET MASK
On the days when my skin could use some TLC, I whip out Neutrogena's sheet masks for a blast of moisture. My favorite way to use it is to zap it in the freezer for 10 minutes for a cool and refreshing at-home facial.
LA FEMME PRADA EAU DE PARFUM
La Femme lives up to its name as a light, fresh and feminine fragrance by Prada. This scent is undeniably attractive and a certified head-turner wherever I go. While it is a new addition to my beauty collection, La Femme is here to stay.
APPLE WATCH NIKE SERIES 5
My Apple Watch is the accessory I never knew I needed. I use it to track my physical activity, but its features allow seamless integration with my phone. I can't wait to customize it with stylish new wristbands!
PALMERS COCOA BUTTER
Cocoa butter is a classic dry-skin remedy that I keep around at all times. It's good for use everywhere from your lips to your hips, bringing you supple and smooth skin with every application.
MAC LIPSTICK IN RUBY WOO
Every woman needs a staple red lipstick in her makeup arsenal. Ruby Woo is celebrated as a universal red that looks good on women of all skin tones. I've been wearing this red lippie since my high school days, and I haven't found a better one since.