JULIA REYES is a visual artist and creative entrepreneur. She stays involved in organizations and projects dedicated to bringing a unique art experience to the Gulf Coast. Former co-owner and creative director of Almost Circle Gallery and current owner/operator of Reyes Studios, Julia does commissions, collaborations, workshops and creative consulting. You can keep up with her on Instagram (@juliareyesart), Facebook (Reyes Studios) and www.juliareyesart.com. Here are some of her favorite, everyday items: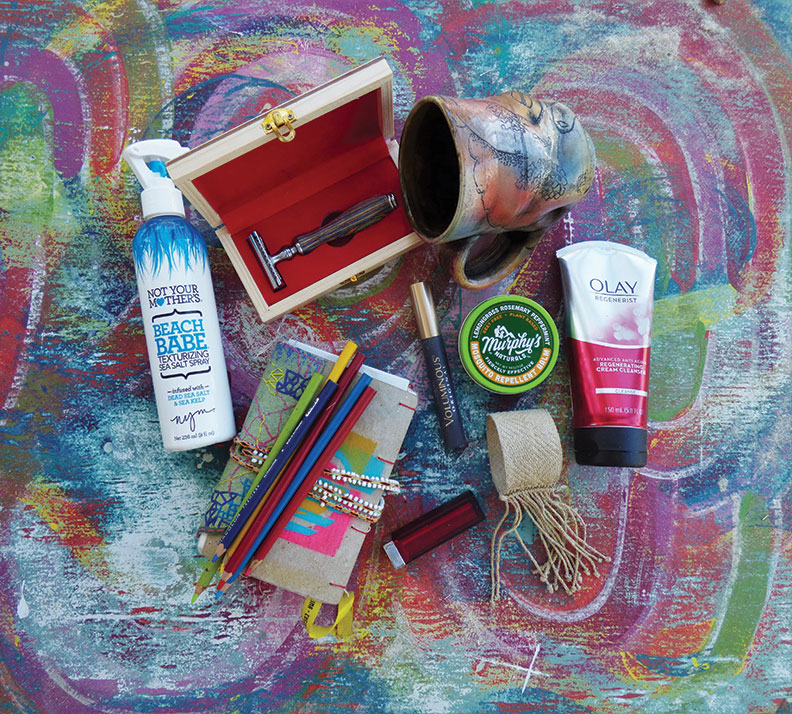 MATSÉS UITSUN "FRIENDSHIP BRACELET," XAPIRI GALLERY, CUZCO PERU
I scooped this cuff up at an Amazonian art gallery during my recent travels to Peru. It was woven from natural, home-spun tree cotton on a rustic loom. I love how it is adjustable, the subtle, intricate patterns and the way it reminds me of a special place.
MAYBELLINE DIVINE WINE LIPSTICK 695
If nothing else, a good bold lipstick is a must.
MURPHY'S NATURALS MOSQUITO REPELLENT BALM
Let's face it — we live in the South, and a good bug repellent is a sure way to maintain your good day. This stuff is all natural and smells so good!
L'OREAL VOLUPTUOUS ORIGINAL MASCARA
If you are like me and have very straight lashes, this mascara is great for lifting and volumizing while providing a natural, non-clumpy look.
PRISMACOLOR COLORED PENCILS WITH HAND-BOUND SKETCHBOOK
I've always felt daily documentation is very important for creative development. No matter what you do for a living, get the ideas out of your brain and onto a piece of paper.
PUTALI LTD PREMIUM DOUBLE-EDGED SAFETY RAZOR
I recently made the switch to a more environmentally friendly and economical razor. I love it! I get a much smoother shave, and the razor itself is super pretty. Plus, I kind of feel like I'm living on the edge when I use it.
OLAY REGENERIST ADVANCED ANTI-AGING REGENERATING CREAM CLEANSER
This cleanser is refreshing and very moisturizing. Plus, when you are a 30-something, anything with the words "anti-aging" couldn't hurt, right?
NOT YOUR MOTHER'S "BEACH BABE" TEXTURIZING SEA SALT SPRAY
This is a beach day in a bottle. I don't tend to do a ton to my hair, but when I do, it's using this spray to bring out natural waves. Those who know me know that when they hear "swish swish," it's almost time to go.
HANDMADE COFFEE CUP BY LOCAL ARTIST CHRISTIAN BAILEY
I have an obsession with handmade cups. It's a great way to represent your favorite ceramic artists, all while using their creations for your favorite beverage. #winwin