By Chris Dearman
Looking for a place with a charming atmosphere where you can get authentic and chef-inspired New Orléans style po'boys? Look no further than Biloxi's Southport Line Poor Boys restaurant. Housed in a refurbished historical Creole cottage, Southport Line offers Southern hospitality and fantastic food that will have you coming back for more.
Curtis Schmitt opened the restaurant in October, transforming an 1898 cottage that had sat vacant on Howard Avenue since Hurricane Katrina into a restaurant that is quickly becoming known for its amazing po' boys and other delicious fare.
"I wanted to create an old neighborhood bar that you would find in Old Town Biloxi or New Orléans. Somewhere you can just hang out," Schmitt said of his desire to refurbish the historical property he bought a couple of years ago. "We would always pass by and say, that's such a great spot."
After purchasing the building where Biloxi streetcars once passed, Schmitt used his construction background to completely renovate the previously boarded-up building. After stabilizing the structure, he salvaged colorful wood to create the walls, and then decorated them with photos of trolleys and other symbols of Biloxi's past. Additional touches such as antique signs they found in the attic and old bottles brought up from underneath the building help give the restaurant its character.
Named after the historic New Orléans street car line that ran on Oak Street, which led to the invention of the po'boy when workers went on strike in 1929, Southport Line offers a menu with both traditional and chef-inspired creations.
"We local-source everything as much as possible, using the freshest ingredients from local vendors." Schmitt said of getting items such as their French bread from Le Bakery, which is just down the road. "We use Gulf Coast produce. We use beef and pork coming from North Mississippi, and catfish farm-raised in Mississippi. Anything I can do local, I do. I was really big on that concept."
You will want to start with an appetizer or two, with the Pickle Plate and the Meat Board being popular choices. The Pickle Plate comes with house pickles made in a chef 's secret brine to go along with homemade pimento cheese, and a variety of other pickled items. The Meat Board comes with ever-changing house pâté, deviled beef, boudin, and Jezebel sauce.
"We try to make everything in-house. We pickle everything in-house, and our sauces are made in-house. General Manager Brandi Mae Lambert said of the variety of homemade offerings: "We actually make our own mayonnaise and our mustard. It is one of the things that we pride ourselves on."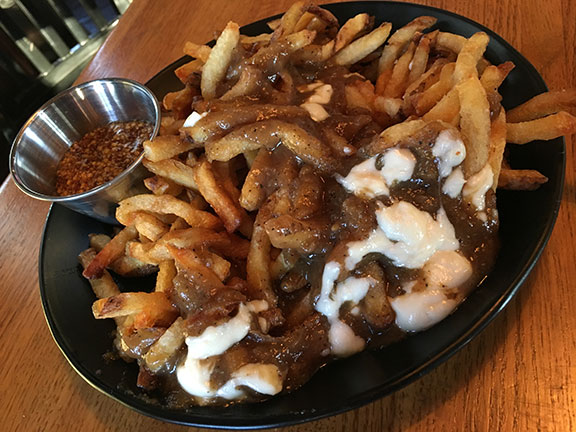 On my visit, I tried what I was told is their most popular appetizer, Poutine, a traditional Canadian dish of hand-cut fries, cheese curds, gravy, and a whole grain mustard that is a five-day process to make. I had never had it before, but I'll be coming back for it for sure on what I imagine would be the perfect dish for a cold Mississippi day.
For those looking for something a little healthier, Southport Line offers house, Caesar, and spinach salads, served with house-made red wine Dijon, anchovy, or port vinaigrettes. They also have vegan and gluten-free offerings.
The Southport Line menu splits their po'boys into two categories, the traditional "Strikers," which includes fried shrimp or catfish, roast beef and gravy, ham and cheddar, turkey and swiss, and one of the few things that is outsourced, the fifty percent beef, fifty percent pork Patton's Hot Sausage direct from New Orléans. The "Conductor" side of the menu features chef-inspired gourmet offerings such as the Dill Pickle Brined Chicken Thigh with pimento cheese, tomato, and homemade hot sauce, or the Italian, which comes with ham, capicola, salami, provolone, onion, oregano, and a hot pepper relish. You can't go wrong with any of them.
"Everybody loves our fried shrimp po'boy. Everybody loves our roast beef. But, we also have so many others that are good that aren't so traditional," Lambert said. "Like our meatball po'boy, which is probably my favorite because it's not made with the traditional marinara; it's made with a red tomato gravy. I mean, how Southern can you can you get?"
On my visit, Head Chef Matthew Freydl served me one of his own tasty po'boy creations called the Black N' Blue. It is loaded with flavor and very satisfying.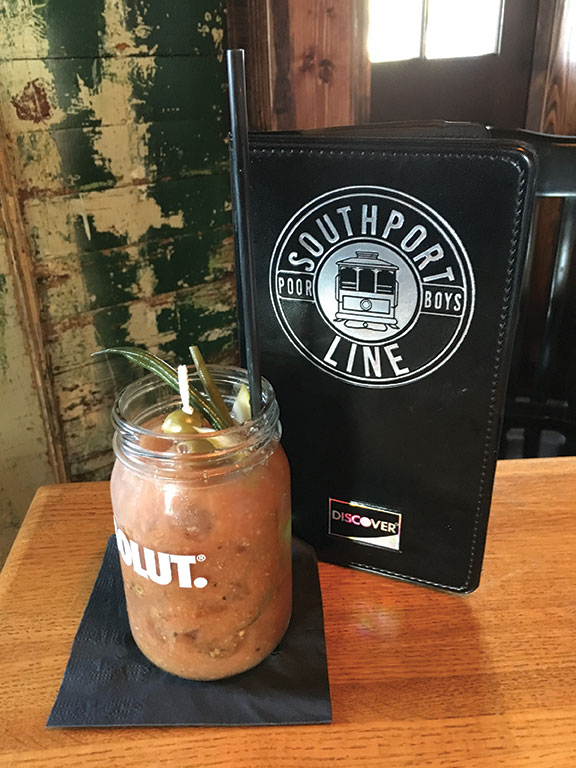 "It has our house mayo on the bottom, arugula, Roma tomatoes, and our sliced ribeye sautéed in Worcestershire sauce and T&T seasoning," Freydl said of his creation. "It has a homemade blue cheese crust, which is even parts blue cheese and bread crumbs, with fresh oregano blended into it. On top is a blueberry balsamic reduction that's infused with basil, so at the end you get that nice fresh finish to it."
While you are sure to be stuffed by Southport Line's large portions, try to save room for dessert offerings made by local pastry chef Stephanie Costa of Sweet Enchantments. The Pecan Pie Cheesecake is hugely popular, and the Mississippi Mudslide Cake is sinfully delicious.
Southport Line Poor Boys is open Monday through Thursday, 11 a.m. to 10 p.m., and Friday and Saturday, 11 a.m. to midnight, and now on Sundays as well. Happy Hour at the bar is 3 p.m. to 6 p.m., where besides signature cocktails, the bloody Mary with pickled garnish is not to be missed.
---
IF YOU GO
SOUTHPORT LINE POOR BOYS
647 Howard Ave. Biloxi
(228) 207-5352