CARROT AND SQUASH SOUP
INGREDIENTS:
2 Tbsp sesame oil
2 yellow onions (chopped)
2 cloves of garlic
2 Tbsp grated ginger
1 large butternut squash (peeled, cleaned and cubed)
3 large carrots (peeled and chopped)
2 Tbsp honey
6 cups of chicken broth (or veggie broth)
1 Tbsp fish sauce
3 tbsp yellow curry powder
1 (14oz) can of unsweetened coconut milk
Squeeze of lime
Salt and pepper to taste
Optional Garnish:
Fried ginger "chips"
Sesame oil
Cilantro
Coconut milk
DIRECTIONS:
1. Heat sesame oil in a large soup pot over a medium flame. Add onions and garlic, then sweat the mixture until onions are translucent, but do not brown them.
2. Add ginger, butternut squash and carrots. Cook until they start to soften, then add the chicken broth, honey, fish sauce, coconut milk and curry powder.
3. Let cook with the lid on for about 20 minutes, or until veggies are completely soft.
4. Use a hand immersion blender to puree the soup. You also can puree the soup in batches with a blender and add the soup back to the pot once pureed.
5. Let the pureed soup cook over a medium-low flame while adding the lime juice, salt and pepper.
6. Once you season to taste, the soup is ready to serve (and garnish)!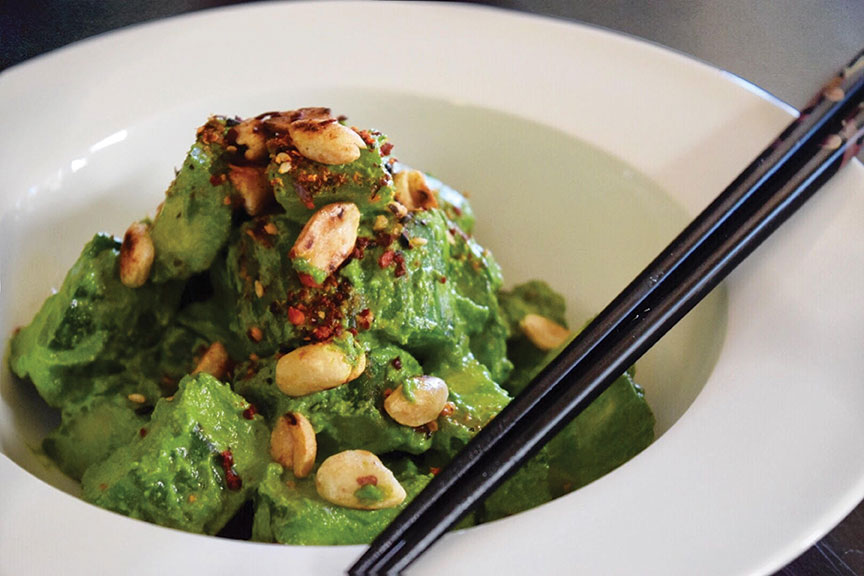 SPICY CUCUMBER SALAD
INGREDIENTS:
6 mini English cucumbers
½ cup chopped scallions (green part only)
1 handful of cilantro leaves, chopped
1 tsp fresh grated ginger
4 Tbsp sesame oil
1 ½ Tbsp rice vinegar
1 serrano (or jalapeno) pepper, diced
½ cup dry roasted peanuts
Togarashi spice
Kosher salt
DIRECTIONS:
1. Cut cucumbers into small chunks (as pictured). Line a colander with paper towels and lay the chopped cucumbers on top. Sprinkle a good amount of kosher salt over the cucumbers and let them sit for 30 minutes. This allows them to "weep" and shed excess water.
2. While you wait on your cucumbers, make your vinaigrette. In a blender, add the scallions, cilantro, ginger, sesame oil, vinegar, and serrano (or jalapeno). Blend until smooth and add extra oil or vinegar if needed.
3. Once the cumbers are ready, pat them with a fresh paper towel and toss them in the vinaigrette. Plate to serve and garnish with the dry roasted peanuts and togarashi spice.
---
Lauren Joffrion is the sous chef and pastry chef of Field's Steak and Oyster Bar in Bay St.Louis. Additionally, she has a food blog at hellbraiser.com. She can be reached at (228) 209-2663.