Photography by Brandi Stage Portraiture
Makeup & Hair: Rachael Hollingsworth and Cody Shafer of Polished Salon & Spa
Wardrobe: Grants for Her, Frankly My Dear Boutique, and Love Ivy
Vastly different life paths led three exceptional women to the same destination: success. They are fighters, pursuing their goals with laser-like focus. They use their talents to empower and uplift others, earning their community's respect and admiration. They are an example of what's possible when women believe in themselves and don't give up.
Meet Shelia Rivers, Angelyn Treutel Zeringue and Erin Rosetti — three leaders who make the Coast a better place.
The Improver
Angelyn Treutel Zeringue strives to make things better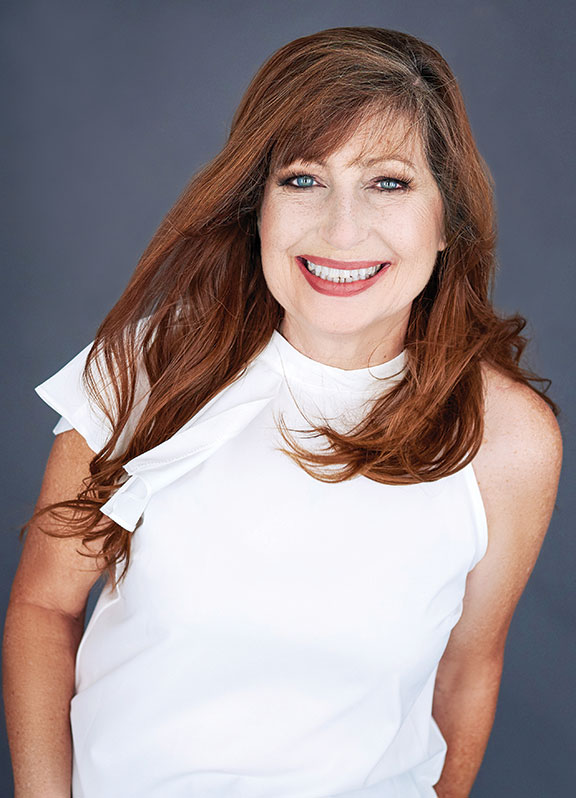 Angelyn Treutel Zeringue doesn't see her concerns and challenges as unique.
She's loved and lost — then learned to love again. She's seen her children struggle and had to watch from the sidelines as they figured things out for themselves. She's struggled with her weight and finding motivation to exercise. She's poured her heart and soul into projects that didn't pan out and had to start over after catastrophic weather events.
But what sets the president of SouthGroup Insurance Services apart is her response to adversity.
"I push myself to constantly network, learn more skills, communicate more effectively and become a better professional and a better person," says Zeringue.
For as long as she can recall, something inside was always driving Zeringue to work hard and go above and beyond. Spending several of her formative years on a pig farm in Louisiana led to many adventures and fostered a strong work ethic.
After earning an accounting degree from The University of Mississippi, she worked in the oil industry as a computer systems analyst and financial analyst — climbing the corporate ladder and becoming a department manager.
"Working in a major corporation was a great experience, and I learned much on hierarchies and protocols of navigating systems and processes," Zeringue says. "I was also introduced to the concept of continuous improvement, and I have made that my life's mission to keep making where I work and live better and better."
Thirteen years of commuting 120 miles each day to a high-stress, corporate job took their toll mentally and physically, so when Zeringue had children, she decided to join a small business in Bay St. Louis to start living a gentler, slower-paced life.
"Was I ever wrong!" she says. "My life became even more filled with work, children, school support, community activities, family, homework, and more."
She became a Trusted Choice insurance agent and founded her own agency in 2012. She also got involved in almost every local organization "with the goal of making everything better."
"I feel that I have been very blessed throughout my life, and I strive to give back," Zeringue says. Some of the entities she's supported include local chambers of commerce, United Way, CASA, American Heart Association, Boys & Girls Club, Children's Hospital and Rotary.
She also invests time in mentoring others through women entrepreneur groups and youth STEM (science, technology, engineering and math) and leadership development programs.
"It took many years, but I now recognize that I am unable to do everything on my own, and it is essential to develop the leaders of our future," Zeringue says. "So, I work to educate, motivate, inspire and help others at every opportunity. I love going to work every day because I love helping people."
She's also motivated by finding faster, better ways to do things, and she draws energy from improving processes. Some of her favorite reads reflect this mindset, including Steven Covey's "7 Habits of Highly Effective People" and W. Edwards Deming's writings on total quality management.
"I am an organizational dynamo," Zeringue says. "I love trying new ways and techniques and finding methods to get more done in less time. I am in my glory when I have too much to do!"
In all her endeavors, even those that haven't turned out as planned, Zeringue says she feels God has led her every step. When her marriage ended in 2010, she was determined not to become bitter and took solace in her faith, family and friends. She eventually found an ideal partner and adventure companion in her husband, Mickey, who she calls "the wind beneath my wings."
For anyone going through difficult times, she recommends taking a step back and devoting a day to doing something special just for you. Remember that you are loved, and you are special, she adds, and that you are not alone.
"I always look for the good, the bright side (and) the learning (opportunity) from each situation," she says, "and that is the winning combination for me."
The Survivor
Despite trauma, therapist believes in happily ever after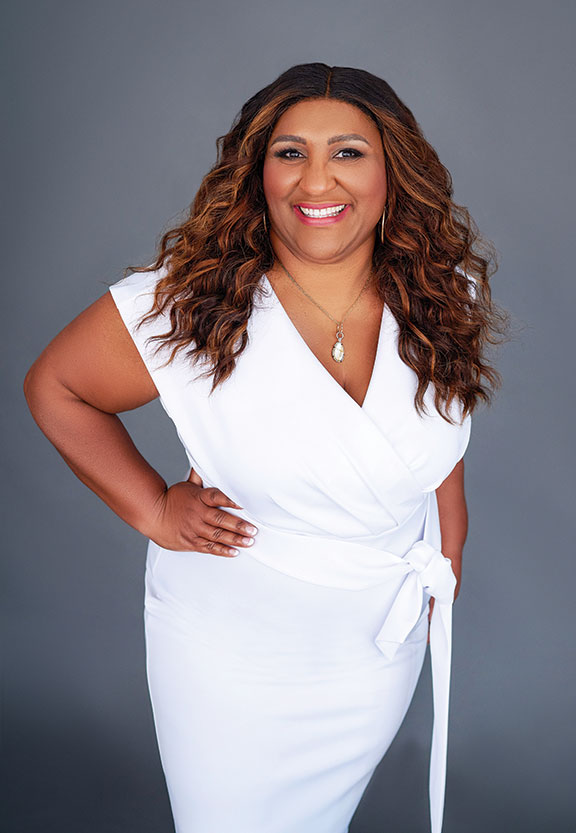 Dr. Shelia Rivers finds hope in situations where many others would despair.
To start, she's a domestic violence survivor. She had three children by the age of 15. She dropped out in the ninth grade, completing high school with a GED. As a divorced single mother, she once worked for wages of $7.50 an hour.
"Every semester, I would register for another class and would promise my children that life would be better soon," recalls Rivers, CEO and chief therapist of Rivers Psychotherapy Services. "With a lot of hard work and determination, (my) ultimate goal of higher education and never wanting to break my promise, I continued to pursue my education with a vengeance."
She pressed on with her studies while at times maintaining three jobs. Today, the mother of five and grandmother of seven holds a bachelor's degree in psychology and master's degrees in social work and public health – executive administration from the University of Southern Mississippi and a doctorate in social work from Tulane University. She's also completed special training in trauma-focused interventions.
"Remember everything in your life has a purpose," says the seasoned therapist. "The good, the bad and the ugly all serve a purpose in developing your higher self."
The key to progress, she advises, is simply getting started and not looking back. Completing her undergraduate degree took Rivers 10 years of enrolling in classes as she was able.
A social work internship at a women's shelter proved to be a moment of truth, prompting a "total transformation of my personal story." She began to see how trauma had affected her physical, emotional and mental health and embarked on a healing journey with a psychologist. She was diagnosed with depression and prescribed medication.
"Therapy taught me holistic wellness, adaptive coping skills, (how to) improve my self–esteem, implementation of healthy boundaries and how to heal from trauma," she says. "Overcoming this tragic part of my life has been one of my greatest triumphs."
To promote peace and wellness, Rivers purposefully has made her environment an oasis, with a signature scent (eucalyptus spearmint), comforting colors and soft throws and pillows on chairs and couches throughout her home and office. These surroundings are conducive to her constant self-reflection and search for ways to improve herself and the lives she touches.
Rivers's greatest passion is encouraging other women to love who they are and reach their goals. Through her own trials, she found comfort in repeating an affirmation: "God is within her. She will not fail."
"I see myself as a survivor, and that is powerful within itself," she says. "Surviving traumatic adversity and discovering who you are in the midst of wearing numerous titles speaks volumes (about) being a powerful woman."
Going into business for herself required a leap of faith — and Rivers now deems it "the best decision I had ever tried to talk myself out of." Her Gulfport practice aims to help people with a host of issues live healthier, more productive lives.
Outside of her therapy work, Rivers is a You Night advisory board member, adjunct professor at Tulane University, member of the National Association of Social Workers, founder of the Girl Get Your Life Together Holistic Wellness Program and author of "She Is" and "Power of Hope." Her days consistently stay busy, and her mind never stops.
"I'm always thinking about 'the plan' and the steps of 'the plan' and what's next after 'that plan,'" Rivers says. "I'm constantly making a list, and a list for the list, then crossing accomplishments off the list."
In every obstacle, she sees a lesson to be learned. To those who are struggling, she offers a reminder: "Your wings already exist; all you have to do is fly."
"Dreams come true," she insists. "Ask me, I know."
The Leader
Erin Rosetti uses her voice to advocate for the Coast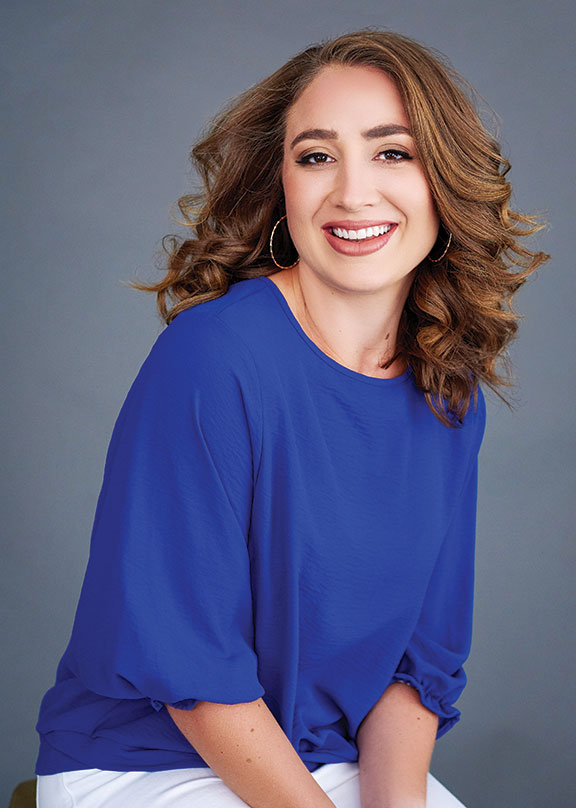 One of Erin Rosetti's favorite high school teachers once told her that when she speaks, people listen. That comment had lasting resonance.
"Being heard is powerful," says Rosetti, director of communications and engagement at Coastal Mississippi, "and I aim to use that power in a positive and meaningful way."
In her role, she showcases the region's unique character and imparts its economic impact.
"We have our own unique set of challenges in Mississippi," she acknowledges, "but that has always made me more passionate to learn as much as I can about its history and to help change its narrative."
Hailing from St. Martin, Rosetti earned a degree in mass communication, with a concentration in public relations, from Louisiana State University. She applied for and won the Ruth Edelman and Public Relations Student Society of America national award, recognizing achievement in women's leadership, women's studies and/or contributions in the field to promote women's issues. The award included an internship that took Rosetti to Chicago — where she learned from some of the industry's best.
The outdoor-loving Coast native found it hard to adapt to the Windy City — especially the unforgiving winters.
"As much as I loved discovering a new city, especially Chicago's comedy and music scenes, testing every deep-dish option available and cheering on the Cubs, I felt as though something was missing in my professional journey," Rosetti says. "Around the same time, I began noticing the amount of change and development in coastal Mississippi."
A position as public relations manager with Visit Mississippi Gulf Coast brought her back to the region, and after two years, she accepted a job as director of public relations and advancement at St. Patrick Catholic High School.
While that role forced her to "flex new muscles and increase my skillsets," Rosetti reminisced about her work in the hospitality industry. In 2019, she joined the Coastal Mississippi team.
Recognizing that she'd developed some unhealthy habits after graduating college, she decided to address her physical wellbeing. She's now a certified personal trainer at Brantley Ellison Fitness, where she teaches group classes, offers personal training and instructs boot camps. She also participates in various endurance events through Ainsley's Angels of America, an organization that aims to build awareness about America's special needs community.
Wanting to further her education as well, Rosetti completed her master-of-business-administration program through LSU Shreveport in May.
"Obtaining my MBA while working full time and maintaining side hustles was a huge triumph for me," she says. "Many early mornings and late nights were dedicated to learning new skills and analyzing cases."
Simultaneously addressing the trials the Coast has faced in recent years, including the algal bloom and coronavirus, made finishing the program "that much sweeter" for Rosetti. But that doesn't mean she's ready to rest on her laurels; she has a running list of personal and professional aspirations, which range from learning American Sign Language to running a marathon. With her husband, Nick, she hopes to travel more and have a family.
"The only way I know how to overcome difficulties is to stay consistent and disciplined …," she says. "Goals keep me grounded and hungry to always work harder."
Rosetti is inspired by the tenacious women in her life, both family and friends. She considers a powerful woman one who maintains her integrity in spite of hardships, will not stand for inequality or injustice and uses her platform to uplift those around her.
"I grew up learning that women are capable, talented, and determined," she says, "and I'm fortunate to be surrounded by friends who have these attributes, always holding me accountable."
Nonetheless, Rosetti sometimes wonders if she deserves a seat at the table, and she knows she's not alone in that feeling.
"My coping strategy is to remind myself that I have talents and expertise, and that my counsel is valuable," she says.
Rosetti has contributed to numerous groups and causes in the community, serving as the Coast Young Professionals 2020 board chair and as a board member for the Boys and Girls Clubs of the Gulf Coast East Harrison Unit. She's never been told that she couldn't do something, which directly influenced her drive and determination.
Hearing "no" is often the worst that can happen, she adds, so don't be afraid to take risks. If it doesn't work, try again.
"Failure is part of the process," she says. "Success never comes without sacrifice and moments of self-doubt."