Lori A. Harper is one of the most successful women on the Coast, respected for her accomplishments and honored for her leadership and humbleness. Like many accomplished women, Harper's drive to succeed has been fueled and underscored by the circumstances around her.
Harper, recently retired as vice president of Supply Chain Management at Ingalls Shipbuilding, says her mother, Beulah Taylor Smith, is her shero and greatest inspiration. "Her mother died when she was 4 and her father and older siblings raised her on a sugar plantation in southern Louisiana. The odds were against her but she started college at Southern University and later dropped out to marry my father and start a family. A few years later, she was divorced with two children under the age of 3."
Growing up, Harper watched and learned as her mother sacrificed "so much in order to provide for us — sometimes working two or three jobs. After my sister and I entered high school, my mother went back to college, earned a degree in elementary education, and later acquired a master's degree in education."
That's the kind of determination that has shaped Harper into the strong, yet caring woman she is today. Her mother set an example of how to balance both strength and love.
"She was my loudest cheerleader and also my harshest critic," Harper says. "She held me to high standards but made sure that I never looked down on others. She encouraged me to take risks, was there to console me when I stumbled, but she never allowed the pity party to go on too long! She wasn't perfect, but she loved me unconditionally and I owe all that I am to her."
In her role at Ingalls, Harper carried a lot of weight on her shoulders, but she had been groomed for those days by the her grandmother and mother. She provided leadership to 400 Gulf Coast supply chain management employees, managed a $20 million operating budget, and oversaw the procurement of $1 billion annually in goods and services. "Operationally, my team's responsibilities included sourcing, procurement, material cost control, inventory control, warehousing, audits and compliance, technical training, and material program support," she explains. "Our ultimate goal was to support the warfighter by providing our shipbuilders on the deck plate with quality materials and services, on-time, and within cost targets."
Since joining the Ingalls team 18 years ago, she has held a number of leadership positions: director, Production Control; material director for the LHD 8 and LPD 17 programs; supply chain compliance manager; Gulfport operations material site manager; and Subcontracts Section manager. Prior to joining Ingalls, she held leadership positions with several Fortune 500 companies within the aerospace and defense, petrochemical and service industries.
Prior to her retirement, she served on the Aerospace Industries Association Supplier Management Council Executive Committee and on the University of South Alabama Mitchell School of Business Advisory Board. She currently serves on the Boys and Girls Clubs of the Gulf Coast Corporate Board of Directors and is board secretary.
She holds a bachelor's degree in Business Administration from Southwestern Oklahoma State University and an MBA from William Carey College. She also has completed leadership training at the University of Virginia's Darden School of Business and is a certified Six Sigma Green Belt.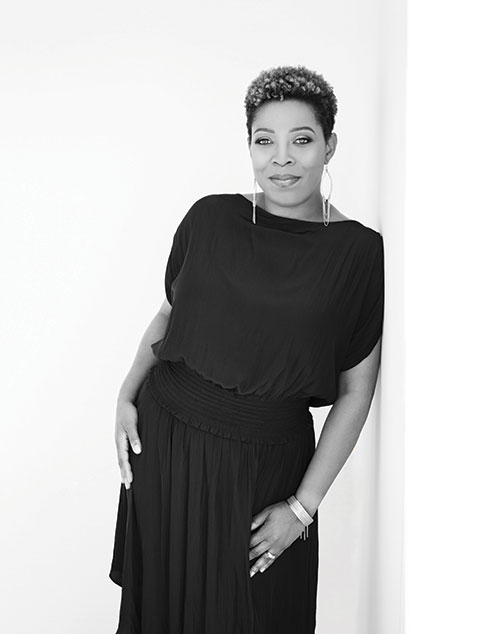 Her string of accomplishments just go on and on, but she's also stared into the face of failure during her career. "In May of 2002, I lost a job that I absolutely loved. There were so many lessons learned from that waterfall moment but I'll share three.
"One was how quickly "success" can lead to "some mess." I realized that not everyone is happy for you when things are going great and even fewer stick around when things are not so good. The lesson for me was to not be one of those people.
"Secondly, was to always live below my means. After losing my job, our savings quickly ran out and we still had one child in college and another heading that way in two years. It was sobering to realize that we were like so many middle-class families — only one paycheck away from financial devastation and possible homelessness. I recommitted to keeping our financial house in order and to not judge others who are struggling.
"Thirdly, losing my job was incredibly humbling. I don't believe that I ever looked down on others before, but I had convinced myself that my intelligence and hard work were the primary reasons for my success. Losing my job and working several temporary assignments before landing a permanent position reminded me that there are a lot of intelligent, talented, hardworking people who for one reason or another don't achieve the kind of success that most of us aspire to. I realize that I have been blessed with so many opportunities to do what I do best and it is my personal mission to pay it forward."
I realize that I have been blessed with so many opportunities to do what I do best and it is my personal mission to pay it forward."
She has carried those lessons forward, remembering to stay committed to achieving her goals. "From an early age, I would make lists of things I wanted to accomplish. As I got older, these lists morphed into five-year plans that I would discuss with people I trusted. My plans focused on five areas: financial health, physical health, spiritual health, personal relationships, and professional growth. I knew that these areas needed strengthening in order to fulfill my dreams. I still make lists, I still have five-year plans, and I'm still committed to my own success."
Just as important to her though is being committed to helping others succeed. "I didn't make it on my own (none of us have), so I strive to pay it forward by lifting others up," Harper says. "My daily prayer is that I will make a difference in the lives of others and my hope is that the 'dash' on my headstone will tell a story that words can never do justice."
---
More about Lori
WHAT SHE WANTED TO BE WHEN SHE GREW UP
"I wanted to be a high school or college teacher but that wasn't possible without a college degree. Fortunately, my career has allowed me to 'teach' in a different way and I get great joy from sharing my knowledge with others and watching them grow and bloom."
FAVORITE QUOTE
"The kind of beauty I want most is the hard-to-get kind that comes from within — strength, courage, dignity." — Ruby Dee, American actress
WHAT WOULD PEOPLE BE VERY SURPRISED TO KNOW ABOUT HER?
"I'm an introvert."
WHAT SHE'S MOST PROUD OF
"I am most proud of my family. We live, we laugh, we love. My husband is my best friend and I'm blessed to share a life with him. It hasn't always been easy, but together we have weathered the storms and are grateful for the journey. My sons are good men who've had their own bumps in the road but didn't give up and continued to move forward. My stepdaughters are awesome women who juggle multiple roles with dignity and grace. And then there are our five amazing grandchildren who give me life. There's nothing quite like hearing them say 'Momo'. I'm incredibly blessed."
---
Success showcase sponsored by