Kerri Paul, mompreneur, juggles three toddlers (a set of 4-year-old boy/ girl twins and a 2-year-old baby girl) along with a burgeoning career as a restaurateur on the Mississippi Gulf Coast. She and her husband, Matt, are excited to open Brick & Spoon, a trendy-yet-casual breakfast, brunch and lunch spot in Biloxi this summer. With more than 10,000 followers on Instagram, Paul (@Kerri3kidslater) is sought after for her insight and creativity in the areas of motherhood, entrepreneurship, hair, and beauty. Fun Fact: she competed on Season 20 of CBS's Emmy-winning competition reality show "The Amazing Race." Here, she shares the products she can't do without.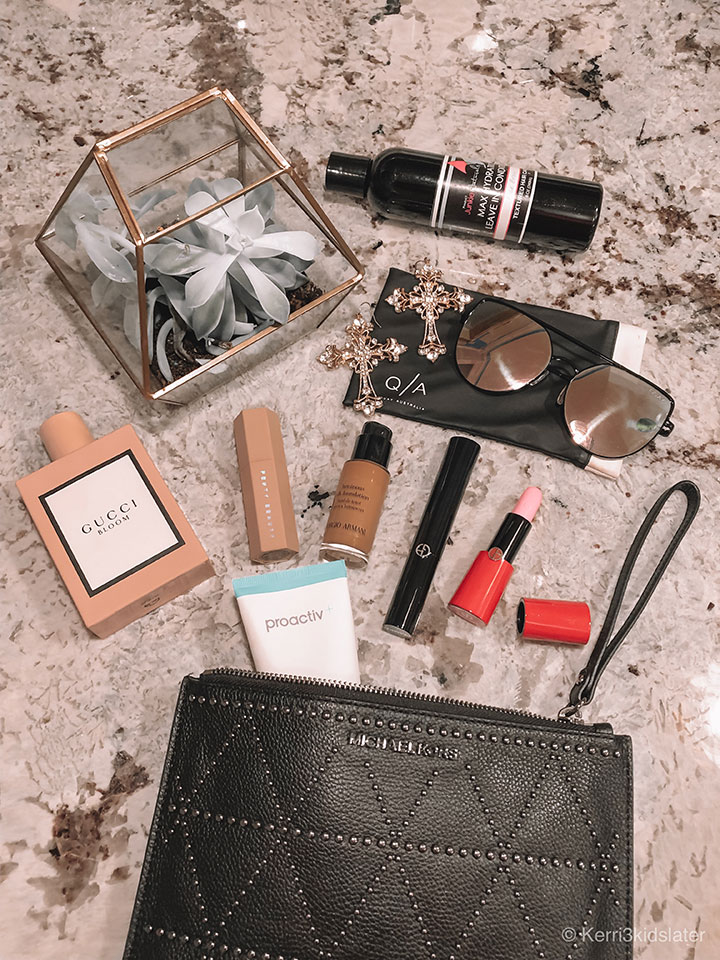 1. Quay Australia sunnies — It's always a sunny day for those with a positive mindset! I love oversized shades for sun protection, but also for camouflaging not-so fresh eyes from sleepless nights with multiples and toddlers.
2. Forever 21 statement earrings — A great statement piece is a staple in my wardrobe. I love the oversized shape for complementing my short haircut, and shimmering gemstones are always a must!
3. Proactiv Complexion-Perfecting Hydrator — I have battled acne-prone skin since childhood. I've found that Proactiv does the trick to keep my breakouts to a minimum, and this hydrator keeps the balance between drying out pimples and keeping my skin fresh.
4. GUCCI Bloom fragrance — "A woman's perfume tells more about her than her handwriting." -Christian Dior. Life is about engagement of the senses. A great sense of fragrance completes the beauty of a woman. I love the feminine, rosy tones in this perfume.
5. Fenty Beauty Match Stick in truffle — This is wonderful for mimicking shadows on the face, which creates and enhances beautiful dimension and bone structure.
6. Giorgio Armani Luminous Silk foundation — Every woman should invest in a great foundation that covers but also feels comfortable on her skin.
7. Giorgio Armani Eyes to Kill mascara — The eyes are the window to the soul — better invest in great drapes! I love a volumizing mascara that opens the eyes.
8. Giorgio Armani lipstick — What woman doesn't love a sensual red lippie for an evening out or Sunday brunch?! By 2 p.m. on any given Sunday, you'll find all my mimosa glasses stained with a red or hot pink lip print! #brunchsohard
9. Michael Kors studded clutch — I keep this little number inside my purse for those times I need to lighten my load. It's got great attitude with the studded embellishment, perfect for girls' nights out paired with an LBD! Yasss!
10. Product Junkie Naturals Max Hydration leave-in conditioner — For curly girls like myself, the right product that moisturizes and defines curls is clutch. This locally-made gem is amazing for de-tanging and styling and, best of all, is made right at home in Mississippi! #shopsmall