Jocelyn Gavin-Lane isn't satisfied with the status quo.
"I don't do well with redundancy; I get bored quickly with that," says Gavin- Lane, national president of the Pink Lotus Project Inc., licensed social worker and owner of Premier Professional Counseling Services, LLC, in Gulfport. "I'm always looking for an opportunity to do something better, to think outside the box."
Gavin-Lane's friends call her an "innovator, connector of people and a visionary." She describes herself as comical, giving, loving, friendly and sometimes "all over the place."
"I thrive in spaces were new systems can be created and nurtured," she adds. "I truly have a heart of service."
Gavin-Lane's mother, Donzell Gavin, says her daughter has never met a stranger and "always has something good to say about everybody." Although she often has to remind her only child to slow down, Gavin commends her many accomplishments, including dual master's degrees in social work and public health.
"She's big on education; she's big on giving back to the community," Gavin says. "Whatever happens, she always puts others above herself."
Gavin-Lane's desire to serve led her to pursue social work, where she has seen firsthand the challenges surrounding adoption, hospice care and helping veterans — specifically the homeless population. Many people visit their doctor for an annual physical, she says, but neglect equally important aspects of their well-being.
"There is no health without mental health," she says. "It's important to continue the conversation of mental wellness in our communities. The stigma is huge, but the price we pay for not dealing with mental health is astronomical."
While she was exposed to college-educated women growing up, including her aunts, the Bay Springs, Miss., native didn't encounter any female physicians — or have role models from other non-traditional careers for women. Wanting to provide that for future generations, she launched the Pink Lotus Academy in 2015. More than 25 female high school students are involved in the academy, where they learn leadership skills and receive personal coaching.
"My hope is to be able to offer to them what I needed at that age," she says. "While I had wonderful family support, I didn't have career mentorship, and that was something I needed.
"I had someone who told me I could be anything I wanted, but I had not seen that."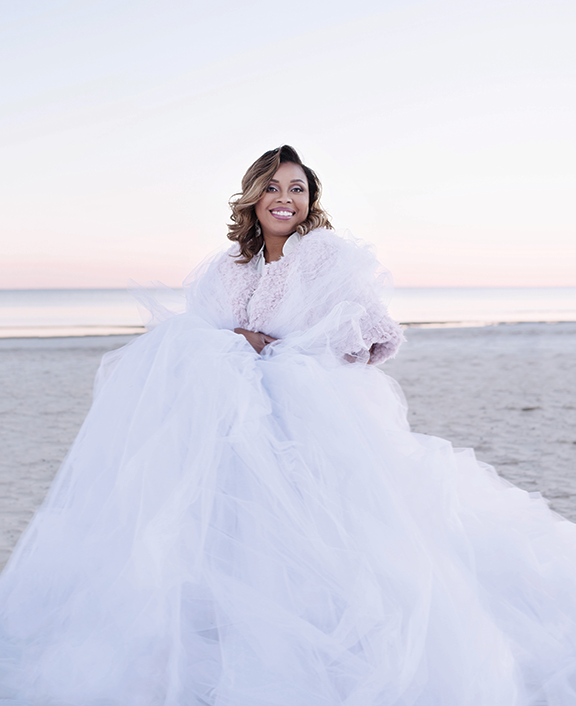 SEEING IS BELIEVING
Since starting her social work career, Gavin-Lane has met several mentors who led by example. She entered the field on the front lines, working for the state Department of Human Services, and still remembers the day she had to remove a baby from a home during an abuse and neglect investigation.
As she left with the infant — and tears in her eyes — her mentor, Lora, comforted and reassured her.
"While working at this job, I truly learned to advocate for others in a non-judgmental manner, how to meet people where they are and to not try to fix people — but help guide them to a personal space where they can be productive members of society," Gavin-Lane says. "These qualities can be read in a book, but they can be developed beautifully by having good mentorship."
Gavin-Lane acknowledges struggling with self-doubt and the feeling that she needed others' permission to pursue her passions. Her strong desire to serve teen girls led her to create the Pink Lotus Project — a female-centered nonprofit — and a good friend reminded her the idea didn't have to "fit" into some existing construct.
"She simply said, 'create your own space; you don't need validation from anyone but yourself and God that this is right for you,'" Gavin-Lane recalls. "That's what I needed to propel me to start the leadership academy and expand Pink Lotus Project."
The organization, which was founded in 2013, now has 27 active members completing service projects across the Gulf Coast. One such effort, the annual "Cha-Cha for the Ta-Tas Breast Cancer Awareness Line Dance-a-Thon," raised more than $10,000 for the Memorial Hospital Foundation Breast Imaging Fund.
"The mission of Pink Lotus Project is to change lives one project at a time," Gavin-Lane says. The organization focuses on programs and services that empower women and girls physically, mentally, emotionally and financially.
Praising his wife's ambition and unselfishness, her husband says Gavin-Lane's "big personality" belies her small-town roots. Because of her dedication, he notes that 2020 will produce the Pink Lotus Academy's first graduating class — and the project has made an impact far beyond the Gulf Coast.
"She took her nonprofit from an idea to a national stage," Jamel Lane says admiringly. "She didn't just keep it to here, she wanted to help young women all over the United States."
PUTTING GOALS ON PAPER
I absolutely believe in the power of vision and goal setting.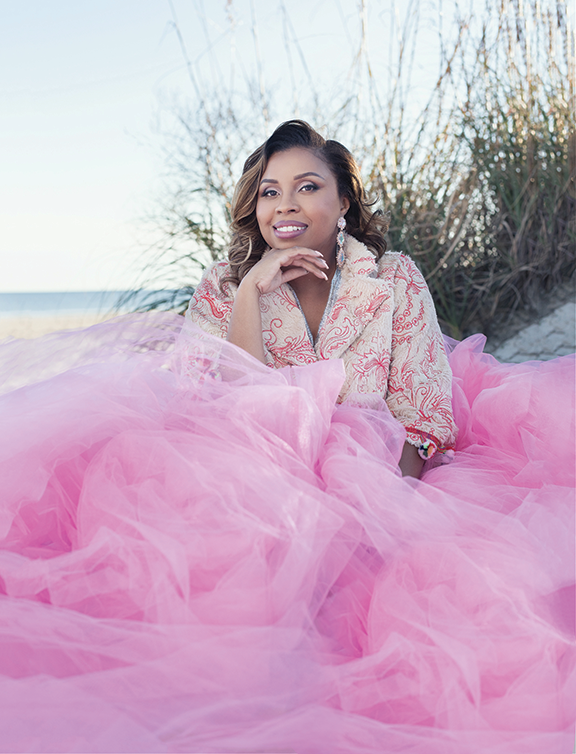 When committing to positive change, Lane says, "I absolutely believe in the power of vision and goal setting." To that end, she actively works on a personal vision board throughout the year and encourages others to do the same. Far more than "pictures cut out of a magazine," Gavin-Lane explains that a vision board helps someone keep her aspirations in order and stay accountable to them.
"My board is packed with goals for myself, my family, my career and my business," Gavin-Lane says. "I am very strategic and intentional about what I put on my board."
She invites those who are serious about personal growth to participate in her ongoing "Fierce & Fearless" vision board program, which is tailored to entrepreneurs, professionals and others seeking to adjust the trajectory of their lives.
To women wanting to advance personally and professionally, Gavin-Lane's advice is to put goals on paper, focus, practice self-care, take classes or workshops to gain skills and knowledge, ask for help, have an accountability partner and emulate those who have been successful in their field.
"Transformation for me personally and professionally has definitely come with growth, learning, and surrendering to something greater than (myself)," Gavin-Lane says. "Self-care is an aspect that gets overlooked by women often; we wear so many hats that we often consider ourselves last.
"By doing this, we do ourselves an injustice — and all those who love and support us."
To fuel her own drive, Gavin-Lane relies heavily on God, a diligently updated calendar and her support system of family and friends — including Jamel, with whom she shares five children and one grandchild. Now married for 16 years, Gavin-Lane is grateful to Jamel for "picking up the slack when I'm busy, giving me pep talks at night before bed and allowing me to shine in my own space and in my own right."
Outside of her family and work commitments, Lane is a member of Upsilon Chi Omega chapter of Alpha Kappa Alpha Sorority Inc., the Gulf Coast chapter of The Links Inc., auxiliary to the AEAONMS (Ancient Egyptian Arabic Order Nobles Mystic Shrine) Karun Court #89, the Mental Health Association of South Mississippi board of directors and the National Association of Social Work Board of Directors-Mississippi Chapter. She also serves as the Healthcare for Homeless Veterans outreach coordinator for the VA Gulf Coast Healthcare System.
Although she has been recognized as a Top Influencer at the at the annual SUCCESS Women's conference, won awards from Upsilon Chi Omega and earned other distinctions, Gavin-Lane recognizes that accomplishment rarely comes without failure. Especially to entrepreneurs, she stresses the importance of persistence.
"No one has built a successful business without making mistakes," Gavin-Lane says. "Recover, regroup, re-energize and move forward."
---