Weather is always unpredictable, but Lt. Col. Kaitlyn Woods knows more than most about the behavior of hurricanes.
As chief meteorologist with the 53rd Weather Reconnaissance Squadron — commonly known as the Hurricane Hunters — Woods is among the first to see a storm churning before it fizzles out or makes landfall. Flying into a hurricane aboard a WC-130J model aircraft, her job is to collect data that the National Hurricane Center will use for its forecast program and its watch, warning and advisory system.
"Every storm is different," she says. "Most of the time there is just a lot of rain showers and some gusty winds; every once in a while, you get to penetrate a major hurricane (Category 3 or higher), and the experience is quite different."
June 1 marks the start of the Atlantic hurricane season, which runs through Nov. 30. Last year saw 15 named storms, including two major hurricanes. Florence unleashed more than 30 inches of rain on the Carolinas, causing catastrophic flooding and forcing evacuations. Michael, although not quite a Category 5, was among the strongest on record in the U.S. and devastated the Florida panhandle — with recovery expected to cost $25 billion.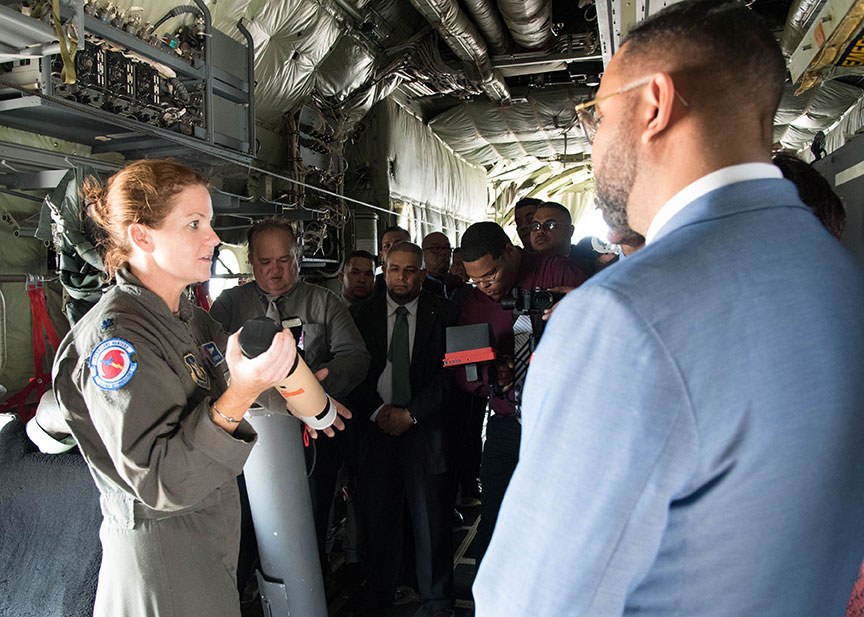 Researchers are predicting a fairly normal hurricane season for 2019, meaning 12 to 14 named storms. Five to seven of those are expected to become hurricanes, according to the forecast, and two could become major storms.
No outlook can say when or where these storms might develop, which is where Woods and the Hurricane Hunters come in. Crews make multiple passes through a storm's eye, releasing dropsonde devices that gather readings about temperature, wind speed, wind direction, humidity and barometric pressure. This information provides a more accurate picture of the hurricane and which areas must be evacuated — ultimately saving lives.
To promote preparedness prior to storm season, the Hurricane Hunters partner each year with the National Oceanic and Atmospheric Administration for a Caribbean Hurricane Awareness Tour, or CHAT. This year's tour stopped in four cities, where members of the 53rd told the public about their mission and urged people to get ready for the storm season ahead.
Forecasts aside, Woods notes it only takes one storm to wreak havoc where you live. She urges everyone living in the Gulf Coast region and other hurricane-prone areas to prepare for the worst and hope for the best.
"I always stress to folks to have a plan for evacuation, listen to local authorities when they ask for you to evacuate and recognize the true danger of these amazing storms," she says.