As a husband and father of three girls, John Fitzhugh is used to being outnumbered.
That's not to say the Jackson native, who has lived on the Coast for over 30 years, minds being the only man in his household.
"I'm in touch with my feminine side," says Fitzhugh, a professional photojournalist. "I let my wife handle all those 'girl' things, but I have always spent lots of time with them."
His daughters Shelby, 15, and Emily, 13, were adopted at the ages of 3 and 1, respectively. Rose, now 19, is attending the University of South Alabama with plans to become a physical therapist.
As his family celebrates Father's Day, Fitzhugh has reason to reflect on raising a trio of young women with distinct personalities. Shelby, he says, "is a classic teen," while Emily is a "fun, outgoing" animal lover who volunteers at the Humane Society of South Mississippi. Rose shares her dad's love of soccer, playing through high school until injury forced her to give up the game.
"I coached all of them in rec soccer," he recalls, "so I guess that satisfied whatever itch I may have had to do that kind of thing with sons." Fitzhugh is such a soccer fan that before knowing whether his first child was a boy or a girl, she'd already been nicknamed "Mele" — combining the names of soccer stars Mia Hamm and Pelé.
Acknowledging he has "nothing to compare it to," Fitzhugh says he hasn't found anything especially difficult about raising all girls — even when it meant getting a manicure at their sidewalk salon.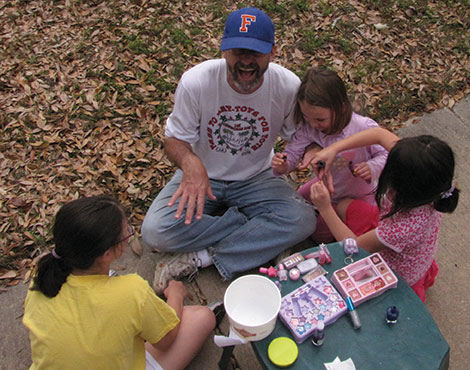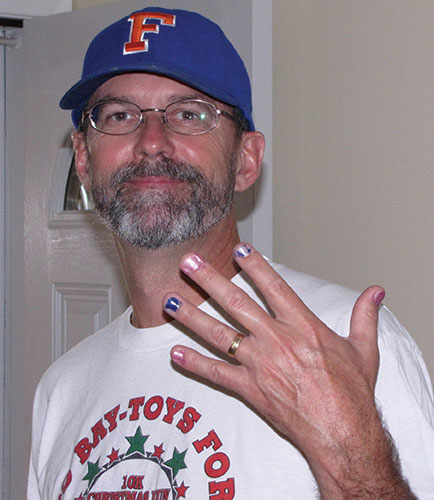 "When they didn't have any customers, I went out there and let them do my nails," Fitzhugh says. "I spent plenty of time playing with Barbies and other dolls, playing kitchen and other 'girl' type things. My kids loved going to (Lynn Meadows Discovery Center), so the dress-up and other pretend activities there were common."
Whether he was reading bedtime stories or teaching his daughters to ride bikes, Sharon Fitzhugh says her husband always has been an involved parent. She recalls that when the girls and their friends would put on fashion shows, he always would emcee the event.
"I can still hear his fun, bellowing introductions," she says. "The girls would not walk down the hallway until he announced them."
When Fitzhugh's daughters had special events like dances or sports matches, Sharon Fitzhugh adds, he'd document them them with his camera. Each year for Christmas, the girls would receive small, individual albums as stocking stuffers.
"Those books are all over our house now, and they are a treasure to look through," she says. "I know these albums make the girls feel very special."
Today, the devoted dad says one of his biggest challenges is limiting screen time for his two teenagers at home and keeping phones, tablets and other devices from "dominating their lives."
"I don't think it would be any different than if they were boys or both," he says. "There is lots of drama that I wish we could avoid, but it comes with the age."
According to Sharon Fitzhugh, the girls had their dad wrapped around their finger from the beginning — a claim he doesn't dispute. The first time he heard "Three Little Girls," a song by Eric Clapton," she recalls, the special place his daughters hold in his heart was on full display.
"The lyrics, about getting all the love you need and having a brighter day because of three little girls, spoke to him," she says, "and he could not hold back his smile or his tears."
Fitzhugh's own father died in a car accident when he was in high school, and Father's Day inevitably brings him to mind.
"I wish I had been able to know my father as an adult, to spend time with him after I matured," he says. "I remember what a good dad he was, and I try, but likely fail, to emulate him."