Motherhood doesn't come with an instruction manual, but a pair of local women are determined to provide the next best thing.
Featuring over 20 writers from Pascagoula to Bay St. Louis, The Gulf Coast Moms Blog is a partnership between friends Elizabeth Slade DiLorenzo and Christy Bjork Elias. No matter their age, background or beliefs, moms can find content on the blog that reflects their unique experience.
"We know that through our amazing team of contributors, we can provide a great service to mothers along the Mississippi Gulf Coast," Elias says. "We want to empower moms to change a community through the power of their words."
Launching the blog required career shifts for both women. DiLorenzo has worked in multiple facets of the journalism industry, including advertising and public relations, and spent her longest stint with MGM Resorts.
"I have always had an interest in writing," says DiLorenzo, who is also a freelance editor — mainly of children's books.
Elias' background is in higher education administration, focused largely on student event programming, leadership and initiatives. Some of the campus-wide events, services and opportunities she developed, she says, are still growing today. Both women are Leadership Gulf Coast graduates.
Although they have known each other since college, the women's connection deepened when DiLorenzo's daughter, Marin, and Elias's son, John Salem, were born a day apart.
"I saw early on that Christy has a passion for motherhood, and her strong work ethic and heart of gold are evident to everyone that knows her," Elizabeth says. "I had been considering starting a blog, but I knew I needed to partner with someone who shared my values and vision." From their initial conversation about the project, she adds, "it just seemed like it was meant to be."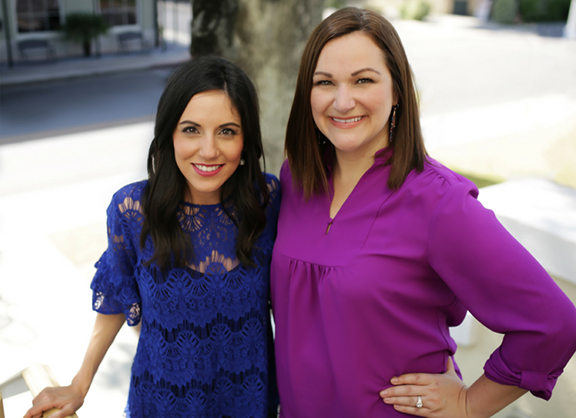 Both women are avid researchers, and DiLorenzo says from the first days of parenthood to the present, they have consulted mommy blogs for advice.
"We know that we don't have all the answers. We are not the parenting experts," she says. "But we hope that through this platform, we will help to connect moms with each other and to resources and encouragement they need."
Inquiring moms can find information on virtually any parenthood-related topic on Gulf Coast Moms Blog, from fitness and travel to food and upcoming activities. A goal of the blog is to provide fresh, enlightening content that is relevant to the area.
"We want to help other women grow as mothers and not feel alone in the process," Elias says. "This is exactly why we wanted to start Gulf Coast Moms Blog. Our hope is to empower, educate and support."
To dedicate themselves to the blog full time, both DiLorenzo and Elias had to make sacrifices.
To dedicate themselves to the blog full time, both DiLorenzo and Elias had to make sacrifices. Elias soon realized that she couldn't be an entrepreneur, keep a full-time job and raise her child all at once. Likewise, Elias said transitioning to stay-at-home mom, which meant ending a decade-long career, was difficult. They also had to educate themselves on the ins and outs of operating their business. A major advantage in that process was being a member of City Moms Blog Network, which includes 80-plus sister sites.
"The network has provided invaluable resources to help us along the way," DiLorenzo says. "On top of that, we have an amazing tribe of friends, old and new, that are loving what we are building."
In the near future, the blog's readers can look forward to more fun events for moms and families, as well as guides giving readers quick access to parenting resources on the Gulf Coast.