By Destiny McNease, Gulf Coast Moms Blog Contributor
It's hard to believe we've been living in a global pandemic. Practicing social distancing is not easy, especially for kids who don't fully understand why we can't go to the park or visit grandma and grandpa. Many of us also are out of work, which has opened up our schedules to things we normally would not have time for. However, there's only so much homeschooling, housework and yardwork you can do before monotony sets in.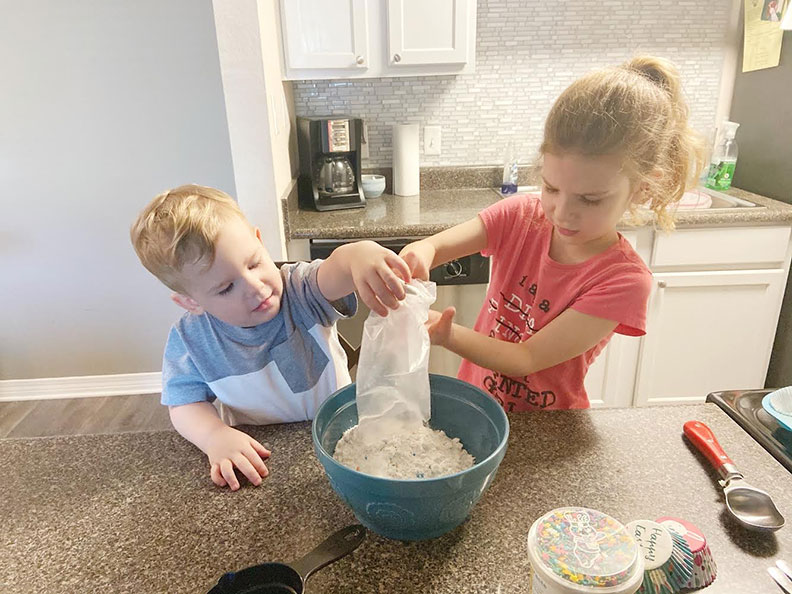 20 boredom-busting activities to help you make the best of self-isolation or quarantine
• Cook together. I gave my 2- and 6-year-old the kitchen to make and decorate cupcakes. The mess wasn't as bad as expected.
• Take a walk, hike, or bike ride because fresh air and sunshine are good for mind and body.
• Use sidewalk chalk to brighten up the neighborhood.
• Pull out those board games.
• Have a family picnic in the backyard.
• Get creative and draw, color or paint.
• Virtually visit a museum. Check out these 10 tours from Virtualtech: www.virtualiteach.com
• Have a water day! Fill up a kiddie pool, make a water table or just have fun with water guns and balloons.
• Play games like, Mother, may I; freeze tag, hopscotch, foursquare, hide and seek, Red Rover and red light, green light.
• Make homemade cards.
• Practice letter writing and mail them to friends and family while visits are limited.
• Start journaling; this can be for kids or adults.
• Have an at-home spa day — manicures, pedicures and face masks.
• Purge — go through closets and de-clutter. Have the kids decide what they want to donate.
• Try a science experiment. Check out these experiments using household items from Mommy Poppins: mommypoppins.com
• Have a dance party. "Alexa, play 'Baby Shark!'"
• Learn a new instrument. You can find free virtual guitar lessons here: www.kidsguitarzone.com.
• Have a movie night, complete with popcorn and candy. "Trolls World Tour" is available to rent online as of April 10.
• Let your kids plan and put on a show for the rest of the family. Don't forget to record it for the rest of us.
• Wood & Wines DIY To-Go Kits — All the supplies are provided; you pick them up, and there's a virtual 'how to' video on their Facebook page: woodandwinedesign.com/diy-kits-to-go
• Various scavenger hunts are really fun! There are printables online, or just make it up as you go.
• Arrange Magna-Tiles on the garage door.
• Play with a mega bubble kit.
• Paint rocks.
• Make a DIY mini-golf course.
Most of all, take this time to make memories. Our children are less likely to remember the time over half the country was shut down and more likely to remember having their parents home and the adventures they shared.