Rickey's Chicken and Boudin Sandwich is making a comeback at Bodega
Story and photos by Ellis Anderson
In a community where cooking is considered an art form, a good chef can acquire celebrity status. That's certainly the case with Rickey Peters, who's developed an enormous coast following in the past twenty years.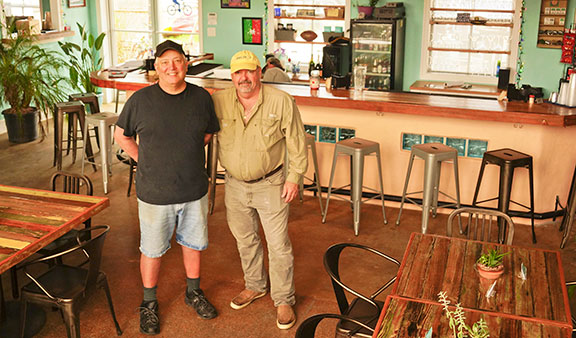 Peter's fan club has been lining up to see him since his new kitchen opened in March at Bodega Parrot Head Bar, 111 Court St., Bay St. Louis. The bar and kitchen will be serving seven days a week, from 11 a.m, – 10 p,m.
While there's no room in the kitchen to prepare the full-scale entrees that gave the original Rickey's Restaurant its claim to culinary fame, the abbreviated, mostly sandwich menu, is still pure Rickey-scrumptious.
Gumbo Ya-ya, Shrimp Remoulade, the Cochon de Lait, Meatloaf and Chicken/Boudin sandwiches are just a few of the crowd-pleasers that have made a comeback. Banana Bread Pudding with Rum Sauce makes a reappearance as a grand finale.
New on the menu are dollar tacos, cheeseburger sliders, French pizza bread and shrimp salad rolls. Soon to come, according to Jordan, are daily specials and some entrée plates.
The bar and restaurant take up a lion's share of the space at the Bodega court street building – the one that owner Kevin Jordan recently painted a tropical mango color. But there's more. Upstairs is the Loft Yoga Studio, while there's plenty of room outside for the golf carts, bikes, kayaks and paddle boards that are rented there. There's even a diminutive wine and liquor store tucked into one corner of the building. It's small, but has an interesting selection, thanks to Jordan's knowledge: he owns a small vineyard in California.