With outstanding cuisine and a terrific ambiance, Blue Dog Bistro is the perfect place to find healthy, high-quality and made-from-scratch food that will have you coming back for more.
Opening last September, the Blue Dog Bistro breakfast and brunch concept is the brainchild of Joshua Lord and his wife, Amber, who were inspired by their passion for fresh food and their love of the dog breed blue Staffordshire terrier. Having lost their dog, Blue Bell, to brain cancer, they chose to name the bistro after her so she could be remembered on a daily basis.
Having traveled the county and around the world trying innovative food, and inspired by the growing movement to eat healthy, they created a unique menu to help promote a healthier, cleaner lifestyle.
"We are the first keto-, paleo-, vegan- and gluten-free friendly restaurant on the Mississippi Gulf Coast," Josh said. "We do a lot of different, innovative food, especially for the direction that eating out is going with dietary needs and the special things people are asking for."
The menu is divided into "good dog" and "bad dog" offerings to tempt your taste buds. "Good dog" consists of the healthier options, and "bad dog" is for indulging. Small plates are available that are a combination of both. Everything is made to order and use nothing but fresh, local ingredients.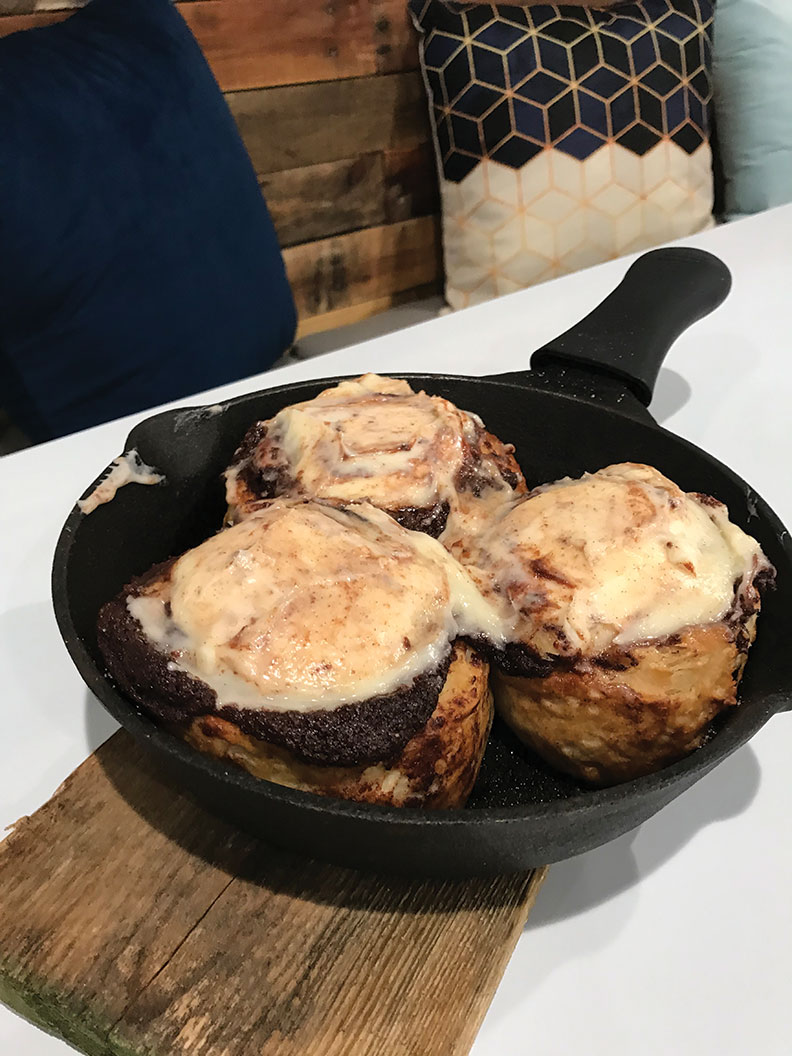 "I've brought some of the best things I've had, and some cool things people may not have heard of," Josh said of being inspired by his travels. "This food is what you may find on the West Coast if you go out there right now, but you won't see it here."
One of the unique items I had on my visit was the ricotta and lavash, consisting of a house-made mixture of ricotta cheese and cream, drizzled with whipped honey then sprinkled with fresh-ground peppercorn and pink Himalayan salt. You use the lavash, a thin, Middle Eastern sweet bread that is made into chocolate and vanilla wafers, to scoop and eat the delightful treat.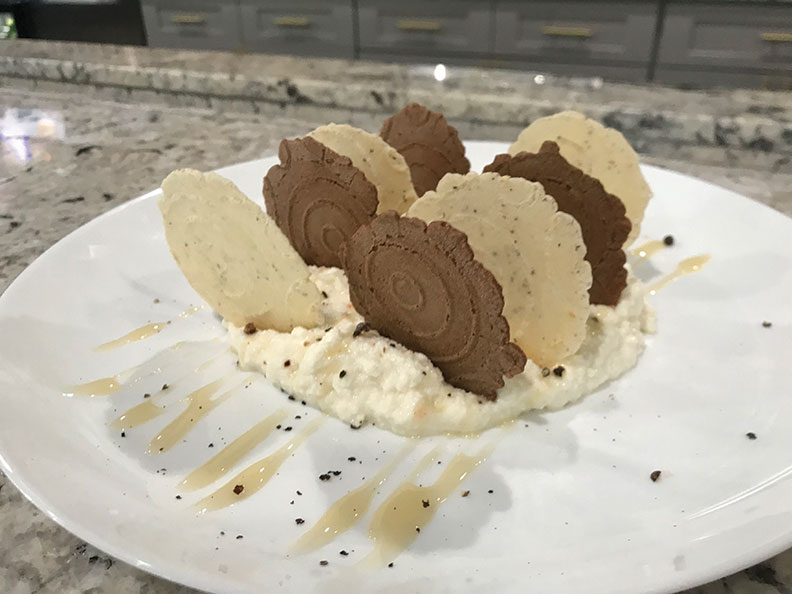 If you want to indulge, order a cinnamon roll skillet — but be sure to bring your appetite. Served hot out of the oven on a cast-iron skillet, it will be hard to finish just one of the three large, icing-topped pastries.
The fruit and yogurt bowl found on the good dog side of the breakfast menu was great as well. Vanilla Greek yogurt comes with with strawberries, blueberries, banana and house-made granola, topped with a local honey called Gautier Gold. This gluten-free option would be a fantastic way to start your day.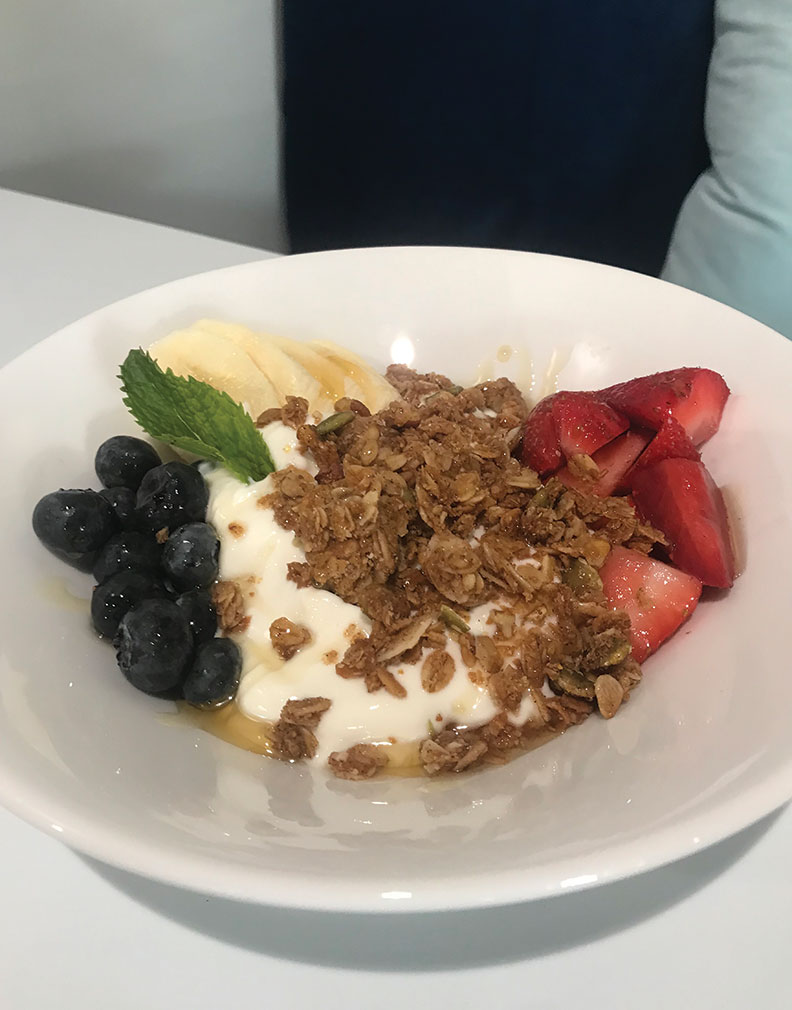 Blue Dog's lunch menu also offers numerous items sure to please. On the good dog side, you will find lettuce leaf tacos with blackened Gulf shrimp, a vegan black bean burger and yellowfin tuna and avocado stack to name a few. I thoroughly enjoyed the grilled Portabella steaks, which came with three large mushrooms seasoned and spiced to have the flavor of beef, topped with an avocado chimichurri cauliflower mash and finished with a balsamic reduction. The popular vegan dish is gluten free and keto friendly.
I also tried the fried green tomato stack, a modern twist on fried green tomatoes that looks just as good as it tastes. Made with a Boursin cheese spread and red pepper coulis, the pretty dish may inspire you to post a picture to social media.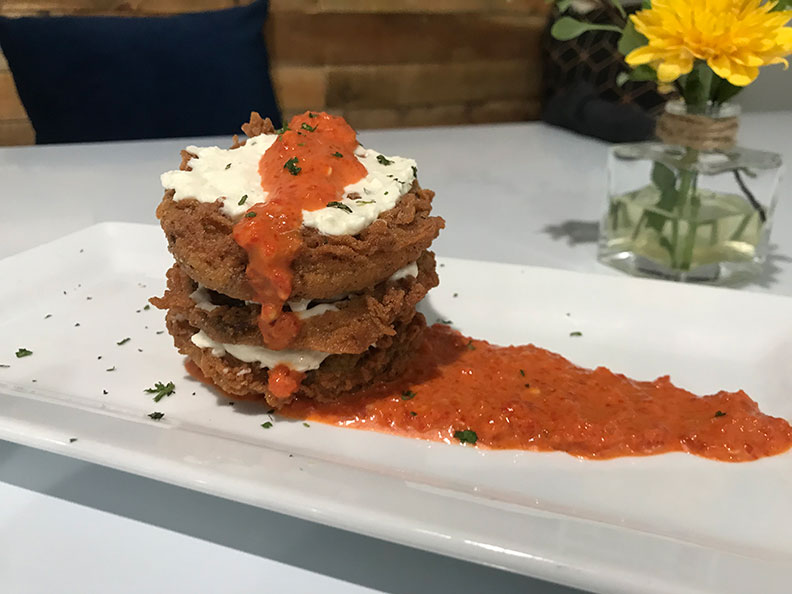 "The whole concept itself has been thought out and designed for 20 years," Josh says. "People should come to Blue Dog Bistro because we have a perfect blend of atmosphere, service, innovation, modernism and simplicity at the same time."
Blue Dog Bistro is open Tuesday through Thursday from 7 a.m.-3 p.m., and Friday through Sunday from 7 a.m.-4 p.m. Breakfast is served all day, and the dog-friendly patio offers outdoor seating. For an added treat, order what is considered the world's most expensive coffee, Kopi Luwak, served tableside via a Chemex pour-over coffeemaker.
---
IF YOU GO
Blue Dog Bistro
1801-A Government St., Ocean Springs
(228) 447-4023
www.bluedogbistro.com
www.facebook.com/bluedogbistro