Many things we are passionate about are driven by our own life experiences. The birth of Adopt a Grandparent Day is an example of that life-driving passion.
In 2013, Kathy Rogers' mother Sybil Pigott fell and injured herself, necessitating a 30-day stay in a local nursing home. In spite of the fact that Kathy, her husband Lee, and other family members visited every day, the loneliness, despair, and depression felt by her mother was fully evident. When Lee came to visit, he began noticing people sitting in the hallway outside their doors waiting for him; his custom became to take just a few minutes of his time to talk and tell a joke with everyone he saw. That few minutes, he realized, helped them feel like there was someone who cared about them.
Statistics show that 50 percent of the elderly residing in nursing homes have no close relatives and 46 percent have no living children. Some reports indicate that as many as 60 percent of the residents never have visitors.
In early 2014, the Rogers launched Adopt a Grandparent Day locally by organizing volunteers to visit nursing homes on the Saturday before National Grandparents Day. They felt this would be a great way to give back to their community while also encouraging others to join them in honoring the life and value of the elderly.
Military families, church groups, motorcycle clubs, school clubs, Girl Scout Troops, and others joined with them to visit the elderly in nursing homes.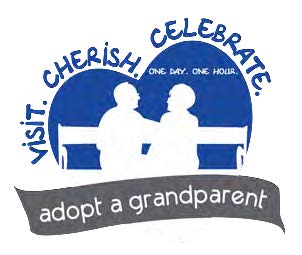 Adopt A Grandparent Day is now a 501(c)3 tax exempt organization reaching the elderly in Harrison, Hancock, Jackson, Pearl River, Stone, and George counties.
This year, Adopt a Grandparent Day is Sept. 8, and 700-plus volunteers are expected to visit 33 elderly care facilities in the South Mississippi. For one hour, volunteers will visit the elderly, encourage them with activities and prizes, and let them know that someone does care.
The Rogerses hope the visits will spark longer-term relationships between the volunteers and the seniors they visit.
BECOME A SPONSOR
Sponsor deadline (for logo inclusion on T-shirts) is Aug. 10. T-shirts given to each volunteer and to seniors participating in the event.
All sponsors will be recognized on website and social media.
Legacy – $1,000 – May submit a 15-second video promoting their business to be used on our social media
Heritage – $750
Heirloom – $300
Friends of AAGD – $100 – recognition on social media
Gift items are need for placement in gift bags that each elderly person will receive. Candy and items containing alcohol cannot be accepted. Preferred branded items such as small notepads, pens, eye-glass cleaners, small stuffed animals, playing cards, stress balls, nail files or clippers, small hand lotion, toothbrushes, toothpaste and handkerchiefs.
BECOME A DONOR
Donations can be made via Paypal. Amazon purchasers can go to Amazon Smile and choose Adopt A Grandparent Day as their charity and a percentage of all their purchases will be donated to AAGD at no additional cost to them.
BECOME A VOLUNTEER
Sign up for one hour at www.adoptagrandparentday.org beginning Aug. 15. More info: Send inquiries to adoptagrandparentday@ gmail.com.