Photography by Brandi Stage Portraiture
Wardrobe: Grants For Her and Lee Tracy
You might call Trina Cuccia and her daughter, Chantelle Chotto, professional door openers.
Those doors are figurative at first, as the pair remove obstacles to home ownership, but they become real when clients claim their keys at the closing table.
Not all clients are ready or qualified when they show up, acknowledges Cuccia —branch manager/mortgage loan originator for GMFS Mortgage — but she works with them rather than turning them away.
"I don't want anyone to feel it's not achievable, because it is; some take more work than others," she says. "I meet with them, give them the tools and suggestions to work on, and then they come back."
In Chotto, Cuccia sees many of her own qualities — passion, focus and a positive attitude. By her own account, Chotto always has been very "self-motivated and driven." As a mortgage loan originator with GMFS, she constantly pushes herself to raise the bar.
"For some of my customers, owning a home has been a dream," Chotto says, "and it is a wonderful feeling to see that dream of theirs come true." Together, the mother-daughter duo are changing lives — one aspiring homeowner at a time.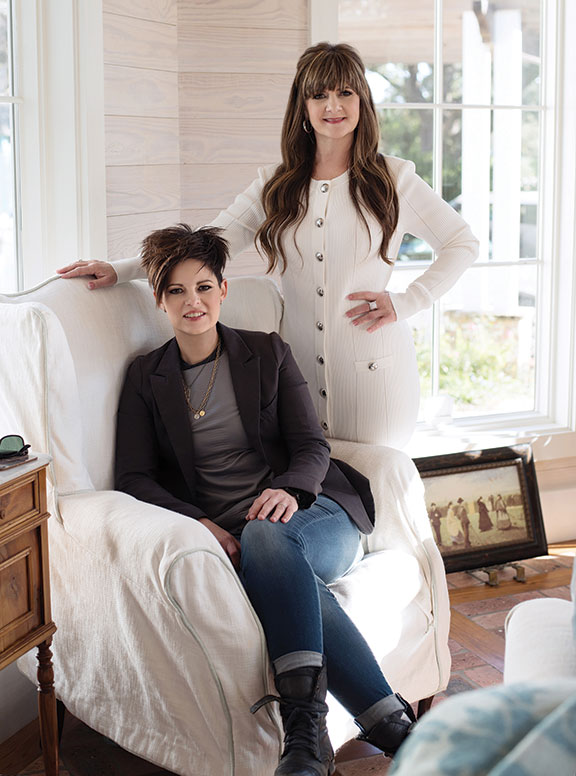 CLOSE BOND
Growing up, Chotto says she was surrounded by family members in the real estate business. Her grandfather, Joseph, was a contractor who built 70-plus homes in Diamondhead, her grandmother, Marilyn, was a real estate agent with Century 21 for 19 years and her mother has been in banking/mortgage lending for 23 years.
"My mom has always inspired me," Chotto says. "Though she has never pushed me in any direction, she always has said to dream big and go for it — that I can do anything I set my mind to."
Cuccia received the same message from her father, and when Hibernia National Bank signed a lease with him, he encouraged her to apply for a position there. She was a single mother of three at the time and had only a high school diploma.
"I believe in life, the Lord puts opportunities and people in our paths," Cuccia says. "It's up to us to see them and take the leap of faith." She admittedly "knew nothing about mortgages," but District Manager Beth Cobb Gaspard was willing to take a chance on her.
"I inherited the nickname of her little 'firecracker,'" Cuccia recalls with a smile. "My career and success is a perfect example of women empowering women." Cuccia also remained close to her mother, whom she calls "her best friend." Similarly, she and Chotto have forged a strong bond.
"There is nothing she cannot come to me and talk about," Cuccia says.
Previously in the oil and gas industry, Chotto was searching for another career option after it collapsed in 2016. She passed the Nationwide Mortgage Licensing System and Registry (NMLS) test, began working for GMFS in March of 2017 and never looked back.
"Every loan is different, every borrower's financials are different and you piece each loan together like a puzzle," Cuccia says "Watching Chantelle evolve in this business makes my heart smile. I can hear the Lord saying, 'Job well done, Trina.'"
PERSEVERING WITH PASSION
Both women are "type A personalities," Cuccia says, and sometimes she struggles to separate the roles of mother and boss. They learn as they go, she says, always prioritizing their mother-daughter relationship.
Whether or not Chotto worked with her, Cuccia says, her daughter's drive and determination would ensure she reached her goals.
"Chantelle's organizational skills are on point, as well as her technology skills," Cuccia adds. "(She's) quick to catch on and good at mentoring, sharing and teaching other employees."
Some deals are difficult, Chotto admits — recalling one in particular that looked hopeless. She and her team worked countless hours to exhaust every option, sacrificing nights, weekends and hours of sleep. While Chotto and her wife, Nicole, were shopping, she got word that the loan had gone through.
"I literally fell to my knees in the grocery store and started crying with excitement," Chotto says. "While it wasn't easy, I was so excited to call my customer and let him know his loan was approved. It is in these moments that I know that how passionate I am about my career."
Chotto credits her mom with teaching her to be "a strong, motivated and loving person."
"Through our business relationship, she has given me knowledge as a mentor," she says. "She has motivated me to never give up, even though this industry can be challenging."
FINDING WORK-LIFE BALANCE
Both women's days are filled with multi-tasking and fielding numerous texts, phone calls, emails and office visits. It's not unusual for Cuccia to realize at 1 p.m. that she's had nothing to eat or drink all day, so she's set a reminder alarm on her phone. Taking out her dogs, Gracie and Zohie — who are popular fixtures at the office — serves as a well-deserved break.
Chotto finds respite at her new lakefront New Orleans home, where she looks forward to making memories with Nicole, stepchildren Cade and Austin and morkies Max and Ellie.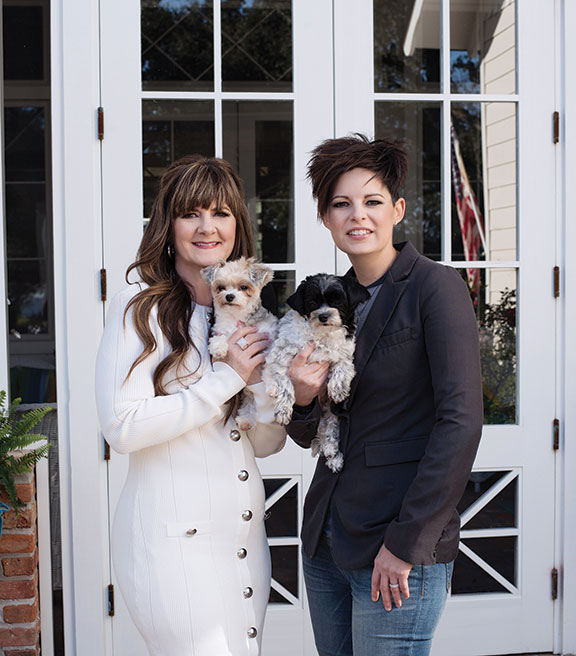 But every day when her feet hit the floor, she's excited to get to work.
"I believe in myself; I work hard," Chotto says. "My wife supports me and always reminds me how awesome I am at what I do."
Cuccia figures that she has seven years left in the business, and in her retirement, she'd like to flip homes — utilizing her love of design. She also intends to "pay it forward," continuing to empower others to pursue their dreams.
"I love this quote (by Dr. Wil Rose)," Cuccia says. "'Success is not counted by how high you have climbed, but by how many people you brought with you.'"