As the nation commemorates man's first steps on the moon 50 years ago, a Moss Point trailblazer is reflecting on another milestone in the space program.
When Dr. Mae Jemison became the first black woman to travel in space, flying aboard the space shuttle Endeavor in 1992, Gulf Coast native Sharon Caples McDougle also cemented her place in history. As a leader in the Space Shuttle Crew Escape Equipment (CEE) department, McDougle suited Jemison up for her journey.
"I wanted to make sure she was well taken care of and didn't want her to have any worries," says McDougle, who now lives in Houston with her family. "We were both the only African American women in our respective fields and would be making history together. This mission was definitely the most special moment of my career."
That career was made possible by McDougle's seven years in the Air Force, which she calls "one of the best moves I could've made as a young woman." During her first assignment at Beale Air Force Base in California, she inspected and maintained flight equipment used for the SR-71 and U-2 missions.
"I sized and fitted crewmembers' pressure suits, assisted crewmembers in donning and doffing their suits and performed functional tests before takeoff," McDougle recalls. "I also loaded the survival seat kits and parachutes into the aircraft, strapped in the crewmembers before takeoff and recovered the crew upon landing."
When McDougle was honorably discharged from the service, her specialized skillset made her a perfect fit for a job at Boeing Aerospace. She started her career as a CEE suit technician, she says – responsible for processing the iconic orange launch and entry suits worn by all NASA space shuttle astronauts. A few years later, she was promoted to crew chief – becoming the first black crew chief in CEE.
"In my new position I was responsible for leading a team of technicians to suit up astronaut crews," she says. "My team supported suited training, launch, and landing events. … As crew chief, I had the honor of leading the first and only all-female suit tech crew." Later, she would advance to become manager of the CEE processing department — leading a team of 25-plus employees.
Just shy of a year into McDougle's time with CEE, Jemison was assigned to her mission.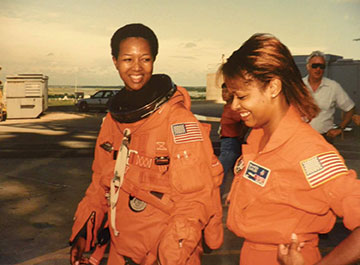 "Who would have ever thought a little girl from Moss Point, Mississippi, would be part of such a historic moment?" marvels McDougle. "I was very fortunate to be at this place in my career." She recalls working closely with Jemison during her pre-launch training, on the actual launch day and during the astronaut's landing — taking care of her crew escape equipment that included her suit, helmet, gloves, boots, liquid cooling garment and writing utensils.
"Mae is an amazing woman — intelligent, cool, personable, as well as beautiful," McDougle says. "We enjoyed working with each other and got along great, lots of laughing and talking — felt like family."
While astronauts typically are nauseous and need assistance upon landing, McDougle recalls Jemison being an exception.
"To my surprise, it seemed like space travel did not affect her at all!" she says. "Mae walked off the shuttle like she was just walking in from another room on a regular day." The astronaut recognized McDougle and other women at her Women of Color in Flight event, and McDougle's trophy from the celebration now has a spot on her mantel.
When the space shuttle program ended in 2011, so did McDougle's illustrious 22-year career. Her accomplishments earned her numerous accolades, including the Astronaut "Silver Snoopy" Award, a Women of Color in Flight award, a Lifetime Achievement Living Legend Award from the Moss Point Visionary Circle and Mississippi Trailblazer awards.
Being a "go-getter" with a firm grasp of time management was ingrained in McDougle's character from a young age. After losing both of her parents by the age of 7, she lived with her eldest sister and her family. She became responsible for a host of household chores, which she credits with making her "the woman I am today."
"I pride myself on being one of the most reliable people you'll ever meet …," McDougle says. "Also, being supportive of others (is important); teamwork is a must. I made sure I learned as much as I could to be able to help others and help our team be the best."
To reach their full potential, women must be willing to ask for help, she says — and they must be open to growth and change.
"We tend to take care of everyone else and put ourselves on the back burner," McDougle adds. "And remember, it's never too late. We can achieve whatever we want, if we really want it, at any age."