by Elaine Stevens//
Paige's Corner has grown into a beautiful venture that wraps up boxes of joy especially at Christmastime.
Imagine being a 10-year-old South Mississippi girl with your very own tiny gift shop tucked away in the corner of your mother's larger store. And, in that special place you bought and sold some of your favorite things. That's how Paige Riley, owner of Hillyer House, began her retail career in 1970. She called it Paige's Corner. By the time Paige turned 18, she was a full-fledged partner in Hillyer House Pass Christian.
Hillyer House, celebrating it's 47th year in November, is focusing on its most magical time of the year. You can actually hear the lilt in Paige's voice when she reflects on seasons past. "Over 46 years, I've grown up and had the pleasure of making families excited to unwrap an American made treasure, one that can be used, enjoyed, and passed down to the next generation." In other words, Hillyer House is creating the heirloom pieces of tomorrow.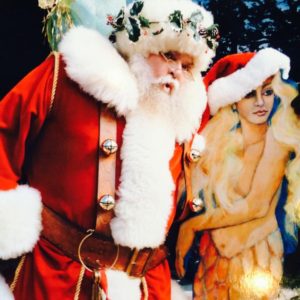 She goes on to explain you won't see much traditional red and green — except for the famous Hillyer House mermaid in her red Santa hat. "The store is decorated in big garland wrapped in aqua tulle with white lights and starfish," Paige says. "We are coastal with beautiful items you can put in your home all year long, like oyster trees, aqua bowls holding ornaments, and timeless pieces you can add that give extra sparkle during the holiday season."
More than anything Paige says she is honored Hillyer House is becoming a family tradition in more ways than one. "As families grow up and move away, they always come home for Christmas," she says. "It means so much to me that Hillyer House is a place they want to come each year to shop."
Paige's two children, 21-year-old son, Reed, and 18-year-old daughter, Shelby, are involved in the business as well. The three celebrate a warm and nostalgic Christmas dinner with Paige's sister and her family. "We all bring a favorite dish in one of our cherished glass or pottery pieces we have collected over the years, relax, and enjoy telling stories of Christmases long ago," Paige says.
ANNIVERSARY CELEBRATION

Celebrating its 47th year in South Mississippi, Hillyer House is a nationally recognized award-winning gallery. Special guest appearances by new and favorite artists are being featured for the November birthday celebration. Each of the 400 artists represented in the gallery have sent in their latest collections.