As a child, while watching doctors and nurses save her parent's life, Lauren Pope decided what she wanted to do when she grew up.
In 2001, Pope's mother was diagnosed with an atrial-septal defect — a hole in the wall between the two upper chambers of the heart. She was sent to a specialist in Jackson, who referred her to a cardiovascular surgeon at the Mayo Clinic in Minnesota.
"I was only nine years old and did not fully understand what was happening at the time," says Pope, who hails from Natchez and moved to the Gulf Coast in 2012. "As the years passed, and the more I understood what my mom went through, all I could think was, 'Maybe one day I will be able to save someone's mother or father.'"
That hope led her to become a registered nurse, she says, "and (I) couldn't be any more thankful for where I am at in my life now."
Her professional journey started in high school, when she participated in a certified nurse assistant and phlebotomy program offered to juniors and seniors. She went straight to Copiah-Lincoln Community College in Natchez, taking prerequisite courses for a respiratory therapy program and deciding after a year that it wasn't right for her. After moving to to D'Iberville, she went on to graduate with an associate degree in nursing from Mississippi Gulf Coast Community College.
Since June, Pope has been working as a registered critical care nurse in the ICU at Keelser Medical Center. After clocking in, she never knows what to expect on any given day.
"The shift can start out very calm," she says, "and within 10 minutes, you could be running to a different unit for a rapid response or code blue."
While she's noticed some minor differences between working at a military versus civilian hospital, Pope says the main factor — patient care and how she goes about her job — doesn't change. In intensive care, where someone's condition can deteriorate in moments, the patient-to-nurse ratio is typically 2-1, Pope says, compared to 5-1 or 6-1 in other units.
"These patients have to be monitored more closely," she says. "As a critical care nurse, you are trained on multiple devices and medications."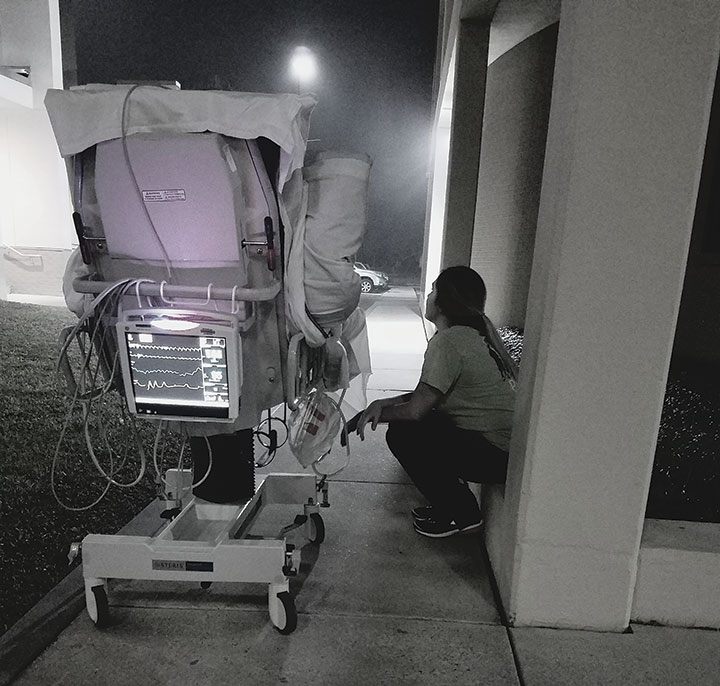 Seeing patients and their families endure pain and suffering is the most challenging part of nursing for Pope, who finds her greatest pleasure in helping others and putting smiles on their faces — if only for a short time. Looking ahead, she aspires to be a neonatal ICU nurse, as she's always had a strong desire to work with babies.
"When I tell friends and family about my career goals, I usually get the same response: 'Oh I couldn't do that; I would cry all of the time," Pope says. "I can agree with them on the crying aspect, but knowing that I cared for an infant (who) was fighting for (his or her) life would be a reward in itself."
The training and education may be difficult, and the job itself stressful, but Pope encourages others considering a nursing career to "go for it!"
"I must say, if you are contemplating becoming a nurse, make sure you are doing it for all of the right reasons," she says. "There isn't a textbook on this earth that can teach you compassion; that comes from within."