by Chris Dearman
For more than a decade, Mosaic Restaurant & Bar has provided award-winning cuisine and specialty cocktails with an international flair. Looking to bring healthier food options to the Mississippi Gulf Coast, they recently revamped their menu with an aim to improve their patrons' quality of life by putting healthy food on the table.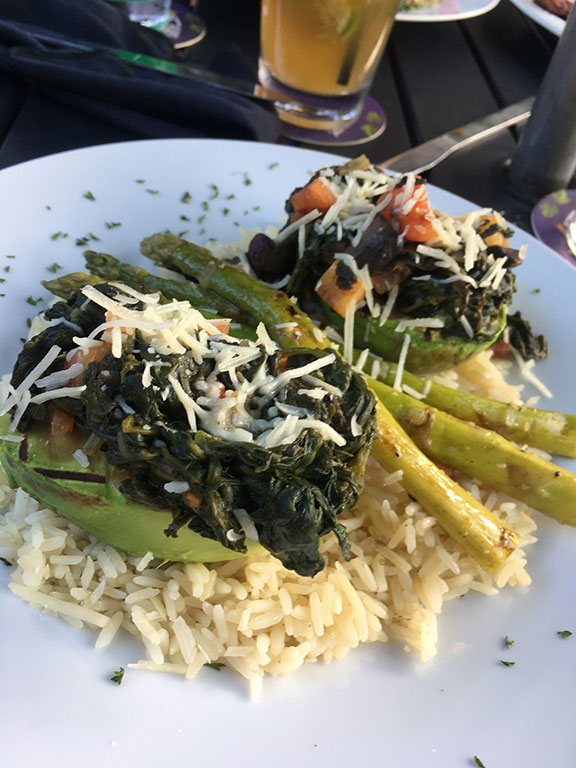 Owner Arturo Barajas, along with his business partner Gabriel Khachik, offer a wide variety of sophisticated dishes from all over the world. You will find seafood, beef, pork, chicken, and vegetarian dishes that are bursting with flavor, and now certain ingredients have been replaced to ensure a tasty meal with the highest nutritional value.
This past February, Mosaic was the recipient of Ocean Springs Chamber of Commerce Main Street Tourism Bureau's Restaurant of the Year award. Not wanting to rest on their laurels, they have launched a new, health-conscious menu, which has been met with great response.
Throughout the menu you will find icons that designate which dishes are vegetarian, vegan, or gluten-free. They have eliminated table salt, replacing it with sea salt, and they now use only organic hormone-free eggs, certified Angus Beef, and Gulf Coast Shrimp. They offer grass-fed beef on certain items and are already working on the next menu where all their beef, pork, and poultry will be completely hormone free, becoming a true farm-to-table restaurant.
"I really wanted to showcase that we are moving to the healthier side," said Barajas. "While we still have dishes for those wanting to indulge, we also wanted a menu that provides options for everyone."
You really can't go wrong with anything on the menu, as it's obvious that great care has been taken to provide an exceptional dining experience. Many will remember when Mosaics first opened it was strictly a tapas bar. While expanding to incorporate many different types of dishes over the years, it still offers a large variety of tapas, or small plates, similar to appetizers and designed to be shared and encourage conversation. The unique fare includes items such as Argentinian Empanadas, Asian Lumpia Rolls, and Shrimp Ceviche — just to name a few. Put them in the middle of the table while having drinks or a hookah, and it creates a unique ambiance from all the aromas mixed together.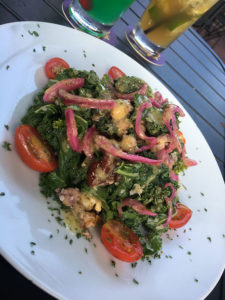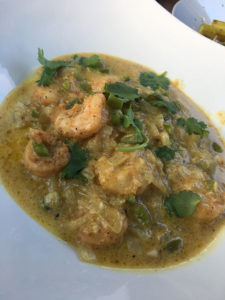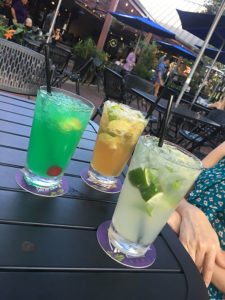 Besides tapas, you will also find signature platters, salads, pasta, burgers, and sandwiches. On my latest visit, we started with the gluten-free and vegan Detox Salad. Full of antioxidants, it's a rich salad of tender kale mixed with quinoa, tossed in a lemon mint vinaigrette, topped with chickpeas, walnuts, dried cranberries, tomatoes, and marinated onions. Large enough to be shared, it is tasty and filling.
Next up was a fantastic new dish, the Lemongrass Curry Shrimp. Large Gulf Coast shrimp pouched in a flavorful yellow lemongrass curry with garlic, onions, and bell pepper. Served with rice and topped fresh cilantro, the sauce was so good I was temped to lick the bowl.
Another great dish is the Grilled Stuffed Avocados. A whole ripe avocado split, seasoned, grilled, and then stuffed with sautéed spinach, mushrooms, and onions. It's served over a bed of rice pilaf and grilled asparagus, and topped with parmesan cheese. I am already planning a visit back to order it again.
We ended the night with Mosaic's famous Churrasco Steak Platter, an Argentinean combination of a large grilled ribeye steak topped in a wonderful chimichurri sauce, and spicy grilled Mexican chorizo topped with peppers and onions. Served with crostinis and salad, be sure to bring your appetite as this large platter of goodness won't disappoint.
In addition to the delicious food, Mosaic prides itself as having one of the largest drink menus on the Coast. With beautifully prepared mojitos and specialty drinks, you can also find drinks you won't find anywhere else in the area — like the Caipirinha, Brazil's national cocktail made with cachaça, a sugar cane hard liquor, sugar, and limes, or Bora Bora Punch, made with flavored rums, tropical fruit liqueurs, and fruit juice, all of them refreshing on hot summer days.
"Some people have mentioned this is the most cosmopolitan spot on the Mississippi Gulf Coast, and that's what we are trying to show," Barajas said of the environment he is working hard to create.
Mosaic Restaurant & Bar is open for lunch and dinner seven days a week. Live entertainment is on-hand most days, with bands coming from all over to play an eclectic mix of music.
---
MOSAIC RESTAURANT & BAR
1010 Government St.
Ocean Springs, MS 39564
(228) 818-9885