Layton's just celebrated it's third anniversary in Ocean Springs, but the store's destiny was set in motion years before — when its owner attended St. Martin High School.
"My passion for this type of work came from loving art class, largely due to how awesome Mary Hardy was as my teacher," says proprietor Erica Layton. "I'll never stop thanking her."
Today, Layton operates a store she describes as "artist-driven," with a broad spectrum of gifts, home décor, jewelry, gourmet foods, pottery and more to suit any style and budget. More than 100 local, regional and national artists and companies are represented on Layton's shelves.
"I also have hand selected items from Italy that you're not going to get anywhere else," she says. Layton herself was a commissioned artist for the store that preceded Layton's at 630 A Washington Ave.
"My love of photography and many years of experience working in retail and as a Mary Kay sales director made this business an easy fit for me," Layton says.
She had another name in mind for the store, she explains, but used her last name "because its short and easy to remember." Layton chose childhood friend Diana Hamel of Coastal Creations to design her logo, which consistently gets compliments and features Layton's favorite bird — a blue heron.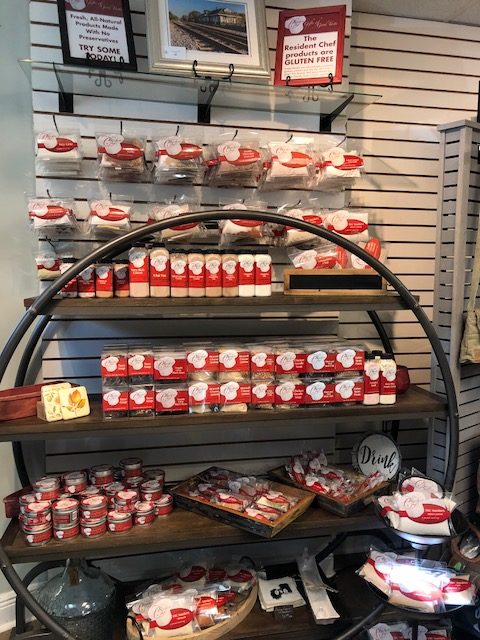 Hamel's Swarovski crystal jewelry line adds some bling to Layton's inventory. For those in the market for a chic carryall, the store stocks an impressive variety of canvas, hand-crafted Mona B bags. Products from Musee Bath, Johnson's Sweet Heat, The Resident Chef, Auntie M jewelry, Mickles Pickles and Mud 'n Butter Bliss are other big sellers. If a shopper needs a purchase shipped or gift wrapped, Layton's can accommodate her.
"I believe what makes Layton's unique is great customer service," the owner says, noting that a schedule of samplings of the store's gourmet food lines will be posted soon.
Further developments are planned as well, facilitating Layton's vision for "continued, steady growth."
"We are about to launch online," she says. "I want to continue featuring new artists, and in the future, I look to have other locations."
Despite her expansion dreams, Layton is effusive about the support she's received in Ocean Springs. She strives to thank people for their patronage with personal attention and the best shopping experience possible. "What is special to me about doing business in Ocean Springs is meeting new people, building relationships with our customers and fellow business owners," she says. "So many of them took me under their wings when I moved in, and I will forever love them for that."
---
IF YOU GO
Layton's – 630 Washington Ave., Ocean Springs (228) 215-1415 Mon-Sat 10 a.m.-5 p.m.; Sun 1-5 p.m. after Thanksgiving through December; facebook.com/laytonsgifts