A quote from writer Maya Angelou appears prominently on Karol Brandt's vision board: "Courage allows the successful woman to fail and learn powerful lessons from failure. So that in the end, she did not fail at all."
Brandt — executive casino host for Scarlet Pearl Casino Resort, Amazon best-selling author and motivational speaker — concedes that at times, she has lost sight of the silver lining.
"I have put [Angelou's] saying to the test personally with Hurricane Katrina, losing my business due to the storm, divorce, my weight gain and struggle with my weight and not making time for me," Brandt says. "And during challenging professional times or making decisions to switch career paths, I relied on my support system, especially my mentors [and] my parents, and I am very grateful for their support."
The Biloxi Beach resident, who hails from the New Orleans area, both speaks and writes about her personal journey, hoping to empower others through her experiences. She has shared her insights twice at the annual Women's SUCCESS Conference — serving as a confidence panelist and talking about her weight loss book, "The Struggle Is Real."
"My goal is to inspire, motivate and transform others to find their 'why' [and] make time for themselves so they, too, can go from struggle to success professionally and personally — all the while building that self confidence muscle to keep the positive momentum flowing every day," Brandt says.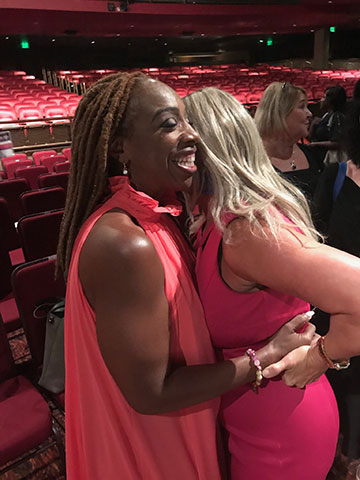 Opportunities in the hospitality industry took Brandt to Florida temporarily after college, but homesick for New Orleans, she returned to work as reservations manager for the Omni Royal Orleans. She later became director of promotions for WCKW 92.3FM, a rock station with an audience throughout the Mississippi Gulf Coast and beyond.
"I produced the 'Dogs on Hogs' event for them, a charity motorcycle ride that quickly drew listeners and participation from Biloxi to Lafayette and over five years grew into a regional event," Brandt says. "This would later prove to be one of my biggest professional achievements to date."
The experience inspired her to cofound Scooter Promotions with her then fiancé, which produced and publicized two major annual events: The Steel Pony Express Motorcycle Rally and Music Festival, an outdoor music gathering in New Orleans that drew 80,000 attendees and over 400 exhibitors over a thee-day period, and the Louisiana Bike Expo, a three-day indoor motorcycle show held at the Superdome.
Brandt calls Hurricane Katrina the "turning point of my life in every way," and she moved to Houston briefly to try to start fresh. Stress from the storm and relocation drove her to seek solace in food.
"I don't drink or smoke, and I did not want to pick those unhealthy habits up again, so I ate my way through the pain — the day-to-day uncertainly, not being in my home, in my city," Brandt recalls. "It was a very trying time, and to see so many suffer through it just like me was very disheartening."
Over the past 10 years, she has transformed physically and mentally — losing over 100 pounds and becoming a passionate health and wellness advocate and committed meal prepper.
"I love the feeling of making time for ME and knowing that building muscle builds a stronger, more confident me in every way," Brandt says. "I also love to do cardio and sweat it out on the Arch trainer every day, and I love to swim in the summer."
Meeting LuAnn Pappas at Harrah's New Orleans, where she started working in 2007, "helped develop me into the person I am today," Brandt says — modeling leadership, discipline and commitment to community. Brandt and her mentor now work together at the Scarlett Pearl, where Pappas still helps her protege see her own talent and potential.
"My work ethic is very strong, my drive and my passion are very visible, and I am committed to delivering results for both the client and company," Brandt says. "I am a leader and a cheerleader. I lead by example, and I encourage my coworkers in all departments to work hard and it will pay off."
When she's not attending to guests at the Scarlett Pearl, Brandt can be found getting lost in a good book, taking a sunset walk with her dog, Shadows, riding on the Biloxi Schooner or otherwise taking advantage of living by the beach. She attributes her achievements to grit, willpower, a positive attitude — and setting herself up for success with a vision board.
"If I see it daily, I say it, believe it and take steps and work hard to achieve my goals … ," she says.