story by Chris Dearman | photography by Neil Ladner
Hair + Tonic is a modern barbering and upscale beauty salon that is a must visit for anyone who wants to look their best. Located inside the old train depot in downtown Gulfport, the chic salon offers a variety of services including creative and inspired cuts, colors, makeup and waxing.
Lauren Damond, owner and operator of Hair + Tonic, designed the salon to have separate rooms for men and women in the historic building that gives a nod to its past by keeping visual aspects of the train depot intact, as well as incorporating art and photography by local artists.
For instance, one of the exposed brick walls is lined with the old windows where tickets were once sold. Large sliding doors that were used to load trains still hang in the salon and one of the shampoo bowls sits on top of an original cargo scale. When trains go by periodically, history seems to come alive, which lends even more character to the place.
Damond is a young businesswoman who is quickly making a name for herself by providing a space where she and her stylists can showcase their skills.
"I hire extremely talented people who bring their own unique talents to our clients," Damond says. "It's like a puzzle and I want each artist to be a piece of a puzzle, and together we create a complete picture."
Damond is originally from Oregon and moved to the Gulf Coast six months before Hurricane Katrina. Taking that storm as a sign to venture out and see a different part of the world, she moved to Australia for two years before returning to make South Mississippi her home.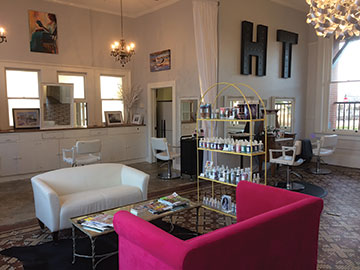 After beauty school, she built her clientele by working in various salons. When the opportunity opened to acquire space in the train depot, Damond jumped at the chance to become her own boss and make the salon her own, which has been completely renovated and updated with a modern look and feel.
"When people come into my salon, I want them to feel like they are not in South Mississippi," Damond says. "I want it to be a very different and unique experience."
Being that a large part of Hair + Tonic's clientele consists of businessmen from the Hancock building and other downtown businesses in Gulfport, Damond chose the salon name as a play on the classic cleansing waters used on beards and scalps. They use beard balms and oils from the local Old Biloxi Beard Company, and with every men's haircut, you can get a hot towel treatment and complimentary scalp massage.
Damond's elite team of stylists also are passionate about empowering women of the Mississippi Gulf Coast by designing a unique and sophisticated look that sets them apart. The stylists at Hair + Tonic work to stay ahead of the curve by furthering their education and attending hair shows around the country where celebrity hairstylists share the latest trends. Damond also is on her way to celebrity hairstylist status with clients whose names one would most certainly recognize.
"Every time someone comes back, I like to tweak or switch it up at least 10 percent to keep things fresh," Damond says. "I know when I get my nails done I don't want the same color every single time, and I think my clients feel the same. Sometimes people just need that extra little push to take them out of their shell. My team is the kind of people who are going to tell you to do that. We are going to make you look good and I promise you're going to love it!"
As an avid animal lover, Damond also uses her platform to help the Humane Society of South Mississippi animal shelter by donating baskets for them to raffle and giving volunteers free haircuts.
"I'm not strong enough to volunteer at the shelter hands-on and having to look in the eyes of all the animals in need," Damond says about the overpopulation of animals.
"You just want to take them all home, and unfortunately that's not possible. That said, I'm excited to give back to the volunteers that are doing something I can't."
Hair + Tonic is open six days a week, and while walk-ins are welcome, reservations are highly recommended. The salon stylists use product lines such as SACHAJUAN from Sweden and R+Co, which have been featured in a variety of glamour magazines and also are available for purchase.
---
IF YOU GO
1419 27th Ave., Ste. A
Gulfport, MS 39501
(228) 214-1262
Monday, 10 a.m.-3 p.m.
Tuesday-Friday, 9 a.m.-6 p.m.
Saturday, 9 a.m.-4 p.m.
hairtonic.co
facebook.com/hairtonic27
instagram.com/hair.tonic