Grilling season is upon us and have we got some fabulous recipes for you! From salads, main courses, side dishes and desserts, you can stay outdoors from start to finish to serve your guests a tasty full-course, hot-off-the-grill meal. Enjoy!
---
GRILLED ROMAINE SALAD WITH BACON AND BLUE CHEESE
3 Romaine hearts
12 pieces of thick cut bacon
5 oz. blue cheese crumbles
For the dressing:
1/4 cup balsamic vinegar
1/4 cup light olive oil
1/4 tsp. dried thyme
1/4 tsp. dried parsley
1/2 tsp. dried oregano
A little salt and pepper
1/4 tsp. Dijon mustard
Fry bacon in a large skillet and reserve the bacon fat.
Slice each Romaine heart in half and set aside.
Heat your grill up over high heat (you want very hot grates so you get a quick char without cooking the lettuce too much or wilting it).
Using a basting brush, lightly brush a little bacon fat onto the flat side of each Romaine half.
When you are ready to grill, place the Romaine halves flat side down on the grill and just keep them on there until they have light char marks (it shouldn't take more than 30 seconds).
Remove the Romaine halves to a plate and turn off your grill.
For the dressing, add all ingredients into a bowl and whisk together, or add to a jar and shake.
To assemble the salad, top each Romaine half with bacon and blue cheese crumbles, and drizzle on the balsamic dressing.
Pinterest source: The Garlic Diaries
---
GRILLED HONEY SRIRACHA CHICKEN THIGHS
2.5 lbs. chicken thighs
3 Tbsp. unsalted butter
1 Tbsp. minced fresh ginger
2 garlic cloves, minced
1/4 tsp. smoked paprika
1/4 tsp. ground cloves
4 Tbsp. honey
6 Tbsp. Sriracha
1 Tbsp. lime juice
Heat grill to medium high heat, about 400 degrees.
In a small saucepan, add butter. Once melted add in fresh ginger and garlic. Stir until fragrant, about 1 minute.
Next, add in smoked paprika, ground cloves, honey, Sriracha and lime juice. Stir to combine and let simmer for 4-5 minutes.
Pat chicken thighs dry. Season with salt and pepper on both sides.
Spray grill grates with cooking spray or rub with olive oil soaked rag.
Place chicken thighs on grill, skin side down first.
Grill for 4-5 minutes. Flip the chicken over and grill on the other side for 4-5 minutes.
Continue to cook chicken, flipping every 3-4 minutes so it doesn't burn until the internal temperature is 165 degrees (about 25-30 minutes).
During the last 5 minutes of grilling, brush the glaze on both sides of the chicken.
Remove from grill and serve.
Pinterest source: Joyful Healthy Eats
---
PESTO GRILLED SHRIMP
1/2 cup basil, packed
1 small clove garlic
1 Tbsp. pine nuts, toasted
2 Tbsp. Parmesan, grated
2 Tbsp. olive oil
1 Tbsp. lemon juice (1/4 lemon)
Salt and pepper to taste
1 lb. Gulf shrimp, peeled and deveined
Pulse the basil, garlic, pine nuts, Parmesan, oil, lemon juice, salt and pepper in a food processor or blender until smooth. Marinate the shrimp in the pesto for at least 20 minutes, up to overnight, in the fridge. Skewer the shrimp and grill over medium-high heat until cooked, about 2-3 minutes per side.
Pinterest source: Closet Cooking
---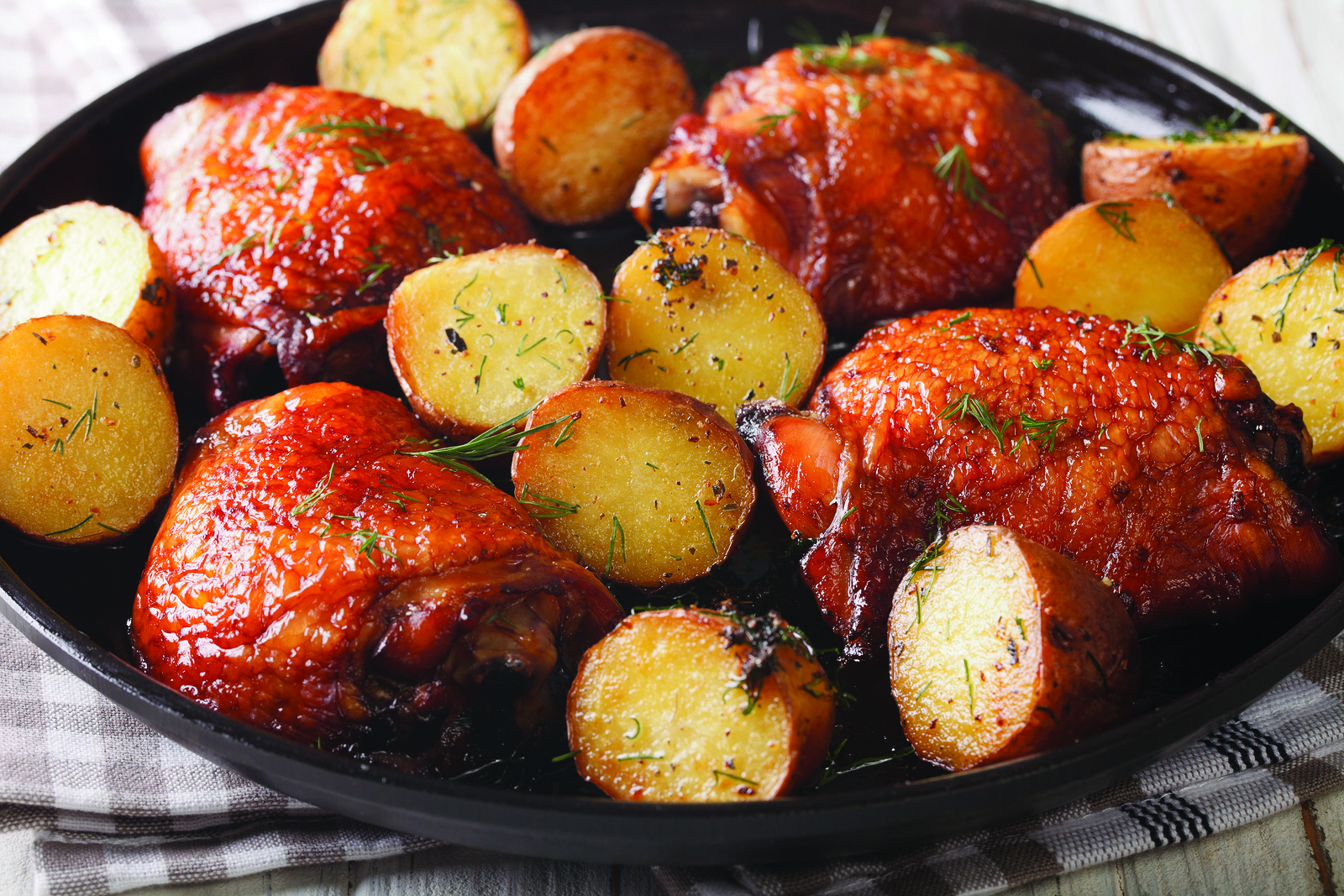 GRILLED POTATOES WITH ROSEMARY AND SMOKED PAPRIKA
1 lb. russet potatoes, cut into 1-inch pieces
1 medium onion, cut into small chunks
6 garlic cloves, peeled and cut into thirds
1 Tbsp. + 1 tsp. olive oil
1 1/2 tsp. crushed dried rosemary
1/2 tsp. smoked paprika
1/2 tsp. salt
1/2 tsp. ground pepper
Preheat the grill to medium heat.
In a large bowl, combine the potatoes, onion, garlic and olive oil. Toss to coat the vegetables.
Add in the rosemary, smoked paprika, salt and pepper, and toss to coat again.
Using 2 pieces of foil (each 24 inches long), form an X by overlapping the foil. Place the potato mixture in the middle of the X, arranging so that it is an even height. Wrap the pieces of foil over the potato mixture, pinching the foil to seal. Use a third piece of foil to wrap around the package.
Place the foil package on the grill and cook for 20 minutes. Flip the package over and cook for an additional 15 to 20 minutes, or until the potatoes are tender and start to brown. Be careful when opening the package to test the vegetables, as hot steam will be released.
The vegetables will stay warm in the package for 10 to 15 minutes. Serve.
Pinterest source: Cookin' Canuck
---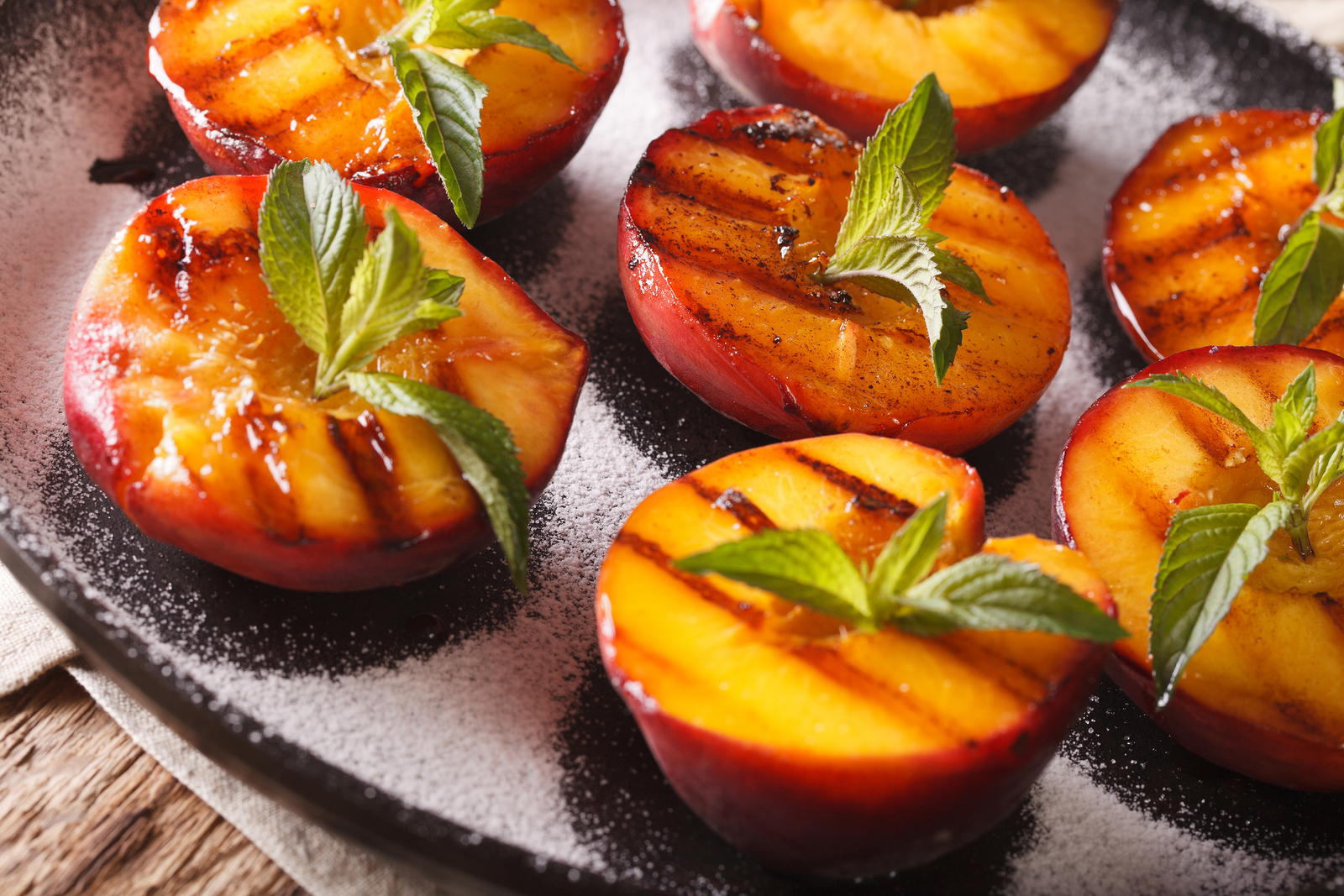 CINNAMON SUGAR GRILLED PEACHES
1/4 cup (1/2 stick) salted butter, at room temperature
1 Tbsp. + 1 tsp. granulated sugar
1/4 tsp. cinnamon
4 ripe, yellow-flesh peaches, halved and pitted
Vegetable oil
In a small bowl, whip the butter with a spatula until smooth. Add the sugar and cinnamon and mix well. Get your grill going on medium-high heat.
Lightly baste the peaches with the oil and place face down on the grill. Cook until the tops are slightly softened when you touch them (no need to move them or check them, just wait until those tops are slightly soft). Remove the peaches from the grill and top with the cinnamon butter. Serve warm.
Pinterest source: High Heels and Grills