RIESLING-PEACH GLAZED HAM
Riesling-Peach Glazed Ham is a great entree, especially for Easter brunch or dinner. Tastes excellent, and is perfect for a big family gathering! The flavors are amazing and everyone will enjoy this yummy ham!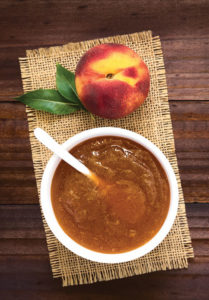 INGREDIENTS
1 fully cooked smoked bone-in half ham (6-8 lb)
1 cup Riesling wine
2 sprigs fresh thyme
1 shallot, finely chopped
1 18 oz jar peach preserves
1/2 cup packed light brown sugar
1/2 cup stone-ground mustard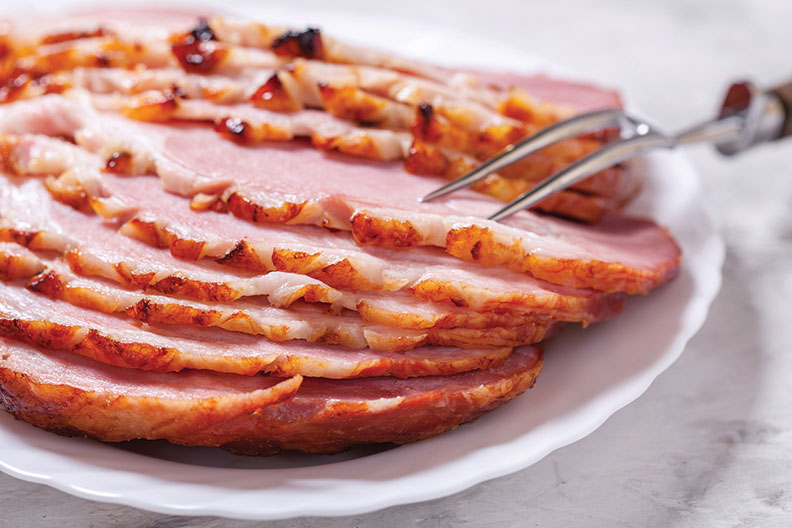 INSTRUCTIONS
Preheat oven to 350 degrees
Line a shallow roasting pan with foil
Place ham on the rack in roasting pan
Put an ovenproof meat thermometer in ham so tip is in center of thickest part of the meat and does not touch bone in a 1-quart saucepan, heat wine, thyme sprigs, and shallot to boiling over medium-high heat Reduce heat and simmer uncovered until the wine is reduced to 1/2 cup
Remove from heat and discard thyme sprigs
Stir in peach preserves, brown sugar, and mustard
Brush half of glaze mixture over ham
Bake uncovered 1 hour 30 minutes, basting with remaining glaze mixture every 30 minutes
Cover loosely with foil
Bake 30 minutes longer or until the thermometer reads at least 140 degrees
Let stand 15 minutes before slicing and serving
Pinterest source: Real Housemoms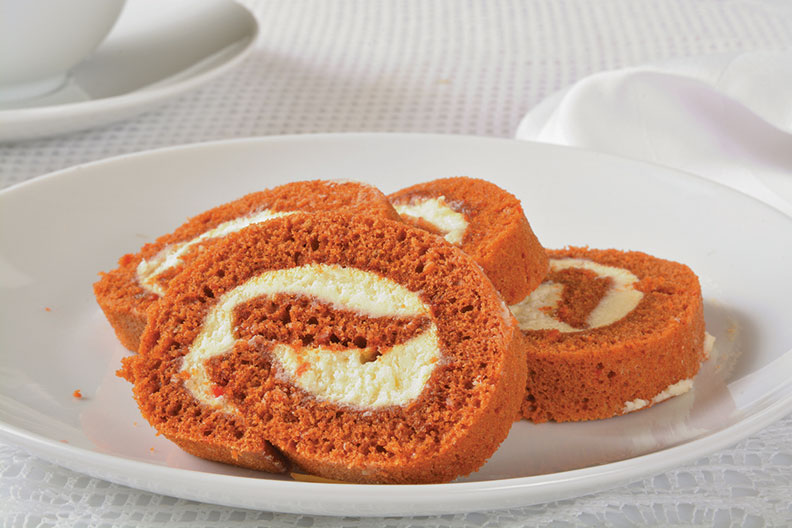 CARROT CAKE ROLL
INGREDIENTS FOR THE CAKE:
3 eggs
2/3 cup granulated sugar
1 teaspoon vanilla extract
1/2 teaspoon salt
1 teaspoon baking powder
1 teaspoon ginger
1/4 teaspoon nutmeg
2 teaspoons cinnamon
3/4 cup flour
2 cups shredded carrots
Powdered sugar, to aid in rolling
FOR THE FILLING:
6 ounces cream cheese, room temperature
4 tablespoons butter, room temperature
2 cups powdered sugar
1 teaspoon vanilla extract
Powdered sugar, for dusting
DIRECTIONS
Preheat oven to 350°F. Line a jelly roll (10Å~15") pan with foil and spray with cooking spray.
Beat eggs at high speed for 5 minutes. Beat in sugar and vanilla extract. Whisk together salt, baking powder, ginger, nutmeg, cinnamon, and flour. Stir into wet ingredients just until blended. Stir in carrots.
Use a spatula to spread it to all the corners of the pan. Bake for 9-11 minutes. Set a clean kitchen towel out on a large work surface. Sprinkle liberally with powdered sugar. As soon as the cake comes out of the oven, turn it over on the kitchen towel. Remove foil carefully.Working at the short end, fold the edge of the towel over the cake. Roll tightly, rolling up the cake into the towel. Let cool at least 1 hour. While the cake is cooling, make the frosting. When cake is cool, carefully unroll the towel.
Spread the filling on the cake evenly, and re-roll tightly. Chill about 30 mins. Dust with powdered sugar, then slice and serve.
Pinterest source: Crazy for Crust
PIONEER WOMAN'S POTATOES AU GRATIN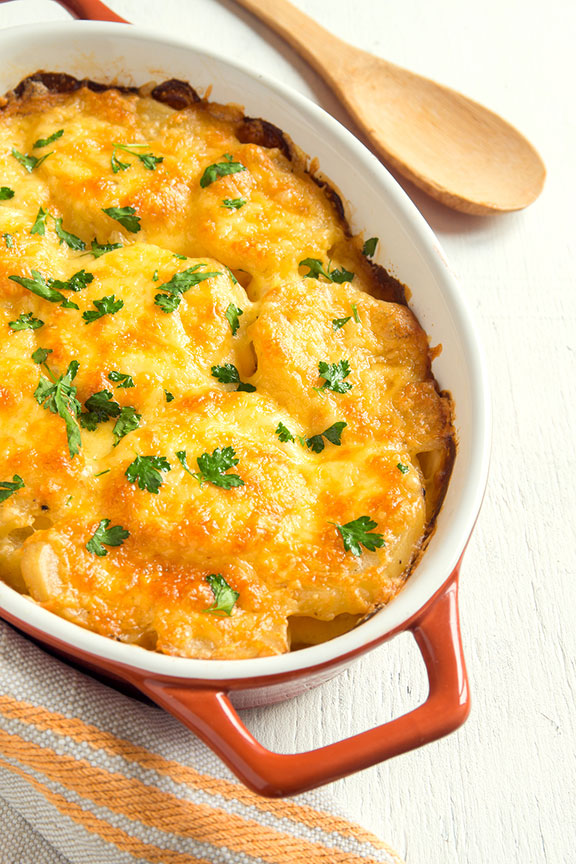 Potatoes au gratin loaded with cheese, cream and garlic. An easy no fuss no mess delicious weeknight meal. (And the perfect side dish for your holiday meal)
INGREDIENTS
2 tablespoons butter, room temperature
6-7 small potatoes, scrubbed clean
1/2 cup whole milk
1 1/2 cups heavy cream
2 tablespoons all-purpose flour
3-5 garlic cloves, minced
1 teaspoon salt
Pepper
1 1/2 cups shredded sharp cheddar (I used white cheddar)
Fresh chives, thinly sliced
INSTRUCTIONS
Preheat the oven to 400 degrees F. Butter a shallow baking dish and set aside.
Dice the potatoes. Place them in the buttered dish. Combine the milk and cream in a bowl.
Add the flour, garlic, salt and pepper and whisk. Pour over potatoes.
Cover with foil and bake for 30 minutes.
Remove the foil and bake for another 20-30 minutes. Just before serving, sprinkle with cheese and bake for another 3-5 minutes or until cheese is melted and bubbly.
Sprinkle on the chives and serve immediately.
Pinterest source: A Treats Affair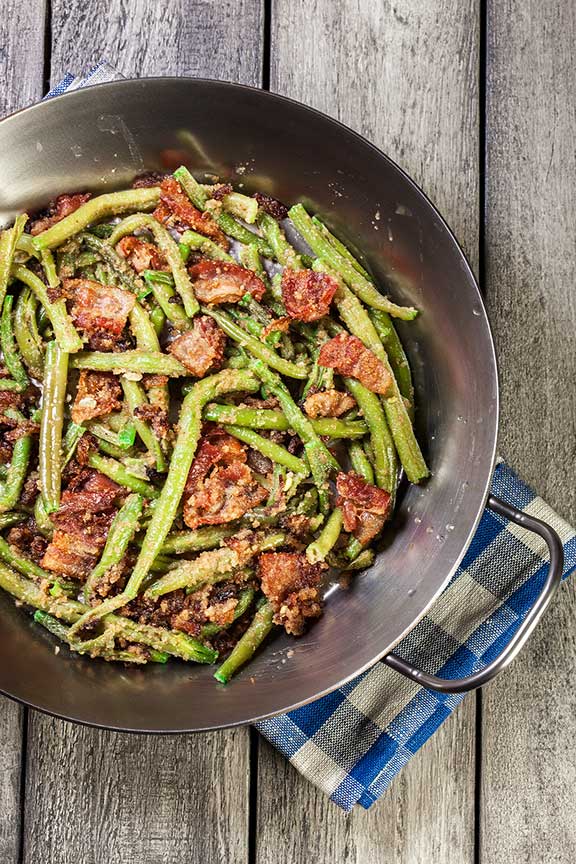 BACON PARMESAN BEANS
INGREDIENTS
3/4 cup water
1/3 cup red onion finely chopped
1 tablespoon olive oil
1 lb. fresh green beans
1 tablespoon lemon juice
1 teaspoon minced garlic
1/2 teaspoon onion salt
1/2 teaspoon garlic salt
Pepper to taste
1/3 cup grated Parmesan cheese (or we refer to it as shaky cheese)
5-6 strips of bacon (for a healthier option you could use turkey bacon)
INSTRUCTIONS
In a large skillet or pot, bring water to a boil and add the green beans.
Let the beans boil for about 3 minutes, then cover with a lid for about 5 minutes and reduce the heat to low, to allow the beans to steam and soften.
Drain the beans and add the olive oil, red onion, lemon juice and minced garlic.
Change the heat to medium, and sauté the beans, garlic, and onions until they begin to go a little clearer.
Add the onion salt, garlic salt, pepper, Parmesan cheese, and bacon until everything is heated through and well incorporated.
Pinterest source: Six Sisters Stuff