by Stephanie A. Stasulis
Summertime on the Gulf Coast means spending time outdoors. So, although you may not know what they're called, you've undoubtedly seen these renowned southern favorites in bloom everywhere you go. You guessed it… I'm talking about crape myrtles!
While many people love the beautiful light to dark green leaves and abundant clusters of brightly colored flowers that traditional crape myrtle varieties offer the landscape, I often have patrons visit the garden center in search of something "southern, yet different." Well, allow me to introduce … (drum roll please) … the Southern Living Collection's "Delta" crape myrtle series! (Breeder and inventor, Robert "Buddy" Lee.)
The Delta crape myrtle series offers seven stunning varieties and each one sports unique burgundy curved leaves with clusters of blooms either light lavender, lavender, dark red, fuchsia, dark pink, bright pink or white. Whether using them in the landscape as a shrub or a small tree, Delta crape myrtles certainly put a new spin on an old favorite! The new spring growth emerges as a striking coppery bronze color, deepening to a rich, dark maroon color during warm months. Finally, in fall the show stopping foliage transforms to a stunning orange. I'd be willing to bet if you add these unique crape myrtles to your garden, you won't be disappointed.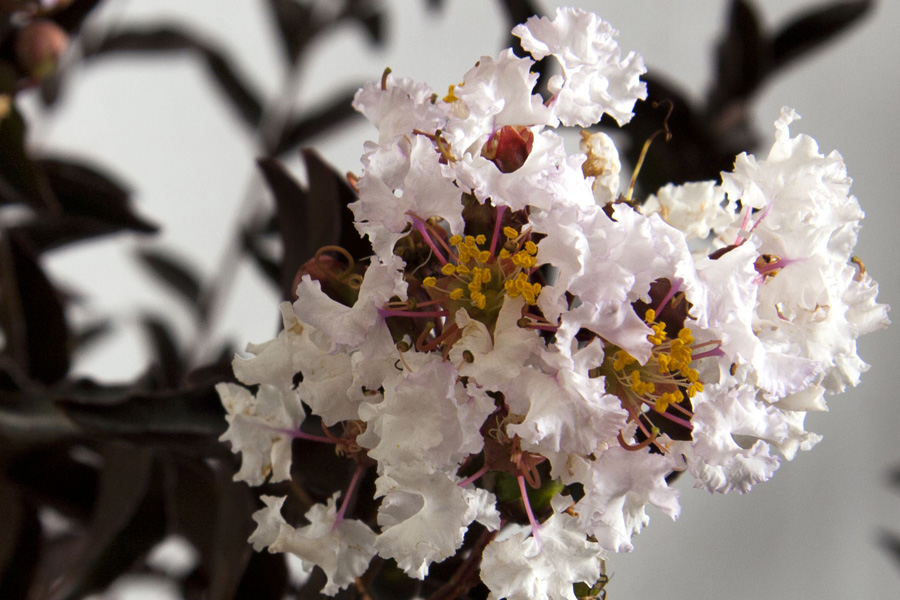 Are you wondering what plants would complement these game changing small trees and/or shrubs? The fine texture and deep burgundy color of the foliage contrasts nicely with lighter colored or brightly colored shrubs and plants. Some of my favorite companion plants are as follows: Sunshine Ligustrum, Variegated Liriope, Aztec Grass, Miss Lemon Abelia, Variegated Dianella and Lemon Lime Nandina.
Here are the reasons I love the Delta series crape myrtles and why you should too!
Thrive in full sun or part sun
Exceptionally heat tolerant
Reach 8-12 feet tall and 4-6 feet wide at maturity, but may be easily kept smaller
Great as an accent, hedge, in mass plantings or even in a large container
Deer resistant
Mildew resistance
Offer a striking contrast to a nearly green landscape
Contact Stasulis at Beatline Nursery, Garden Center & Gifts or email stephanie1981@cableone.net.