The proverbial glass remains half full for Crystal Acker-Nash — despite losing her right foot in July.
Not one to succumb to self-pity, the Bay St. Louis native, who now lives in Baton Rouge, begins her mornings with prayer and meditation. Every day brings fresh challenges, she says — but also new ways to cope.
"It doesn't matter what you go through; don't get stuck in the negative ways of life," she says. "There's so much positivity in this world as well …. find a reason to smile, find your strengths instead of focusing on your weaknesses."
As a student at our Lady of the Gulf, Acker-Nash was captain of the cheerleading squad, a star volleyball player and a vivacious adolescent who loved to skate, swim, run and play with her little sister. Everything changed when she was diagnosed with rheumatoid arthritis at age 21, a hereditary condition that has affected members of her family for at least three generations.
"I was very active and felt very healthy until I woke up one morning to get Guy, my youngest, ready for Head Start and realized I couldn't get up; my hips were stuck, and I couldn't stand," she recalls. "'How could this be?' I questioned God. In my mind, I was too young not to be able to walk."
By age 27, Acker-Nash was confined to bed, and an orthopedic surgeon told her that without replacing both knees, she'd never walk again. Although devastated, she was determined to accept "the hand I was dealt."
"So in the words of my baby sister, Karon Acker, and I quote, 'OK, you can lay here, feeling sorry for yourself and (crying), or you can go have these two surgeries and walk again,'" Acker-Nash recalls. "It was then I knew God and my family had my back if only I would put up a quality effort to give all I had to get through this obstacle."
After the surgeries, her faith was tested further when she lost her husband, Raymond Nash, to gun violence in 1996, leaving her alone to raise two children, ages 9 and 13. Her health woes multiplied when she was diagnosed with diabetes at age 35, and later hypertension, conditions that also run in her family. She assumed that losing 100 pounds would solve her diabetes-related problems, but she found it took more than weight loss to control the illness.
"The three different diseases impacted my life tremendously," she says. "The (rheumatoid arthritis) deteriorated my bones and affected every joint in my body — shoulders, elbows, wrist, knuckles, knees and ankles." Treatment for one condition would cause another to flare; for example, her arthritis medicine prompted a spike in her blood sugar. Meanwhile, the crippled bones in her feet became worse, causing callouses and diabetic ulcers to form.
With a weakened immune system leaving her vulnerable to sickness, Acker-Nash was hospitalized last December. An MRI on her right foot showed the presence of osteomyelitis, a rare but serious bone infection that required emergency surgery. She underwent therapy, but after transferring her foot from a protective brace to a boot, she broke her ankle and then fractured her fibula.
Initially, doctors recommended a below-the-knee amputation, but her surgeon found a way to only take the foot.
"So, instead of horrible news, I looked at the bright side," Acker-Nash says. "My lower leg could be saved, and I would again find a way to wrap my head around this and face it head on …."
Since the surgery, Acker-Nash looks at life differently, knowing she must push harder to accomplish her goals, realize her dreams and fulfill her travel plans. Ultimately, she says, "It's not impossible."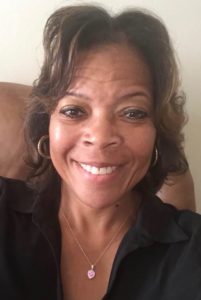 "Life after this amputation has been more fulfilling than I could have ever imagined," she says, adding that she hasn't shed a tear since the surgery, except tears of joy for the outpouring of love and support. "My sicknesses (have) truly helped me recognize my strengths." She's writing a book, titled "The Strongest Woman I Know: me," to impart messages of strength and positivity. "Me" is deliberately lower case, she explains, to give credit to God rather than herself.
Ever optimistic, Acker-Nash looks forward to getting fitted for a prosthetic foot, as well as an upcoming football game, her first trip to Paris, a Disney cruise and a girls' trip.
"Oh, my granddaughters and I have a bucket list," she says. "I am ready to drive again, and I look for new ways every day to be more grateful than the day before for all I am blessed with."