BEFORE MY TRANSFORMATION
Before my transformation, I was always so tired. I felt like I was going to doze off around 2 p.m. each day. I was very uncomfortable in my skin, both physically and mentally. I naturally was self-conscious as a person with dwarfism. Adding obesity made things 10 times worse. I had back and hip pain and constant sinus issues. I was in an unhealthy marriage and had zero confidence. As a mother of three small children, I also felt guilty every time I tried to spend time on myself.
After I left that relationship, I began to heal and decided it was time to get healthier. As a health and wellness major at Tulane, it seemed a little ridiculous that I had let myself get so overweight. Even worse was I knew the solution; I just wasn't implementing it.
WHAT I DID
I started by hiring a personal trainer the fall of 2017. He put me on a low-everything diet and started working with me in the gym. It was an incredible experience. He adapted exercises for me, and I began to feel less self-conscious about working out. My original goal was just to lose weight and feel better. I didn't have a number in mind, but honestly, I never thought I could lose as much as I have. The diet was very hard to keep, but I did hit the gym regularly. Unfortunately, there's no amount of gym work that can replace a healthy diet.
I started the keto diet in May of 2018, and that's when the weight really started coming off. I felt so much better, I had great energy and mental clarity. Then I started intermittent fasting a couple of months later, and I have never felt better. I weigh less now than I ever have as an adult. I continue to work out and build muscle while also losing excess fat. My joint pain is practically gone, my sinus issues have cleared up and I have an incredible amount of energy.
My friends started to notice how well keto was working for me, and I began coaching them after I finished my degree at Tulane. I have since lost, I would guess, over 30 pounds and have helped four people lose almost 90 pounds combined.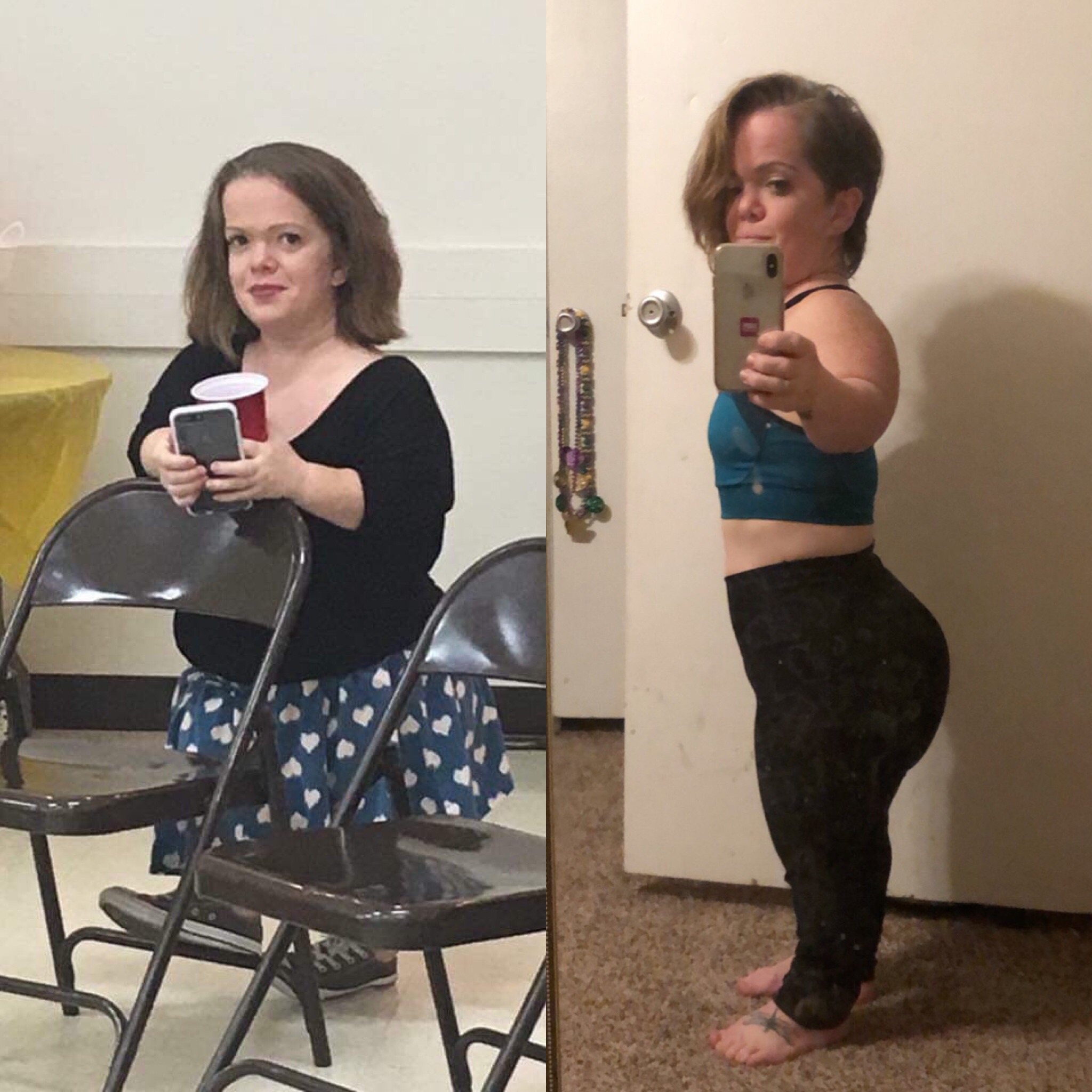 HOW IT WORKED
I know there's a lot of skepticism surrounding keto, but it truly is sustainable and works for a lot of people when done correctly. I would say the most difficult part is the meal prep. However, you really have to meal prep with most healthy lifestyles. I do all my cooking for myself and the kids on Sunday. I don't have them on strict keto, but they are on a low-carb lifestyle. There are plenty of times where I make a conscious decision to veer from the plan, but it isn't that often. Temptation is not that hard to resist once you really see the benefits (both physically and mentally) of a healthy lifestyle.
HOW I FEEL ABOUT MYSELF TODAY
I am an entirely different person today than I was two years ago. My confidence and self-esteem are leaps and bounds better. That's not just in terms of how I look, but how I think of myself. I started health coaching last year (which was on my five-year plan two years ago). I have goals this year that I never would have allowed myself to think I could accomplish before. I truly believe that once you see that you can reach your health goals, your mind opens up opportunities for a plethora of growth.
MY ADVICE TO OTHERS
My advice to others is always #StartToday and don't let fear keep you from succeeding. So often people don't want to start because they don't have faith in themselves that they will succeed. Failure isn't the end. Regroup, plan, move forward and remember — I have faith in you! You certainly will never succeed if you don't try.