WHY I DID THIS
I have been a yo-yo dieter my whole life, and the struggle with my weight was affecting my health and confidence. I reached a breaking point where I knew I needed to do something about my bad eating habits before I ended up with diabetes or other health issues. As a mom, I have two little ones that look up to me, and I didn't want them to see their mom struggling with her self-esteem and copying that behavior. I want to be a good role model and teach them good eating habits while they are young.
MY GOAL
My goal is to live a healthy and fulfilling life. As a believer in Christ, I believe we were made to live a life with purpose and joy. Through my fitness journey, my main goal is to support other women who have been struggling with the same things I did (food addictions, low self-esteem, negative self image, etc.) by encouraging them to take action and letting them know they, too, can triumph over their struggles.
WHAT I DID
Inviting God into this journey, and knowing I was made for much more than a vicious cycle of self-defeat, is helping me overcome my food addictions. It's also helping me apply self-control and self-discipline daily, which are necessary to make this work. Also, eating healthy foods 80 percent of the time and using portion control instead of a restrictive diet is making a huge difference. Another thing that's helping is being more active. Every day, I do an at-home workout routine, and I also belong to an amazing group of like-minded women who are my support system.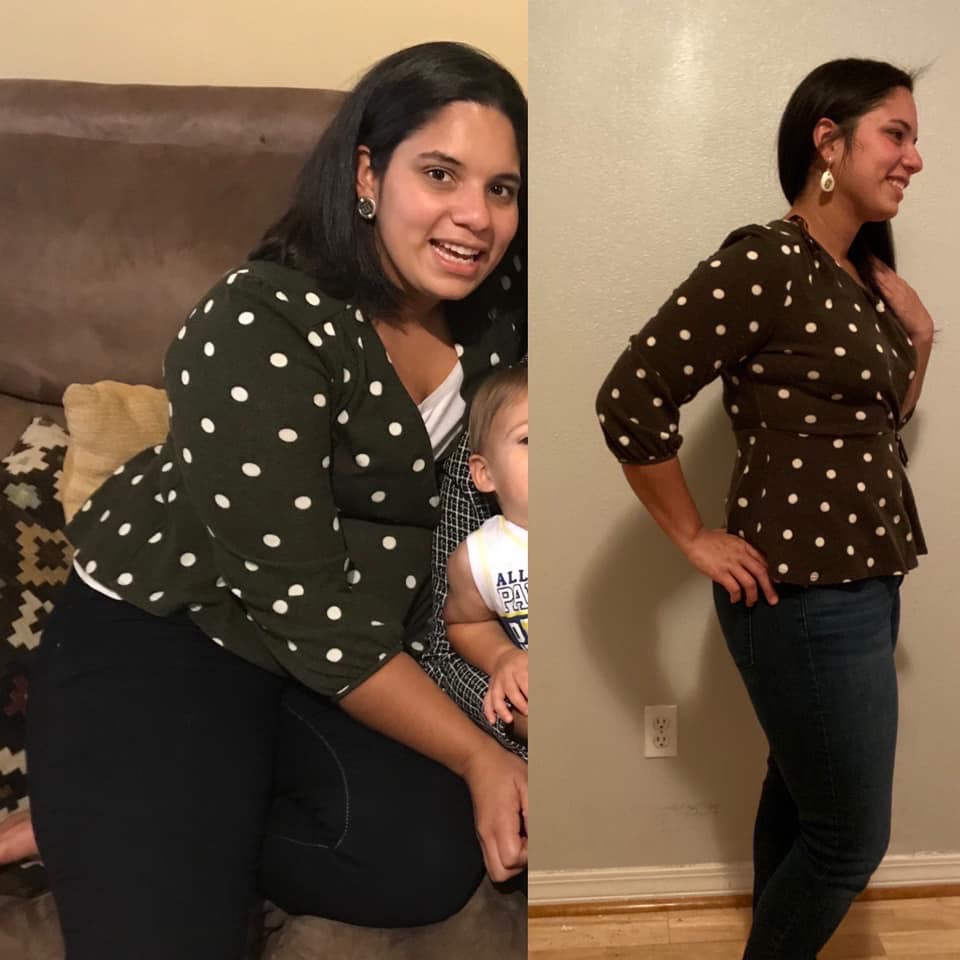 HOW IT WORKED
It is working great for me! So far, I have lost 44 pounds and went from a size 20 to size 10. I am the healthiest I've ever been and have so much more energy.
THE MOST DIFFICULT PART
Cleaning up my nutrition has been the hardest part. I still crave sweets, and it's not easy to pass on fast food. The more I focus on taking one meal at a time and make the daily choice to stay on track, the more consistent I can be with this new lifestyle.
HOW I FEEL ABOUT MYSELF TODAY
I feel more confident, and although I'm not at my goal weight yet, I don't feel uncomfortable in my own skin anymore.
MY ADVICE TO OTHERS
Don't give up! Just because a specific diet or program is not working for you doesn't mean you can't get results. The best way to make a change is knowing it will take time and work to reach your goal. If you never give up and take it day by day, soon you will start seeing small changes, and those will motivate you to keep going.
---
Follow Andrea Dickerson on Instagram, @faithnfitnessmom, or email her at aa.dickerson90@gmail.com.