Suddenly, most of us found ourselves confined at home with lots of free time on our hands — and after a while, even a Netflix binge loses its appeal.
So how do you entertain yourself indoors during a lockdown order? Families are re-discovering the joy of some friendly competition mixed with nostalgia. Board games are officially back — but they never really left.
In fact, board games were holding their own well before the pandemic. A study by Euromonitor International found that board games and puzzles grew in revenue from $9.3 billion in 2013 to $9.6 billion by 2016. Their popularity was only expected to increase, yielding a 1 percent sales growth rate year-over-year.
This is a good thing for lots of reasons. Board games promote human interaction. They teach strategy, goal setting and patience. They lower stress. They encourage teamwork and cooperation. They provide fodder for great memories. They can help develop academic skills like language and math.
In an age of technology overload, we crave activities that don't involve a computer, smartphone or TV screen. Not sure what to play? There's nothing like a classic. Take inspiration from some of the most popular board games of all time:
MONOPOLY
Admit it, you get giddy when your loved ones land on your property and have to pay you — even better if you've just built a hotel. Monopoly dates back to 1903 and is arguably the most iconic American board game of all time.
RISK
What other game allows you to conquer entire continents? While you're defending and acquiring territory, you're also getting an education in geography, world history and more.
CLUE
It's time to release your inner Sherlock Holmes. Was it Col. Mustard in the library with a candlestick, or Mrs. Peacock in the conservatory with a dagger? Prove yourself the best detective by solving the murder.
THE GAME OF LIFE
Will you wind up a married millionaire or single in a shack? Luck and decision-making determine your fate in this game — not unlike life itself.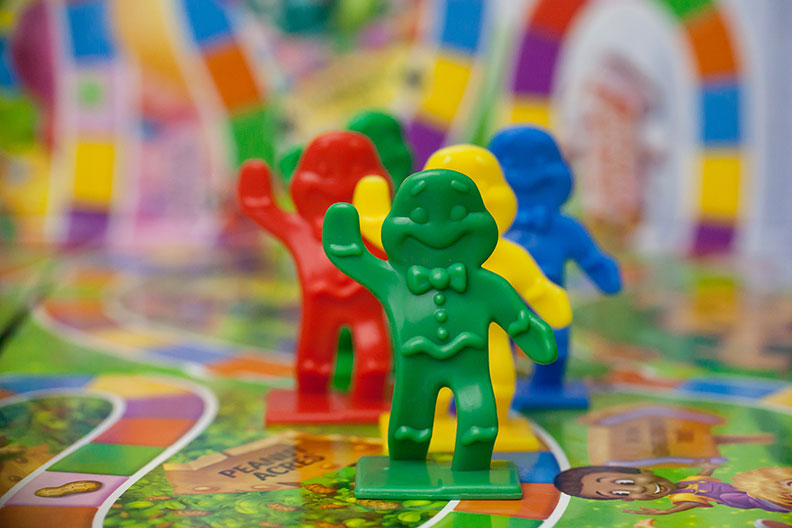 CANDY LAND
Beloved by children for generations, Candy Land is the ultimate escape for little ones and adults alike. Follow the rainbow path to sweet destinations like Licorice Lagoon and Lollypop Woods. Players race to find King Kandy, the lost king of Candy Land.
Beyond these time-honored choices, the options are infinite. Fans of Scrabble and Dominoes probably will like Quirkle, in which players organize wooden tiles into rows and columns based on color and shape. Ticket to Ride lets you connect cities across America by claiming railway routes on the map board. Cranium and Trivial Pursuit put talents and knowledge to use.
Whatever your family's interests and abilities, there's sure to be a game you'll enjoy. Before you play, be sure to check ratings and age recommendations.