Let's hear it for the kids! The Make-A-Wish kids, that is.
For the first or perhaps second time, these youngsters will have thrills of a lifetime — riding and throwing trinkets during a Mardi Gras parade.
To the shouts of "throw me something," these kids have a chance to forget their illnesses as they and their families are offered a chance to be stress-free for the day. Make-A-Wish makes dreams come true for children facing life-threatening illnesses.
Thanks to Martin Goldin, developer of Florence Gardens and chair of Hope Academy, these families have this opportunity. Last year, Goldin brought back the Make-A-Wish float in the Gemini parade that rolls through downtown Gulfport, something that had not been done since Hurricane Katrina.
A krewe in Orange Grove had disbanded so he was able to obtain one, but it needed a total overhaul. With the help of employees at Florence Gardens and Goldin, they gave the float a spectacular facelift.
"The float was reworked from top to bottom, including ramps and gates for children in wheelchairs. He even purchased an ADA-approved portable toilet complete with ramps and rails," says Rachel Rath, Make-A-Wish board member. "It makes me teary-eyed to think Mr. Goldin and Florence Gardens would do this for the kids."
Employees of Florence Gardens and other folks helped make this float a reality. They took a rusted-out float with dry-rotted floors down to a shell. From that shell, came Goldin's dream. The kids would parade in 2017.
The huge blue and white float is more the size of a barge and decorated in Make-A-Wish stars and, of course, Make-A-Wish's colors of bright blue and white. On those stars are the faces of the Make-A-Wish youngsters. They are the stars of this float.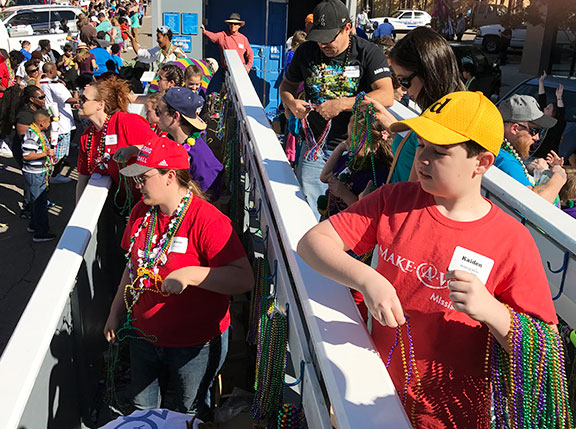 The work was pure joy. Goldin's goal through this float is to make people more aware of Make-A-Wish and to help raise money to fund wishes. Currently, there are some 40 children waiting for their wishes to come to fruition and each wish costs Make-A-Wish about $8,000.
The 10-12 children and their families selected by Make-A-Wish to ride last year were all given plenty of beads and throws, too. These were the children who were healthy enough to ride.
Prior to the parade, this krewe was treated to a festive tailgate party with more food than one can imagine and their own DJ — all compliments of Goldin. It was a total party for all: kids, siblings, moms and dads, float workers and Goldin.
"I have a world of respect for Mr. Goldin," says Shellie Moses, regional director of Make-A-Wish Mississippi, Southern Region… "He wanted this float to be top of the line … as perfect it as it could be."
Goldin's dream may expand this Mardi Gras season. The float will roll in the Krewe of Gemini day parade, but also may roll in the Gemini night parade, and perhaps the Long Beach parade. This would allow more kids to participate and to bring more awareness to Make-A-Wish and its mission.
Goldin and Make-A-Wish certainly are dream-makers.