Coordinates Couture began as a hobby for owner Jackie Trebotich-Pegoda – as well as a form of therapy.
After losing two husbands to health issues, the D'Iberville/Woolmarket native acknowledges struggling with depression and fear of the future. She wondered what she would do with her life when her children were grown.
"I felt as though I needed something to give me drive, so here I am – doing the best that I can with the help
of my family, friends and the community to offer smiles to those who walk through the door," she says, "and (I) hope that smile stays with them through the little gifts and treasures that we offer."
Launching in February in the Courtyard of Mary Mahoney's Old French House, Coordinates Couture caters to an eclectic clientele, according to the owner – "people looking for home décor, gifts, accessories and apparel, or people (who are) just browsing." The store's Facebook page invites patrons to step into a world "filled with fun, imagination, sophistication and a bit of dramatic detail."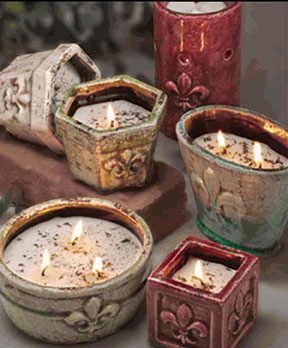 "Everything is handpicked," Trebotich-Pegoda says of her stock, naming pottery and work by local artists among her most popular items. With more than 30 artists represented at Coordinates Couture, according to the store's Facebook page, customers can find one-of-a-kind pieces and thoughtful gifts to suit the most discerning tastes.
"We believe that the only way to make that perfect moment last is to turn it into a memory," the page states. "It's finding that perfect treasure that brings back that moment every time you see it that we hope to offer you."
Explaining why she opted to open a store specializing in unique finds, Trebotich-Pegoda had a relatable reason: "I love to shop!"
"It is something that I needed to do for myself," she adds of becoming an entrepreneur. "As for significant milestones, I think what most stands out is I have learned a lot, and I have a lot more to learn about owning and operating my own business."
The former nurse appreciates the atmosphere, charm and family-friendliness of the place she calls home. And with Coordinates Couture, she has an opportunity to experience it on deep- er level and meet the variety of people who come to the Coast for work and play.
"I'm a happy-go-lucky person who loves what I do," she says.
---
IF YOU GO
110 Rue Magnolia, Biloxi
Monday-Friday, 10-6; Saturday, 10-5; closed Sundays
(228) 207-1893