Seeing patients have good outcomes never gets old for Dr. Angela Wingfield.
"It's fun solving a mystery or fixing a problem," says Wingfield, founder of The Dermatology Clinic PLLC. "It is a privilege to impact so many people's lives in a positive way."
With the opening of a new location in February, the doctor's reach has expanded even farther. Long established in Gulfport, the practice now has a second office in Gautier.
"I think there's a huge amount of need in Jackson County," Wingfield says, adding that many people in that area travel to Mobile for dermatology services. "It's going to be a great addition."
Wingfield started her practice straight out of residency training in 2003, beginning with three employees and 2,000 square feet of space. Today, The Dermatology Clinic employs 31 people across two locations, totaling 12,700 square feet.
"The idea for the business started when I went on a job search and realized there were no dermatology offices hiring on the Coast that had the type of practice I wanted to join," Wingfield recalls. "My husband asked me how much I thought it would take to just open my own practice, and the rest is history."
The doctor's interest in dermatology dates back to when she was a child having warts removed from her knee. Her "kind, caring" dermatologist was an inspiration for the Metairie, Louisiana, native to pursue medicine. However, the Millsaps College graduate, who holds bachelor's degrees in biology and English, also aspired to be a writer.
"I ended up pursuing medical school at LSU," she says, "but I still feel I have a few books to write one day."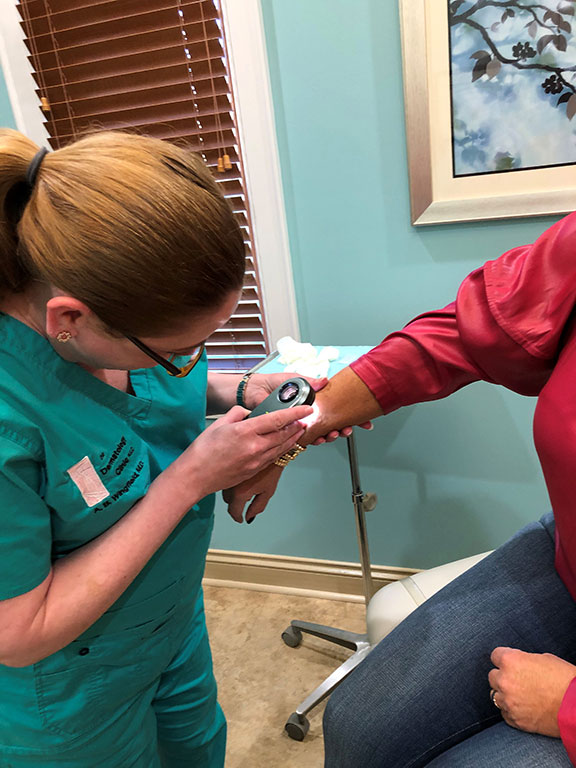 In the meantime, demand for The Dermatology Clinic has increased steadily by word of mouth, as patients refer their friends and family. Wingfield is determined to preserve her practice's quality of care — which can be compromised by growing too quickly.
"We are the largest and most comprehensive dermatology clinic on the Coast," she says, "and we continually raise the bar by adding cutting edge medical and cosmetic techniques and technology to our practice."
Those who step through the clinic's doors can rest assured the staff has their best interest at heart, Wingfield says. Two board-certified dermatologists — Wingfield and Dr. Ashley Emerson — are expertly trained to treat and diagnose any kind of skin, hair or nail condition, including acne, rashes, eczema, psoriasis, allergies or skin cancer.
"We want to make you better," Wingfield says. "It is our sincerest desire to provide excellent, state-of-the-art care to you in the most efficient manner possible."
Men and women alike request injections of wrinkle fillers and botulinum toxins to improve lines and shadows on the face, the doctor says — one of many cosmetic procedures the clinic provides.
"We also offer laser treatments for skin rejuvenation, to remove freckles and sun spots, remove dilated veins, remove unwanted hair, remove unwanted tattoos and tighten loose skin," Wingfield adds. "Our most popular treatments are IPL (intense pulsed light) and Vivace radiofrequency micro-needling." Several high-quality skin care products and sunscreens also are available for sale.
The doctors supervise all spa and laser services, as well as every product and patient encounter in the office, Wingfield says. Many places in the community offer dermatology-style services, she adds, but many have no formal training and can't offer the same level of service and expertise as The Dermatology Clinic.
"My hope is that it's really the only dermatology clinic anyone on the Coast will need to know."
---
IF YOU GO
The Dermatology Clinic
11295 E. Taylor Road, Gulfport; 6510 Highway 90, Suite C, Gautier
Gulfport: (228) 864-3300; Gautier: (228) 372-8559
Monday-Friday, 8 a.m.-5 p.m.
www.thedermclinic.net